Cambodian Traditional Dances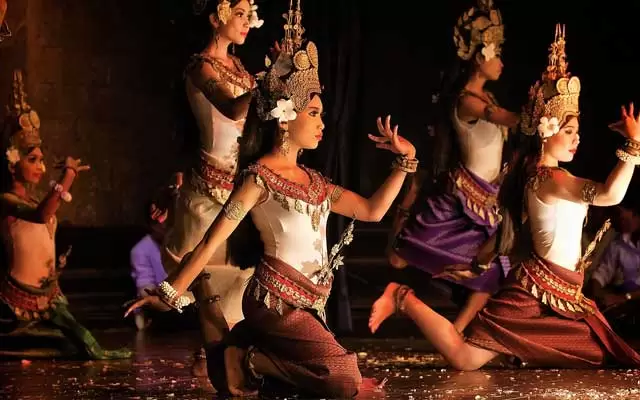 Traditional dance is a popular art form in Cambodia and so greatly revered that no visit to Cambodia is completed without watching at least one Khmer traditional dance performance. During the Khmer Rouge reign from 1975 to 1979, much of this Cambodian traditional art form was almost wiped out. However, huge efforts have been done to rekindle the ancient art from into new life. Dances in Cambodia are divided into three main genres: Classical Dance for the royal court, Folk Dance portraying cultural traditions and Social Dances performed in social gatherings.
1. Classical Dances.
Khmer classical dance, or locally known as Robam Preah Reach Trop, is a highly stylized performing art form originating from the royal courts. Originally, it was performed and maintained by attendants of the royal palaces, with the purpose of calling upon the gods and spirits, as well as expressing the respect to the royal courts. Later then, Khmer classical dance was popularized to the public in the middle of the 20th century.
It soon became the symbol of Cambodian culture and often performed during special occasions like holidays, public events and for tourists in main tourism hubs. In the performance of classic dance, intricately costumed dancers perform slow and figurative gestures, with the musical accompaniment of a pinpeat ensemble. The classical repertoire includes dances of tribute or invocation and the enactment of traditional stories and epic poems such as the Ramayana. There are more than ten Khmer classical dances but the most performed and known dances are Apsara Dance (Robam Tep Apsara) and Blessing Dance (Robam Choun Por).
Apsara Dance.
The most popular form of classical Cambodian dance is Apsara, stretching back to the 7th century. A walk around the main temples of Angkor gives tourists general ideas about the importance of Apsara Dance in ancient Khmer culture, with the images of apsara dancers carved into the walls and bas reliefs. Its roots were found in both Hindu and Buddhist mythologies, with the concept that Apsaras were beautiful female creatures that visited Earth from heaven to entertain Gods and Kings with their enchanting dance.
The Khmer King Javayarman VII in the 12th century was said to have over 3000 Apsara dancers in his court. The dance moves in slow, hypnotic, and gentle paces in order to reflect the idea that spirits entrap mortals with their beauty. With more than 1500 exist, hand gestures are the main traits of the dance. Every single movement of the fingers has its own distinct meaning. Some movements even require dancers to bend their fingers almost to their wrists.
Elaborate traditional costumes is the identification of Apsara Dance, and help to mirror the majestic moves of dancers. They wear elegant silk clothes with floral motifs, stunning jeweled headdress, and sparkling accessories like necklaces, earrings, bracelets and anklets. Due to the extreme complexity of this performing art, Khmer girls start training from a very young age to get enough flexibility in their hands and feet to execute intricate movements.
The Apsara Dance was almost wipe out because the Pol Pot-led regime took a massacre included Apsara dancers in Cambodia during the Khmer Rouge period in 1975-1979. Luckily, few surviving dancers kept the tradition remained by passing their knowledge and skills to the younger generations. The most outstanding event marking the new life of Apsara Dance was when Queen Sisowath Kossomak Nearirath Serey Vatthana, the wife of King Norodom Suramarit, visited the Sothearath primary school in 1940s.
She saw the school mistress prepare an inspirational Angkor Apsara dance performed by young school children in the paper apsara costume so she got the idea of rekindling the dance. She trained her first daughter, Princess Bopha Devi, to practice the dance and 5 years old and then princess became the first professional Apsara dancer in the 1950s and 60s. In 2003, Apsara Dance was recognized as the Masterpiece of Oral and Intangible Heritage of Humanity by UNESCO.
Blessing Dance.
Cambodian Blessing Dance, or Robam Choun Por in Khmer language, is traditionally presented at the beginning of a ceremony or special occasion in Cambodia. This dance is performed by a group of young Khmer girls in odd numbers (3 – 5 or 7 persons) to wish for good health, happiness, prosperity and success. The female dancers are well-dressed with Khmer Classical Royal Ballet costumes to symbolize the Devata. Each carries a golden goblet filled with flower blossoms inside, like jasmine, lotus or Romdoul. In Khmer's perspective, blossoms are represented for the blessings from the Gods. With charming and elegant movements, dancers hold the golden goblets, pluck the blossoms and gently toss them toward the audience with honor and wishful blessing.

2. Folk Dances.
Cambodia Folk Dances play important roles in highlighting various cultural traditions and ethnic groups of Cambodia. As opposed to the classical dances, these folk dances are faster paced movements and gestures are less stylized. Folk dancers wear clothes of the people whom they are play roles, such as Chams, hill tribes, farmers and peasants.
Typically, folk dance performances are accompanied by a mahori orchestra, including stringed and plucked instruments as well as flute. Cambodian folk dances are also regarded as ceremonial dances because they are not performed widely in public. They are inspired by countryside life and practices, and tend to be reserved for the particular rituals, celebrations and holidays among rural communities.
There is a wide variety of Cambodian folk dances with different meanings:
Trot Dance– a popular dance featuring a hunter who is chasing a deer. In ancient times, Khmer villagers got troubles from the wild animals going to their villages. Therefore, this dance was performed to protect them from this bad luck. Trot Dance is performed to ward off evil and bad luck from previous year and celebrate the coming of Khmer New Year.
Sneak Toseay Dance – a dance around animal characters, like tiger, peacock, and deer. The dance originates in Phnum Kravanh District, Pursat Province and depicts the Pear people.
Robam Kom Araek – a dance mainly used two or three bamboo pole which hitting every second. Farmers practice this bamboo dance at the end of a long working day in the fields as a way of entertainment. It is reported that the dance came from Kuy people but it is more believed that the birthplace is Philippines during the reign of King Norodom (1834-1904) when he was traveling in Philippines.
Robam Kngaok Pailin – a dance describing the movement and beauty of the peacock. This dance portrays the Kula people in Pailin and their amusement with a pair of peafowl, but also much influenced by Burmese dance.
Chhayam – a well-known entertainment dance about pleasure, including several comedic roles and beautiful girls. The dance is performed at holidays and is a pure Khmer dance.
Cambodian Coconut Dance – a dance performance involving coconuts with male and female dancers. Men wear a yellow shirt and dark red "Changkibin". Women wear a button up shirt and a green silk "Changkibin". The dance originated around 1960 from Romeas Haek District in Svay Rieng Province.
Cambodian Fishing Dance – a dance performance involving fishing that was composed in the 1960's at the Royal University of Fine Arts in Phnom Penh. It involves male and female dancers.
Social Dances.
At social gatherings in Cambodia, social dances are performed with common types, such as: ramvong, ram kbach and ram saravan.
Ramvong in Cambodia, Lamvong in Laos or Ramwong in Thailand represent for the popular social dancing form in these Southeast Asia countries. Both men and women can participate in the same circle, continuously move in a circular manner and perform basic hand movements and simple footwork. This slow round dance style can be seen in traditional festivals, popular celebrations and modern parties. In Cambodia, ram vong dance can be found among ethnic groups of the Phnong, Krung, Tampuan and Brao people.
Ram kbach dance is generally similar to ram vong in terms of circle arrangements, as well as hands and legs gestures. But the movements in ram kbach are slower and more gentle.
Besides ramvong and ram kbach, ram saravan dance style are also popular with Khmer people at festival time, when people gather and perform the dance together. Even being thought to traditionally originated from Laos, Khmer people love to perform it at special events like wedding parties, especially at Khmer New Year.
Like people all over the world, Cambodian people consider dancing is an integral part of spiritual life and rites of passage, as well as a popular form of entertainment. Moreover, they also believe that all dance styles – both traditional and modern styles, can help create friendship and happiness among society. If you are interested in exploring Cambodian culture through traditional dances, don't hesitate to contact Cambodia Travel to plan your customized trip to this lovely country right now!