The 8 Most Fascinating Travel Destinations in Cambodia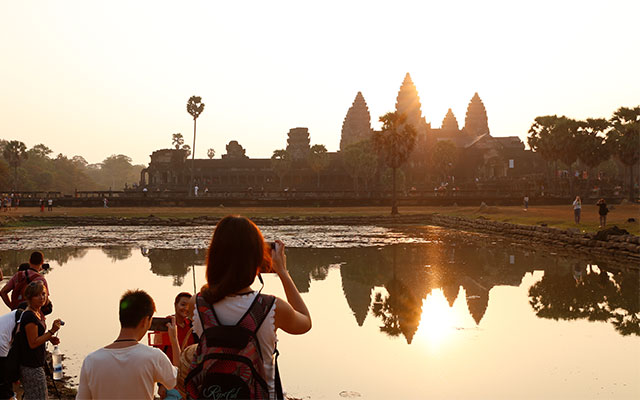 The top places to visit in Cambodia are a delightful combination of experiences and emotions in different levels. First and foremost, it is home to one of the most glorious Khmer temples and complexes in the world. More than that, most parts of Cambodia remain largely unexplored, and boast stunning landscapes, pristine beaches and colonial townscapes. Thanks to new road constructions, remote destinations are easier to be reached and keep tourists stay longer in the country.
Visiting Cambodia, seasoned travelers will find all in one destination, ranging from a pilgrimage, an adventure and a thoroughly relaxing holiday. Follow us to find out the 8 most fascinating travel destinations in Cambodia through this article.
You may also like:

10 Best Things to Do in Cambodia
1. Siem Reap

Undoubtedly, Siem Reap stands in the first position of the must-visited list in Cambodia. It serves as the linking bridge to the ancient ruins and temples of Angkor Complex. Being defined as one of the most important archaeological sites in Southeast Asia by UNESCO, Angkor Archaeological Park spreads over 400km2, with remains of the different capitals of the Khmer Empire from the 9th to the 15th century. The most highlighted temples can be listed as Angkor Wat, Angkor Thom, Ta Prohm.
To meet the continuously increasing demand to visit magnificent Angkor, Siem Reap has transformed itself into a major tourist hub. It's a vibrant town with many activities and attractions including lively Psar Chas Market, buzzing cafes, bars, traditional craft shops and plentiful nightlife. Siem Reap is also a good point to access the nearby floating villages, bird sanctuaries on the Tonle Sap Lake – the largest freshwater lake in Southeast Asia.
In Siem Reap, there is a wide range of accommodation to choose, ranging from luxury or 5 star standard hotels, resorts to hundreds of guesthouses to meet every budget.
2. Phnom Penh

Phnom Penh is the vibrant bustling capital of the Kingdom of Cambodia. Despite recent rapid changes, the city exudes a sort of provincial charm and tranquility with French colonial mansions and tree-lined boulevards amidst monumental Angkorian architecture. The city is conveniently located at the conjunction of three grand rivers – the Tonle Sap, the Mekong and the Bassac river. Therefore, tourists are highly recommended to take the scenic cruise to witness the golden colors of Phnom Penh's skyline at sunset. Or just simply take the leisure stroll to Phnom Penh's historic riverfront area where stands lots of restaurants, art galleries and silk shops.
City tour in Phnom Penh can't be completed without Royal Palace and adjacent Silver Pagoda, which provide gorgeous examples of traditional artistry and offer intriguing insight into both Cambodia's ancient and modern history. While Tuol Sleng Museum and Choeung EkKilling Field are the evidence for the horror and brutality the people of this country suffered under Khmer Rouge rule.
Shopaholics can't miss the visit to the distinctive Central Market where you can buy jewelry, curios, clothes and souvenirs.
3. Battambang
Even being Cambodia's second biggest city, Battambang itself is a laidback place compared to the bustling of the capital. If Phnom Penh's hectic buzz is a bit too much to handle, tourists can take 6-hour drive from Phnom Penh to Battambang to find quieter atmosphere.
Battambang was established as a trading center in the 18th century. Later it became part of French Indochina, with some colonial buildings still in existence until now and scattered through the city's boulevards. History lovers can take day trip to visit several Angkor-style temples and Buddhist shrines, like the temples of Phnom Sampeau, Phnom Banan, and Wat Ek Phnom. Among them, Phnom Sampeau (also known as Bat Cave) is the top site because tourists are eager to come there to witness thousands of bats making their way out of caves in the hillside to feed before returning at dawn.
Taking a slow 30-minute ride on the Bamboo Train is another popular activity which only can be experienced in Battambang. It is a single-line rail track where "carriages" made from a platform of wood and bamboo travel between Battambang's east bank and the nearby tiny village. Famed among some of the most tranquil rural scenery in Cambodia, Battambang is an ideal place to take biking trip along rice fields, visit Cambodian families and taste rice paper, dried bananas, and bamboo sticky rice which are made in traditional methods.
Your night in this town will not be boring if you pay the visit to 'Phare Ponleu Selpak Circus', where all traditional Cambodian dances and circus music are performed live by students and young locals from nearby poor community.
You may also like:
4. Sihanouk Ville
Being known as the most popular beach destination of Cambodia on the Gulf of Thailand, Sihanouk Ville was named after a former king – Norodom Sihanouk. In Sihanouk Ville, Ochheuteal Beach and the Serendipity Beach have emerged as one of Southeast Asia's backpacker areas with party reputation. For a much quieter scene, just take 6 km to the south around Otres Beach, with huts or bungalows on the beach, a sprinkling of classy boutique hotels, and a number of up-and-coming restaurants.
Sihanouk Ville is also the main entry point to offshore islands of Koh Rong, Koh Rong Samloem, where are ideal places for snorkeling and thoroughly relaxing beach vacation. Blessed with pristine, wild and beautiful islands, these islands are where tourists go to enjoy the nature and stay away from the world.
If water activities are not in your list, just take a ride to pretty and pristine Ream National Park, which is an easy day trip from Sihanoukville and home to more than 200 different bird species, including a few threatened species.
5. Kampot
Located about 3 hour drive from Phnom Penh, Kampot is often chosen as a break spot on the way to access Sihanouk Ville from Cambodia's capital. Kampot is famous for its black peppercorns around the world because of their unique flavor. A visit at pepper plantation will help you to observe the work of local community living there, as well as taste local dishes using this special ingredient.
Besides being the land of black peppercorns, Kampot is a laid-back riverine town that has a number of colonial structures, some of which has been painstakingly restored. Many travelers stay here longer than they expected, having succumbed to its easygoing pace and chilled-out atmosphere.
For the more active tourists, they will not feel boring because Kampot is also an excellent base for discovering the surrounding sights of the south. Day trip can be taken from the town to Bokor National Park, which is famous for the old French summer getaway of Bokor Hill Station, with its abandoned church and eerie, empty shell of a once-grand hotel. Bokor National Park is a lush primary forest with pleasant climate.
In this idyllic location, visitors can go boating and rafting on the river, as well as take in glistening waterfalls along the route.
6. Kep
Lying 25km southeast of Kampot, Kep is a favourite among Cambodians for weekend getaways and foreign travelers who want to get away from the tourist crowds at Sihanouk Ville. They are attracted by its convenient location (3h30m drive from Phnom Penh), quiet beaches and friendly people. Founded as a colonial retreat for the French elite in 1908, the town is still full of ruined shells of old villas, destroyed in the Khmer Rouge days.
Tourists can take a lazy stroll along the shiny white shores of the Kep Beach, and enjoy some delicious, inexpensive seafood, freshly plucked from the ocean at the well-known Crab Market. Day trips to nearby Rabbit Island can be arranged for snorkelers to enjoy viewing lots of colorful fishes on the bottom of the shallow sea.
A visit to the Kep National Parkis also recommended for nature lovers. The park is filled with waterfalls, elusive monkeys, the Stone House and Little Buddha.
7. Kratie
Kratie is a small town spreading along the banks of the mighty Mekong River. The town itself is dominated by a central marketplace surrounded by old, French colonial buildings. Even there's no large scale tourism in this town, plenty of backpackers pour through here during the peak season. The main reason tourists come to Kratie because it's an excellent base for dolphin-watching tours. Kampie, over 20km north of Kratie, provides the best riverside vantage point to view a pod of rare freshwater Irrawaddy dolphins.
These dolphins are endemic to the Mekong River in ever-diminishing numbers. It is thought that there are between 66 and 86 dolphins left in the upper Cambodian Mekong area. Therefore, local authority puts environmental measures in place to try and help their dwindling numbers.
8. Mondulkiri
Mondulkiri, 7 hour drive north east of Phnom Penh, is the largest but most sparsely populated in Cambodia. It is also home to the majority of country's tribal minorities, including the Cham and Phnong people, who have maintained their way of living for centuries in the region's forests and hills. One of the largest and easiest to access is the Phlung village inhabited by Phnong people, where their curious huts have woven, wooden walls and thatched roofs that slope almost to the floor.
Mondulkiri is also an interesting place to visit in Cambodia for adventures due to its wildlife and natural beauty, with thickly forested mountains, powerful waterfalls and the lush green rolling hills of the western side. Don't miss the chance to visit the impressive, two-tiered Bou Sraa Waterfall, the highest in Cambodia.
Being known for a number of projects and sanctuaries in the region for rescuing and protecting elephants, Mondulkiri offers excellent chances for tourists to interact with elephant in an ethical way. The most popular project is included in our itinerary is The Elephant Valley Project, where helps elephants and their mahouts, as well as educate visitors about the importance of protecting these wonderful creatures.
It can be said that Cambodia is the perfect destination for tourists, who are in search of a destination that fuses adventure, adrenaline, history, culture and tropical relaxation in one. Hopefully, above list proposed by Cambodia Travel will inspire you to stay in the country longer and experience different destinations that are worth a peek.