Best Cambodia Private Tours You Should Know Before Travelling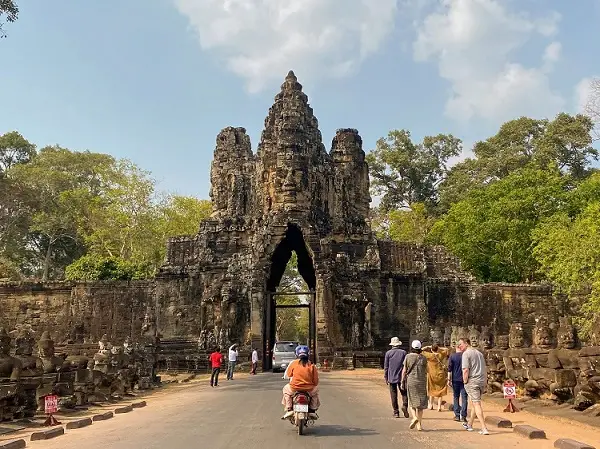 Are you looking for a Cambodia Private Tours and the quality travel agent? Have a glance at the through guideline below for the most useful information.
Cambodia is a diverse and fascinating destination, whether you're seeking a cultural tour, a trekking adventure, or a romantic getaway. Cambodia Travel's private tour packages provide an array of options for places to visit and activities to enjoy throughout the country. Below is our recommendation about Private Tour in Cambodia.
Culture & Classic Travel Package
These tour packages cover the World Heritage Site of Angkor, one of the most famous tourist spots in Cambodia.
Discover the wonders of Cambodia's well known Angkor temples with a 5-day tour of the ancient Khmer Kingdom. Embark on a private package with Cambodia Travel to unravel the mysteries and history of this UNESCO World Heritage Site. This tour will take you on a mesmerizing adventure through the temple-dotted jungle, as you witness the magical sunset and cruise through the charming floating villages of Tonle Sap Lake. More than that, you will definitely immerse yourself in the rich culture and fascinating secrets of the Angkor Wat Temple.
The price only from $454 per person.
Cambodia has finally achieved peace, making it an ideal travel destination. There is no better time than now to explore this beautiful place of ancient Asian nation. Enhance your experience by taking a private Cambodia tour with a knowledgeable local guide who willing to provide insight into the country's history, culture, and customs. This will help you gain a deeper understanding of Cambodia, making your trip even more meaningful and memorable.
The trip starts from Phnom Penh's rich history by exploring its illuminating museums. Then The National Museum offers a glimpse into the ancient past of the Khmer empire. While the Tuol Sleng Museum helps visitors comprehend the nation's recent traumatic history. Additionally, don't miss the opportunity to witness the breathtaking Angkor Wat, which is recognized as one of the eight wonders of the world and is believed to be the largest religious building ever constructed.
The price only from $310 per person.
Experience the best of Cambodia with the private package tour Colors of Cambodia, which seamlessly combines historical temple visits, cultural immersion, and urban exploration. This journey from Phnom Penh to Siem Reap allows you to immerse yourself in Cambodia's natural beauty while also experiencing the subtleties of Khmer culture. Especially, Cambodia Cuisine, the most overlooked of all Asian cuisines. Cambodian Food offers a unique and delicious culinary experience that is deeply rooted in local ingredients. Every dish reflects the rich history and diverse influences of the Angkor Kingdom.
The price only from $540 per person.
Experience the unique traditional of Cambodian
The Land Of Khmer is one of the longest cultural histories in Southeast Asia.  Our fascinating traditions have survived to the present day. Discovering the culture of Cambodia is a truly intriguing, insightful, and amazing experience.
Embark on a 10-day adventure across Cambodia with our Cambodia In Style package, which takes you from Siem Reap to Kratie, a charming small town situated along the banks of the Mekong River, before ending your journey in the vibrant capital city of Phnom Penh. Along with exploring the well-known temples of the Angkor Complex, this package offers a unique opportunity to discover the rustic countryside of Cambodia through homestays and immersive experiences in local daily life. You'll also get the chance to search for river dolphins on the Mekong.
This private package will take you deep into the local life as homestay in Bong Thom or enjoy Tuk Tuk ride to the Temple…
The price only starts from $776 per person.
Explore the beauty of Cambodia with our 7-day itinerary from Siem Reap to Battambang, which allows you to discover both the iconic temples of Angkor and the authentic Khmer countryside beyond them. Immerse yourself in the daily life of local villagers by staying in their homes, savor traditional home-cooked meals, cycle through the stunning countryside, and experience the thrilling ride on the "bamboo train" in Battambang. The roundtrip journey from Siem Reap offers a unique opportunity to appreciate the well-known masterpieces of Angkor while also gaining a deeper understanding of Khmer culture.
The price only starts from $480 per person.
Luxury Cambodia Tour Packages
These Cambodia travel packages combine between Cambodia and neighbor countries.
Embark on a one-of-a-kind private luxury journey to the exotic lands of Indochina and experience the true essence of this mysterious region of the world. Our meticulously crafted itinerary warmly invites you to Southeast Asia's "window of the past" with elegance and style, allowing you to capture the awe-inspiring beauty of this region.
Experience the true essence of Cambodia with a touch of class on our meticulously crafted itinerary that invites you to discover this beautiful country in style. Your journey begins in Siem Reap, the home of Angkor Wat, before taking a direct flight to Hanoi, the Capital of Vietnam. Stroll through the city's shaded boulevards and public parks, and explore the narrow alleyways lined with traditional handicrafts, arts, and silk products in the enchanting old quarter.
Your incredible journey continues with a memorable trip to Halong Bay, where you'll marvel at the stunning scenery on board the top luxury cruise.
The itinerary offers flexible daily activities, allowing you to tailor your journey to your preferences and discover Vietnam at your own pace.
The price only starts from $2908 per person.
Honney Moon Couple
Cambodia is often mentioned as a destination of temples, but there is so much more to explore for newlyweds looking for a romantic getaway. From awe-inspiring architecture to mystical temples, dazzling nightlife to religion-inspired art, vibrant culture to ancient relics, and pristine beaches, Cambodia has something to offer everyone. It's no wonder that Cambodia is ranked among the popular honeymoon hotspots in Asia.
To help you make the most of your Cambodia honeymoon, we have created a complete guide that lets you explore the romantic side of the country without missing out on the best experiences. With so much to see and enjoy, you'll have an unforgettable adventure with your loved one.
Boarding on a 17-day adventure to explore the best of Cambodia, starting from the bustling Phnom Penh City and culminating in the stunning beaches of Sihanoukville. This Cambodia discovery tour covers most of the famous sights and places, including Phnom Penh, Siem Reap, Battambang, Angkor Complex, Kratie, Mondulkiri, and Sihanoukville.
Indulge in the sublime beauty of Cambodia on this adventure that takes you deep into the country's rich culture and history. Immerse yourself in the heart of the Khmer way of life by enjoying rustic homestays, visiting remote tribal villages, and riding elephants through the jungle.
This tour offers a blend of bustling cities, ancient temples, and relaxing white-sand beaches, covering all of Cambodia's main attractions while taking you off the beaten path to craft a unique travel adventure. Experience the best of Cambodia in style on this unforgettable journey.
The price only starts from $1354 per person.
Situated in the northwest region of Cambodia, Siem Reap is the country's primary tourist hub, serving as the gateway to the magnificent ancient ruins and temples of the Angkor Complex. However, Siem Reap offers visitors far more than just Angkor, with an abundance of exhilarating activities waiting to be explored. Our Siem Reap Discovery travel package provides a unique alternative to the standard tourist route, allowing you to access the culturally-rich villages and remote Angkor temples that have only recently been uncovered from the jungle.
The price only starts from $538 per person.
Cambodia Adventure trekking
Cambodia is a versatile destination that allows you to create your own adventure, whether you prefer touring cities and cultural sites in comfort or embarking on thrilling hikes, bike rides, and kayaking expeditions through picturesque backcountry and rural communities.
Add some excitement to your trip to the ancient Khmer Kingdom with a bike tour through Cambodia's famed temples. With Cambodia Travel's knowledgeable local guide leading the way, you'll discover the must-see attractions of the Angkor Archaeological Park, including the UNESCO World Heritage-listed Angkor Wat, Bayon, and Ta Prohm Temples, as well as uncover some hidden gems along the way. This route is both enjoyable and effortless to cycle, making it a unique adventure that offers an authentic glimpse into Cambodian life.
The price only starts from $365 per person.
Cambodia Visa
Are you feeling anxious about visa requirements? Look no further. Cambodia Travel has assisted numerous tourists in obtaining visas for their trips to Cambodia. Now worries free to visa and focus on what really matters – enjoying your vacation!
It is a common question for visitors to ask whether they need a visa to enter Cambodia. For the majority of travelers, the answer is yes. However, obtaining a visa is made easy by either visiting a Cambodian embassy to purchase a visa, or by arranging an e-visa approval online.
More information regarding Cambodia Visa, check out this link.
Why should you book a private tour with Cambodia Travel?
Your services were handled by 5-star rated international brand-name with offices located in Cambodia and neighbor countries.
Personal Travel Consultant assisted 24 hours per day from the beginning, during your travel and even until you return home safely and pleasantly.
Cambodia Travel Consultant design a flexible itinerary that caters to your interests, needs, and budget.
You can decide when to depart, where to go, which hotel to stay and what to eat that suits you best.
There will be only you and your loved ones, family or a group of friends. A private Cambodia tour brings you convenience, comfort and safety when you are traveling with kids or elderly people.
You will get a private and comfortable car with your own driver who can stop anywhere for photo opportunities, relaxing etc.
Your personal tour guide will focus on your needs and is on hand to make sure you get the most out of each stop.
On all of our Cambodia private tours, we are able to set up exclusive experiences. It means you are able to access to special sights that aren't printed in travel and guidebooks.
While private guided tours may seem expensive at first, you are actually saving money. A private tour with Cambodia Travel is affordable. We offer budget, mid-range and luxury options to suit every style of travel.
We hope you find our Cambodia tips and guides useful in planning your travel, choosing a suitable tour package in Cambodia to save your time and money.