Best Cambodia Day Tours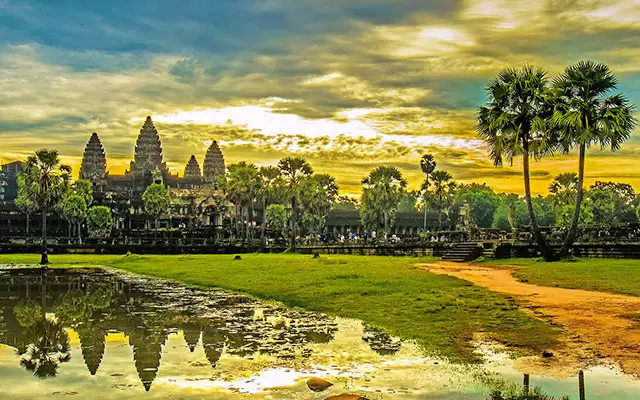 A complete travel guide to the 12 best Cambodia day tours to take from three main tourism hubs of Siem Reap, Phnom Penh and Sihanouk Ville. Besides all-inclusive packages, it can't be denied that Cambodia day trips which are arranged with air-conditioned private vehicles and an English-speaking local guide give tourists more flexibility and alternative to gain a deeper, more complete look at Cambodia's nature, history and culture.
Day trips and short excursions in Cambodia are great options for travelers having a limited time or even extending their planned holidays in this Kingdom of Wonders.  Whether you want to experience Cambodia's intoxicating history, immerse into the country's breathtaking landscapes, or meet the extremely friendly Khmer people, there is definitely a Cambodia private day tour that perfectly matches your demand!
 1. Cambodia day tours from Siem Reap
1.1. Full day explore main temples within Angkor Complex
Explore the Khmer architectural treasures of Cambodia in one day excursion from Siem Reap. The full day Angkor exploration starts by rising up early to pick up the most beautiful, haunting and spiritual moment to visit magnificent Angkor Wat at dawn. Your journey then continues with a visit of the South Gate of Angkor Thom, which is famous for its majestic doors and artifacts.
Later, visit the Elephant Terrace, Terrace of the Leper King and Takeo "Jewel of Crystal", which is dedicated to the Hindu God Shiva and was erected at the end of the 10th century. You should not miss Ta Prohm Temple, which offers spectacular photogenic and atmospheric combination of trees growing out of the ruins and surrounding jungles. If the weather permits, you can enjoy tethered balloon over the Angkor at sunset from a bird's eye-view.
1.2. Closer look to local life and traditional handicrafts
Besides the impressive unique Angkor Temples, Siem Reap has more to offer. It is worth taking a closer look at its surrounding area and people. This journey will take tourists head out of the bustling Siem Reap Town and pass beautiful rice paddies dotting with palm trees and cattle in the fields. On arrival at Kam Pem village, walk through this lovely village to see rural Khmer life, experience an ox cart ride and make palm leave.
Proceed to Tonle Sap Lake and embark on a boat trip to see floating villages and get a taste of life ruled by monsoonal rains and water-based agriculture.
Later, our guide takes you to Angkor Silk Farm where you will be guided to see the process from the mulberry bushes cultivation to the production of silk fabrics and accessories. During your visit, you will surely be impressed by the dexterity of local artisans with silk threads. The Angkor Silk Farm also features a large showroom where you can buy high-quality silk products that were made in the workshops you just visited.
1.3. Awake remoted temples Koh Ker and Beng Mealea
Escape from the hordes of tourists at the main Angkor temples on the private day trip to hidden temples outside of Siem Reap: the mystical overgrown Beng Mealea and the pyramid-shaped Koh Ker. Koh Ker – the former capital of the Khmer Empire under the reign of Jayavarman IV, now is abandoned deep in the jungle. There are many structures inside Koh Ker, but the most outstanding temple is seven-tiered pyramid Prasat Thom.
On the way back to Siem Reap, continue on to visit the incredible jungle-covered temple: Beng Mealea. This distant temple is a gem in the midst of the jungle; half strangled with vines and decorated by lichen, Beng Mealea is the true adventure experience.
This one day excursion includes Cambodia Travel's private tour guide, entrance fee, picnic lunch and round-trip transfer from Siem Reap.
1.4. Siem Reap Countryside Biking
This cycling adventure will offer wonderful opportunities for adventurous bikers to immerse themselves into the rural villages, overlook tranquil paddy fields dotted palm trees, plough, cattle, and traditional stilt houses. During the trip, you will have many chances to stop, take photos and interact with extremely local people and children. Park your bikes to visit the lesser known temple in Angkor Complex – Banteay Samre.
After picnic lunch and short rest, continue the bike ride to Banteay Srei. This pink-colored temple is considered to be the precious gem or the jewel of Khmer art. Later of the day, tourists have two options to return the town: ride back or take support van on paved road back. On the returning way, the visit to palm sugar making and Cambodian noodle making workshops are recommended.
1.5. Siem Reap Eco Adventure (Angkor Zipline & Quad ATV Sunset)
Taking Silver Package of Angkor Zipline, tourists are not required Angkor Pass when using free roundtrip transfer. There are no more 9 guests on a safe journey and this type of adventure is suitable for children from 5 years old. The 1.5-hour jungle canopy tour includes 2 sky bridges, 3 single zip, 1 spiderman bridge and 1 controlled abseil descent.
After Khmer snack, return to hotel for short break before participating in quad bike in the late afternoon. Quad bike sunset tour will start at 5 PM and last about one hour. Pick up and drop off transfer are included in tour package. After a short introduction on safety, helmets and facemasks are provided for passengers. Then you will head out to the rice fields surrounding Siem Reap, ride through local villages, where you can see how people live in Cambodian countryside. Our guides will recommend you the best stops for stunning sunset photos.
See more Siem Reap Tours:  https://cambodiatravel.com/location/siem-reap/
2. Cambodia day trips from Phnom Penh
2.1. Phnom Penh City Tour
Discover Phnom Penh – Cambodia's capital. Despite its recent turbulent history, Phnom Penh still holds an undeniable charm with its wide tree-lined boulevards and faded colonial mansions. On this full day excursion, you will take a glimpse into ancient Khmer art and civilization in National Museum and Royal Palace, as well as learn about Cambodia's war-torn past under the Khmer Rouge.
The day trip will end at Phnom Penh's historic riverfront area where stands lots of restaurants, art galleries and silk shops, or the distinctive Central Market where you can buy anything you could ever want while on vacation, from local handicrafts to designer handbags and discounted brand-name clothing.
2.2. Phnom Tamao Wildlife Rescue Center
Day trip from Phnom Penh to Phnom Tamao Wildlife Rescue Centre is an ideal suggestion for animal lovers or families travelling with kids. Located an hour's drive from Cambodia's capital, this rescue center is home to more than 1,200 animals, such as tigers, elephants, snakes, gibbons and clouded leopards, that have been rescued from the clutches of poachers and illegal trafficking. In addition, this is home to Free the Bears – the world's largest sanctuary for sun bears and has education programs about the threats facing wild bear populations.
During the visit, you will have opportunity to prepare food and interact with endangered species kept at Phnom Tamao at a safe distance. A delicious Cambodian-style lunch is also included into this one-day tour package.
2.3. Day trip to Phnom Chisor & Tonle Bati
This day trip is designed for those who are keen on temple exploration and mountain climbing without having enough time to visit Siem Reap. The 2-hour journey southwards will take passengers to Phnom Chisor – a 133-metre high hill in Dok Por Village. Some 500 ancient stone steps lead you to the top of the hill, where you can enjoy the sweeping views of the surrounding areas.
The mountain peak is home to the impressive 11th century temple which was built by the Brahmanism-practicing King Suryavarman I, and and dedicated to the Hindu deities Shiva and Vishnu.
On the way back to Phnom Penh, stop for lunch time and seek the shade in Tonle Bati – a small lake about 30 km south of Phnom Penh. This destination is popular for locals to enjoy picnic during weekend or public holidays. There are floating bamboo pavilions built out over the water and along river edge that people can rent out for eating and chilling out all day long. You can bring your own stuffs, otherwise there is a bunch of knick-knack shacks selling local food and drinks on site.
Not all about the lake, Tonle Bati is home for ancient ruins of Ta Prohm (different from Ta Prohm in Siem Reap) which was built during the reign of Jayavarman VII to house the Jayabuddhamahanatha statues. Whilst being very small in size, the temple is one of the best preserved and most picturesque Khmer temples in Cambodia.
2.4. Day trip to Kirirom National Park
Escape from the heat of bustling capital and delve into the beautiful idyllic mountain retreat in Kirirom National Park. Being founded in the 1950s as the first protected national park in Cambodia, Kirirom includes 35,000 hectares of lush greenery framing a spectacular view of the Cardamom Mountains, and some of the country's rarest and endangered animals. Just only 2.5-hour drive from the capital, visitors can enjoy hiking through the cooling pine forests, trekking to the Chambok Waterfall, tasting local food under the cool shady roofs of picnic tents, meeting locals to learn about rural life with a visit to Chambok Community Ecotourism Project.
3. Day tours from Sihanouk Ville

3.1. Sihanouk Ville Sightseeing Tour
Experience the best of Sihanouk Ville in this private sightseeing day trip. The first stop is Tumnuk Rolok Fishing Port where offers great photo opportunities. The fishing boats leave in the evening and return to the port in the early morning with their fresh catches from the ocean. During the day, boats dock in the port and the fishermen repair their fishing nets and work on their boats.
Continue the visit to Kbal Chhay Waterfall – one of 5 most beautiful waterfalls in Cambodia – a collection of 3 meter to 5-meter-high waterfalls which originates from different sources along the mountain ranges. They are most impressive in the wet season between July to October. Besides being just a picturesque sight, the location is also a popular picnic spot to immerse yourself into the lush greenery and serene natural ambience.
Standing on the top of a hill surrounding by the ocean is Wat Leu Pagoda (or Upper Wat), 6 km away from the provincial town. Coming there, tourists can admire the breathtaking panoramic views of the town, ocean and nearby islands.
End the trip at Phsar Leu Central Market – the main market in Sihanouk Ville. Enjoy the sights, sounds and smells of this typically busy local market and get an insight into the daily Khmer life.
If you have time, try the 4 days 3 nights Sihanoukville Beach Relax tour. In addition, you should also consult and learn more about the most beautiful beaches in Sihanoukville.
3.2. Ream National Park Day Trip
Ream Park is one of 7 National Parks in Cambodia, established in 1993 by the former King Norodom Sihanouk. Just around 30 km from the Sihanouk Ville downtown, the park is virtually untouched with mysterious jungles and pristine beaches. The park covers 15,000 hectares of land and 6,000 hectares of marine habitat. There are 155 species of birds in the park including a few threatened species.
On arrival, tourists will board on a local wooden boat and cruise along the emerald Ream River to enjoy a breathtakingly natural view of mangrove forest. This is a peaceful opportunity to surrender yourself in the real countryside of Cambodia during you boat trip. You will also trek to visit local houses, school, and a mountain pagoda in the village before relaxing on a beach followed by your return to your hotel.
3.3. Kampot Day Trip
Different from other beach towns like Sihanouk Ville, Kampot is a quaint old provincial capital set aside the Preaek Tuek Chhu River. This relaxing riverine destination is situated 125 km away from Sihanouk Ville. Kampot pepper has been internationally renowned for more than a century as some of the highest quality pepper in the world. Therefore, the visit to Kampot will not complete without including a stop at one pepper plantation.
At the plantations, you can observe the work of local community living there, as well as different growing methods and types of pepper.
Adventure travelers will not feel bored because there are many options for river-related activities, including river cruises, stand-up paddle boarding (SUP), kayaking, wakeboarding, fishing expeditions, and even water skiing. The town center itself will amaze you by its colonial architecture dating back to the first half of 20th century. Many of these colonial shop houses have been renovated into nice boutique style hotels, quirky café and restaurants.

To sum up, above Cambodia day tours are perfect to add on any travel program and match any tourists' schedule. You may feel amazed that there are many interesting things can be covered in one single day tour in Cambodia. Our team of knowledgeable and well-traveled professionals surely can customize any travel inquiry and make your dream come true.