Cambodia: All things you need to know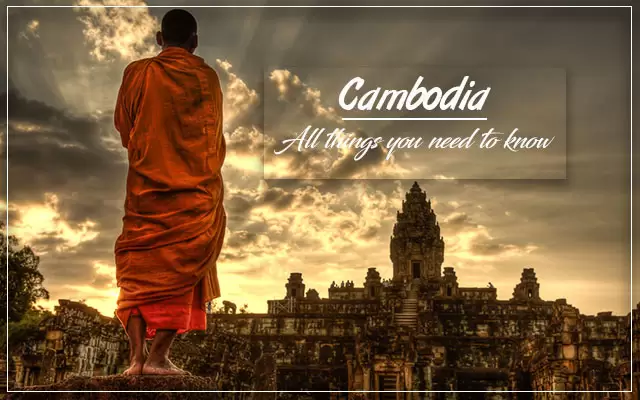 1. Location.
Cambodia is located in mainland Southeast Asia, in the southern portion of the Indochina peninsula, with the total area of 69,900 sq mi (181,040 sq km). It's bordered by Vietnam to the east, Laos to the northeast, Thailand to the northwest and the Gulf of Thailand to the southwest.
2. Time Zone.
Originally, Cambodia used local mean time in Phnom Penh: UTC+7:19. In 1920, it changed to Indochina Time: UTC+7:00, which is 7 hours ahead of UTC. Cambodia doesn't observe daylight saving time so ICT is used all year round. Time zone in Cambodia is similar to the ones in Vietnam, Laos, Thailand, Western Indonesia and Christmas Island.
3. Weather & Climate.
Cambodia is situated in the tropical zone, just 10 – 13 degrees north of the equator. Like most countries in Southeast Asia, Cambodia's climate is dominated by annual monsoon cycle. The temperatures range from 25 to 35°C throughout the year with its alternating wet and dry seasons. From June to October, moisture-laden winds from the Gulf of Thailand and Indian Ocean are brought to the country's inland by southwest monsoons. Heavy rains and high humidity are the main characteristics of this wet season, especially heaviest precipitation in September and October. The country experiences dry season from November to April, when northeast monsoon with lighter and drier winds bring variable cloudiness, infrequent precipitation and lower humidity.
Cambodia is really the tropical paradise for those who are not fans of the cold. The altitude and latitude throughout the country are relative uniform, which leads to the same weather patterns in almost regions.
* Read more at: Cambodia Weather

4. Language.
In Cambodia, Khmer is the single official language and uses in most social and professional contexts such as government administration, all levels of education, and social media. Khmer language belongs to Mon-Khmer subfamily of the Austroasiatic language group. In contrast to languages from neighboring countries like Vietnam, Thai, Lao, China, Khmer is a non-tonal language so it's not easy to pick up and foreigners may find a little difficult to follow.
Although Cambodia is the smallest French speaking community among all Asian Francophone nations, it witnesses the stronger revival of French language than in Vietnam and Laos. Nowadays, French is still a diplomatic language in Cambodia and many educational institutions that are funded by the French government and organizations.
Since the decline of French from 1993, English language has been gradually used and become the main foreign language in Cambodia. The study and use of English has been strongly encouraged and promoted and Cambodians can see themselves having a better life with better job and better pay if they have English education. In tourist hubs around the country, almost street signs and panels of restaurants and shops are now bilingual in Khmer and English, which brings more convenience for international tourists.
* Read more at: What language is spoken in Cambodia?
5. Currency, Cards & Money Exchange.
Khmer Riel (KHR) is the official currency of Cambodia with various denominations: 50, 100, 500, 1000, 5000, 10 000 and 50 000 banknotes. US dollars are also widely accepted almost everywhere in Cambodia. This dual currency system brings more convenience for tourists while travelling in this country. You can make payments in Cambodia using KHR, USD or a combination of the two. However, you should expect to get your change back in Cambodian riel and you might often pay more in USD compared to the local currency. Therefore, you should use riels to make smaller purchases to get the best price. In addition, if you travel to the remote areas where are not familiar with foreign tourists and locals don't use US dollars, you should have some small notes of local currency in hand.
Money exchange can be done in local banks but local money changers in the market will give you better rates. Major currencies including USD, Euro, AUD, CAD and pounds are commonly accepted by local changers. The exchange rate fluctuates between 4,000 and 4,200 Cambodian riels for 1 USD. Make sure to keep your cash in perfect condition because locals will reject torn, ripped and old bank notes.
Like most countries in Southeast Asia, cash payment is preferred in Cambodia so you should always carry cash while travelling in this country. However, some tour operators, luxury hotels and high-end restaurants in main tourist destinations will accept payment by debit and credit cards (Visa, Master and American Express) plus a small transaction fee.
In case you are worried to bring too much cash while visiting a new destination, cards are still recommended due to their security and convenience. There are many ATMs in urban areas and tourist places in Cambodia. However, please bear in mind that each withdrawal has limit of $500 and charges around 3 – 5 USD per withdrawal. ATMs of ANZ Royal Bank charges the highest fee and Canadia Bank's ATMs have the lowest fee. For security reasons, you are advised to use ATMs that are connected to a bank branch rather than standalone cash machines.
As the local currency has no value outside Cambodia so be sure to spend all your riels before you leave the country.
6. Visa.
A 30-day tourist visa is required for all visitors coming to Cambodia, except for nationals from the following countries:
– Indonesia, Malaysia, Singapore, Laos and Vietnam (30 days).
– Thailand, Myanmar, Brunei, Seychelles (14 days).
– Philippines (21 days).
Visas to Cambodia can be obtained upon arrival international airports or land border checkpoints with visa fee 30 – 33 USD in cash only.
You are required to show your passport-size photos and valid passport to Immigration Office and then fill in application form.
In case you want to avoid long queue at the airports or land borders, Cambodia E-Visa is also available to apply with the fee 36 USD per person. It will take about 3 working days to process your application. At this moment, there are 220 countries eligible for Cambodia E-visa.
You can check out more details about Cambodia Visa requirements and procedures on Cambodia Visa: All things you need to know about visa to Cambodia.
7. Internet.
In Cambodia, these are many internet providers operating with a variety of options you can choose: from 3G to 4G to broadband Internet connections, ADSL and Fiber optic cable. Many hotels offer free Wifi connection in rooms and public areas. However, several accommodations in remote areas only provide free Wifi in lobby and restaurant areas. In this case, tourists can use 3G-4G prepaid SIM cards instead. Cellcard, Metfone, Smart and Seatel are the most popular mobile networks in Cambodia. Each provider has call and internet packages but all are in reasonable rates. Buyers need to show passport and pay by cash only (US dollars or Cambodian Riel are acceptable).
8. Electricity Sockets.
The power plugs and sockets type A, C and G are used in Cambodia. Cambodia's electricity system operates on a 230V supply voltage and 50Hz frequency. A voltage converter is needed for tourists coming from country with standard voltage in the range of 100V – 127V, like in the US, Canada and most South American countries. A combined power plug adapter/voltage converter is useful for frequent travelers. Some electric appliances don't need a converter if its label states: "INPUT: 100-240V, 50/60 Hz". It means that these types of appliances can be used in all countries and it's common to find this label in chargers of tablets/laptops, photo cameras, cell phones, toothbrushes, etc.
9. Get In & Get Out.
9.1. Border Crossings.
Cambodia shares many land borders with neighbouring Thailand, Vietnam and Laos. Below are the list of land border checkpoints which accept Cambodia Visa on arrival.
* Cambodia – Vietnam crossing borders:
Bavet International Border Checkpoint in Svay Rieng/ Moc Bai, Tay Ninh, Vietnam (support Cambodia E-Visa)
Kha Orm Sam Nor International Border Checkpoint in Kandal/ Vinh Xuong, Chau Doc, An Giang, Vietnam
Tropeang Sre International Border Checkpoint in Kratie/ Hoa Lu, Binh Phuoc, Vietnam
Prek Chak International Border Checkpoint (Kampot Province)/ Xa Xia, Ha Tien, Kien Giang, Vietnam
Phnom Den International Border Checkpoint in Takeo/ Tinh Bien, An Giang, Vietnam
Oyadav International Border Checkpoint in Rattankiri/ Le Tanh, Gia Lai Province, Vietnam
Tropieng Phlong International Border Checkpoint in Kampong Cham/ Xa Mat, Vietnam
Banteay Chakrey International Border Checkpoint in Prey Veng/ Dinh Ba, Dong Thap, Vietnam
Samrong International Border Checkpoint in Svay Rieng/ My Quy Tay, Long An, Vietnam
* Cambodia – Thailand crossing borders:
Cham Yeam International Border Checkpoint in Koh Kong/ Had Lek, Trat, Thailand (support Cambodia E-Visa)
Poi Pet International Border Checkpoint in Banteay Meanchey/ Aranyaprathet, Sa Kaeo, Thailand (support Cambodia E-Visa)
Osmach International Check Point in Odor Meanchey/ Chong Jom, Surin, Thailand
Anglong Veng International Check Point in Banteay Meanchey/ Chong Sa Ngam, Sisaket, Thailand
Prum International Check Point in Pailin/ Ban Pakard, Chantaburi, Thailand
Doung International Check Point in Battambang/ Ban Laem, Chantaburi, Thailand
* Cambodia – Laos crossing borders:
 Dong Krolar International Check Point in Strung Treng/ Voeung Kam, Champasack, Laos (support Cambodia E-Visa)
9.2. International Airports.
There are three international flights in Cambodia, which are located in three most popular tourist destinations: Phnom Penh, Siem Reap and Sihanouk Ville.
Cambodia Angkor Air is the national flag carrier airline of Cambodia and Phnom Penh is its corporate headquarters and main hub. Other Cambodian low cost carrier airlines can be found here: Lanmei Airlines, Sky Angkor Airlines.
There are no direct flights from Europe, North America, Australia or South Africa to Cambodia but international tourists can get connecting flights via main hubs in the Southeast or East Asia. To name a few: China, Japan, Qatar, UAE, South Korea, Malaysia, Singapore, Thailand, Vietnam and Philippines.
International airlines operating in Cambodia include: Air Asia, Air Busan, Bangkok Airways, China Eastern Airlines, China Southern Airlines, Hong Kong Dragon Express, Hong Kong Express Airways, Lao Airlines, Thai AirAsia, Thai Smile Airways, Vietjet Air, Vietnam Airlines, among many others.
9.3. Cruise Ships.
Luxury river cruises include the journey between Vietnam (Mekong Delta) and Cambodia (Phnom Penh, Siem Reap). Passing by mighty Mekong River, these all-inclusive boat packages offer inspiring journeys to landmarks, temples, and villages where tradition, spirituality, and craftsmanship reside.
You can contact Cambodia Travel to book your Mekong River trip on Pandaw Cruise, Jahan Cruise, Jayavarman Cruise, Aqua Mekong Cruise with best rates guaranteed.
10. Get around the country.
10.1. Flights.
Tourists can take flights among three major tourist hubs in Cambodia: Phnom Penh, Siem Reap and Sihanouk Ville. These airports are located close to city center (within 3 km to 9 km) so there is no traffic issue for the transfer from hotels in city center to the airport in each place.
Siem Reap and Phnom Penh is linked by the 45-minute flight by Cambodia Airways, Cambodia Angkor Air and JC International Airlines.
Cambodia Angkor Air, JC International Airlines operate flights between Phnom Penh and Sihanouk Ville.
The flights between Siem Reap and Sihanouk Ville are operated by Cambodia Airways, Cambodia Angkor Air and Lanmei Airlines.
10.2. Bus & Minivan.
Bus is the most popular mean of transport for local passengers because it connects all major towns and cities in the country. In the past few years, Cambodia's road systems and national highway networks have been improved significantly. That helps getting around the country much easier than it once was. In wet season, especially in August and September, getting around by bus or minivan remains time-consuming because remote tracks can become unpassable.

The main and trustworthy bus operators in Cambodia are Giant Ibis, Mekong Express and Phnom Penh Sorya Bus. These buses are reasonable priced and generally safe but night buses should be avoided for safety reasons. There are English speaking guides on bus who can help foreign passengers with basic information.
If you are in a rush and want to be comfortable while on road, taking private car is the best option. Renting a private car with an experienced driver will bring greater flexibility to visit out-of-the-way places and stop where passengers request along the way.
10.3. Boats.
In the old days of bad roads, travelling by boat was popular in Cambodia. In recent years, with the massive improvements of road systems, this type of transport is less common due to its time-consuming. Two regular ferry routes still run in Cambodia: Phnom Penh and Siem Reap; Siem Reap and Battambang.
The ferry between Siem Reap and Phnom Penh only can operate from August to February when the water levels are high enough, then close during dry season. The travelling time is approximately 6 hours and departs at 7 AM daily from each direction. Ferry dock in Siem Reap is at Chong Khneas and ferries gather on Sisowath Quay of Phnom Penh.
Visitors can travel between Siem Reap and Battambang by ferry at any time of the year. However, this journey lasts around 8 to 9 hours, leaves at 7:30 AM each day in either direction.
This mean of transportation is only suggested for foreign visitors who really wish to experience water life and local culture. In terms of safety reasons, these ferries are local transport and have experienced breakdowns, groundings and other difficulties.
11. Safety.
Cambodia is generally safe for travelers but like anywhere in the world, common troubles can happen from time to time, such as bag snatches, pickpockets to rip-offs and scams. While walking through busy areas or using public transports, tourists should keep important belongings in front of them, ideally carry cross-body bags over one-shoulder.
To have an enjoyable nightlife experiences in too famous places like Pub Street in Siem Reap, Phnom Penh's Riverside, party beach bars in Sihanouk Ville and nearby islands, you are recommended to leave all your valuables at home and know your limits. It will be better if you can go with friends and come back to your hotels before midnight.
Taking trip to off the beaten track destinations is really an adventure but don't wander in remote areas without a guide. He/she with local knowledge and good English speaking skills can assist you in emergency.
12. Cambodian Cuisine.
Cambodian food shares many commonalities with that of its neighbors – Thailand and Vietnam. Even lesser known than the world popular dishes of these countries, Khmer cuisine is pretty distinct and offers a bit of every flavor. Thai cuisine is distinctly spicy, meanwhile Cambodian dishes contain less chili and sugar, and coconut milk appears less often. The food in Cambodia is rather mild and has a lot of pickled and tangy flavors.
Khmer gastronomy is profoundly influenced by water, rice and freshwater fish due to Cambodian geographical location and climate. Typically, Cambodians eat their meals with at least three or four dishes. A meal will usually include rice – the staple grain in Asian cuisine culture, a soup (or locally known as samlor), served alongside the main courses. Each individual dish will be either sweet, sour, salty or bitter in taste. Chilli (either fresh, pickled or dried) and chilli sauce is served on the side so that each diner can add it up as their personal preference. In addition, kaffir lime, lemon grass, garlic, fish sauce, soy sauce, curry, tamarind, ginger, oyster sauce, coconut milk and black pepper are key ingredients for almost traditional cooking recipes.
* Read more at: https://cambodiatravel.com/cambodian-food/
13. General Etiquette.
13.1. Greetings.
While in Cambodia, forget shaking hands or waving and learn the Cambodian greeting way called "sampeah". This usual form of greeting involves pressing your palms together in front of your chest and slightly bowing forward when introducing yourself to new friends. This gesture is accompanied by a Cambodian greeting phase: "Chum Reap Sour" (Hello) with smile on your face.
The younger persons should be the first to bow and the older person should respond quickly to show the politeness. The higher social status the person, the higher the hands are on the body to show the respect.
13.2. Manners.
Cambodians practice the philosophies of Buddhism because 96.9% of its population follow this religion. Therefore, Khmer people are generally gentle, sympathetic and polite. They learn to be happy with everything happen to their lives. They try to avoid conflict, anger and simmering tempers at all costs. You will get to nowhere if raising your voice, shouting or aggressive arguing in this friendly country. Just keep calm and your smiles can go a mile. All in all, this country is famous for friendly and cheerful persons. Just come here and you will have memorable moments with lovely locals and deeply understand about their culture.

To show your respect to elderly persons and monks, remember to take off your hat and bow your head politely when meeting them. Pat or touch on the adult's head must be avoided because the head is considered the most sacred part of the body. Laughing and speaking excessively loudly also should be avoided while in religious sites.
Monks are not supposed to be touched by women. If a female wants to make an offering to a monk, she should place the object on the monk's receiving cloth or on a nearby table within his reach.
13.3. Clothing.
When visiting a relatively reserved country like Cambodia, foreigners should respect local dress standards by wearing clothing that falls below the knees and elbows, especially follow dress code requirements in religious sites. Before entering a sacred place, remember to take off your shoes and hat or head covering.
14. Cambodia's Highlights.
Siem Reap with the impressive collection of ancient temples and monuments at Angkor Archaeological Park is a must on all itineraries to Cambodia. Among hundreds of temples surviving until now, Angkor Wat, Angkor Thom and Ta Prohm are the main draws attracting tourists to come to Siem Reap. While in Siem Reap, tourists are also keen on taking boa trips along Tonle Sap Lake – the largest permanent fresh-water lake in Southeast Asia, where they will have chance to witness the local daily lives of rural communities settled on the shores of the lake.
Many travelers choose Phnom Penh as the starting point on their holiday to Cambodia. The visit to the Tuol Sleng Genocide Museum (S21) and the notorious Choeung Ek "Killing Fields" will help people to learn about the Khmer Rouge and Cambodia's recent, bloody part of history, as well as educate young generations to ensure this tragic history never repeats itself.
To take part in river-related activities, don't hesitate to visit the laid-back Kratie – a great base to access rare Irrawaddy dolphins in their natural habitat, either in boat trips or by kayaking. Riverside Kampot Town in the southern coast of Cambodia is ideal for river cruises, stand-up paddle boarding (SUP), kayaking, wakeboarding, fishing expeditions, and even water skiing.
If you want to escape the bustling scene of main tourist hubs, countryside landscapes of Battambang and Kep are what you are looking for. Just hiring a bike or taking a tuk tuk to explore the surrounding countryside, you can delve into rural Cambodian life.
"Off-the-beaten-track" explorers pay much attention to Mondulkiri due to its wildlife and natural beauty, with thickly forested mountains, powerful waterfalls and the lush green rolling hills of the western side. This place is where animal lovers interact with elephant in an ethical way.
Coming to Khmer Kingdom from mid-November to the early May, you should not miss the chance to visit peaceful tropical islands there. Koh Rong and Koh Rong Sanloem islands off the Cambodia's southern coast are the two most famous islands while mentioning about beach holiday in Cambodia. However, they remain off the mass tourism map and maintain their authenticity in compared with neighboring Thailand's beaches and islands. Departing daily from Sihanouk Ville pier, there are lots of slow and speed boat options with various price points. Some island resorts include boat transfers to bring more comfortable stay for in-house guests.