Cambodia weather in May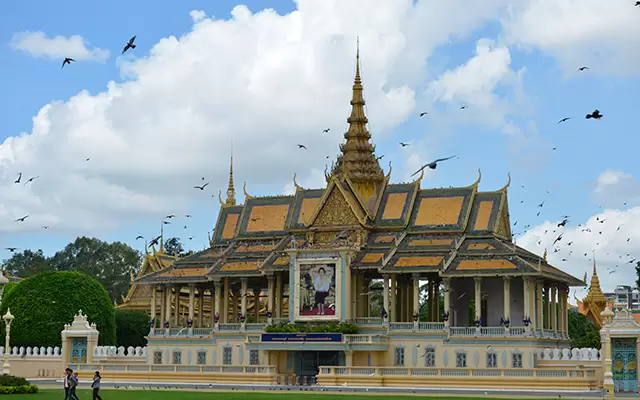 May in Cambodia is the transitional month from the dry spring into the wet summer. Despite the weather complexity, May is still a good time to visit Cambodia when lots of tourists are gone and you may have a bit more privacy to discover the most outstanding tourist attractions throughout the country. Let's take a look at Cambodia weather in May and other useful information to plan your next adventure in this amazing Southeast Asian country.
Cambodia Climate in May
Early May in Cambodia is mostly dry and sweltering hot. However, the monsoon will set its foot by the latter part of the month so showers can be expected in the weather forecast. Initially, these rainfalls remain sporadic and low but they somehow help to temper the scorching temperatures and oppressive humidity, bring the heat down to a bearable average of 28ºC.
Average temperature in Phnom Penh Capital is 30ºC, ranging from 26ºC to 34ºC. Phnom Penh in May usually has 15 days with some rain and the average rainfall is 166mm in total this month. 54% of daylight hours result from around 7 hours of bright sunshine each day.
Siem Reap in further north area also experiences the same situation, which predicts a little less rain over the course of the month.
These temperature characteristics are identical across much of Cambodia like Ratanakiri and Sihanouk Ville.
Suggested Places to visit in May
Even though late May heralds the oncoming rains, visitor can expect a unique holiday in Cambodia with ample sunshine. If you want to explore the wonders of Angkor Temples in Siem Reap without getting the tourist hordes in every frame, May is really a good time to consider when the crowds lessen due to the short but heavy showers.With 17 days of some rain (average rainfall counts for 230mm), coastal destinations' waters remain perfect for swimming, snorkeling and scuba diving in a beautiful 31ºC temperature.
There are many public holidays in May (details as below) so beach destinations such as Kep, Sihanouk Ville can quickly fill up with the local and expat exodus. To avoid these crowds, just head to the remote province of Mondulkiri and Ratanakiri where temperature is much cooler. In these mountainous areas, there are 6 hours of bright sunshine each day and average rainfall is 178 mm. Don't miss the chance to delve into wildlife and natural beauty, with thickly forested mountains, powerful waterfalls and the lush green rolling hills of the western side.
Cambodian Events in May
Visak Bochea Day (Buddha Day)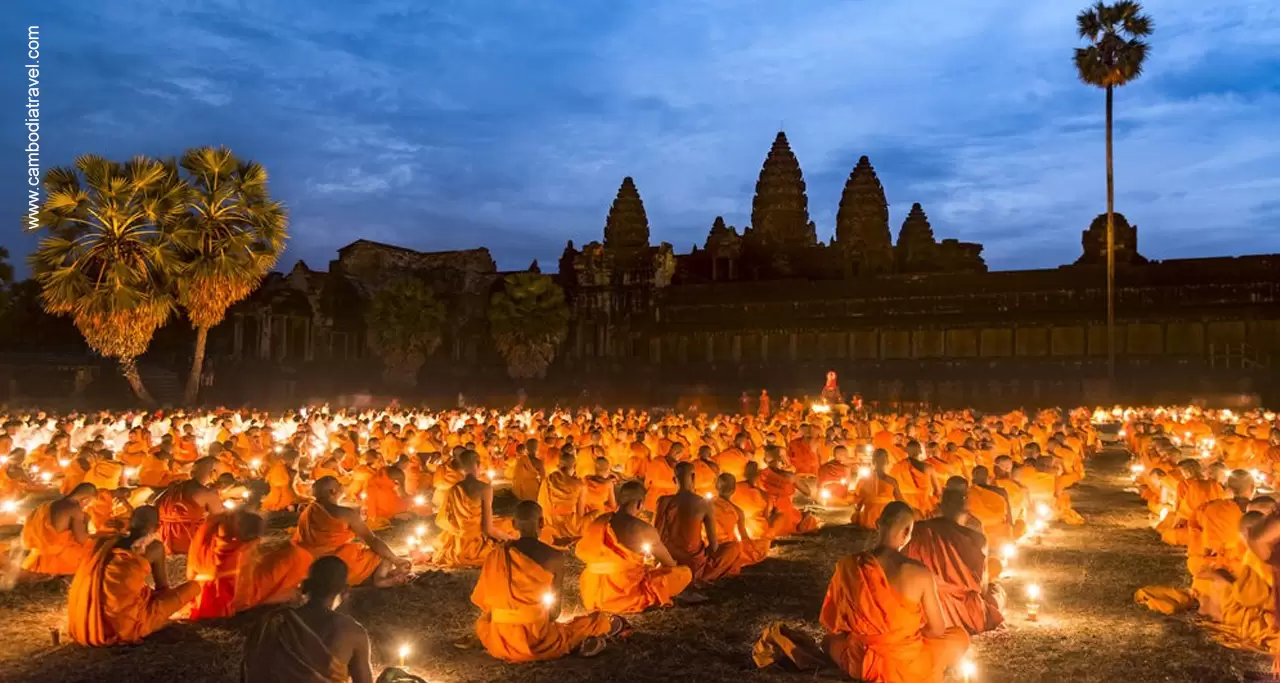 Visak Bochea Day is held on the full moon of the 6th month of Buddhist lunar calendar. Cambodian Buddhists celebrate this day to commemorates the birth, enlightenment and nirvana of the Gautama Buddha. On this day, Buddhists visit local temples and shrines, make offerings to monks at monasteries with food, candles and flowers. People spend this day to think about Buddha and his teachings to lead noble lives and bring peace to their minds.
Common rituals are seen on this occasion: bathing the Buddha statue, sharing vegetarian meals, cleaning and decorating houses and streets with flowers and Buddhist flags.
Royal Ploughing Ceremony
The Royal Ploughing Ceremony, or also called Bon Chroat Preah Nongkoal, is an ancient royal rite celebrated for hundreds of years in Cambodia to mark the beginning of the rice growing season as well as rainy season. According to a book of governing traditional rules named Satra, Khmer people prepared for their farming activities at the beginning of rainy season. One of the main purposes of this ceremony is wishing a bountiful harvest for farmers.
On this occasion, King will plough a field with two royal oxen. Then Queen (or someone assigned in King's palace) will sow the field with rice seeds. A group of royal servants will follow King and Queen, bring several trays of rice, corn, sesame seeds, beans, grass, water, and wine. After the field is ploughed and sowed three times, there will be an interesting event of royal oxen's predictions. The future events of the upcoming rice growing season will depend on what the oxen eat among above trays.
If you are in Cambodia, plan your trip to Phnom Penh during this time because you can have chance to observe this amazing ceremony held in open field near the National Museum and next to the Royal Palace.
King Norodom Sihamoni's Birthday
On 14 May every year, Cambodians celebrate the birthday of King Norodom Sihamoni – the Cambodia's current monarch, to express their patriotism and appreciation for his significant contribution to national prestige and strengthened rule of law during his reign. Born on May 14, 1953, King Sihomoni spent most of his life to study and work in Czech Republic, North Korea and France. Besides native Khmer, he is fluent in Czech, French, English and Russian.
In 1993, when he was prince, he was appointed Cambodia's delegate to UNESCO in Paris, and contributed significantly to Cambodia culture. He was appointed as King on 29 October 2004 when King Sihanouk decided to step down from the throne.
National Day of Remembrance
This day was first launched in 1984 to mark the first mass killings of the Khmer Rouge genocide in Cambodia (on 20 May 1976). People go to the Choeung Ek Killing Fields on Phnom Penh's southern outskirts where was a mass grave of the victims of the Khmer Rouge genocide. The ceremony at Choeung Ek includes monks chanting a Buddhist prayer for the deceased, re-enacted gruesome scenes of violence to mark the Khmer Rouge regime horrors. By remembering those tragic days, Cambodians hope to be vigilant to prevent their ever happening again.