The Most Interesting Things to Do in Angkor Wat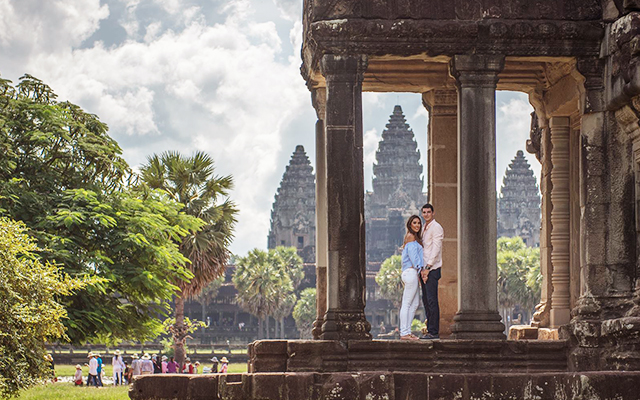 What most people refer to as Angkor Wat is actually a large complex with official name as Angkor Archaeological Park, which containing over 150 significant monuments and temples. Among them, Angkor Wat, an architectural masterpiece, is best known as the largest monument of the Angkor group and the best preserved. It is regarded as one of the world's finest monuments due to the perfect fusion of creation and spiritual devotion. Within the scope of this article, Cambodia Travel will guide you the most interesting things to do in Angkor Wat.
Background Information about Angkor Wat.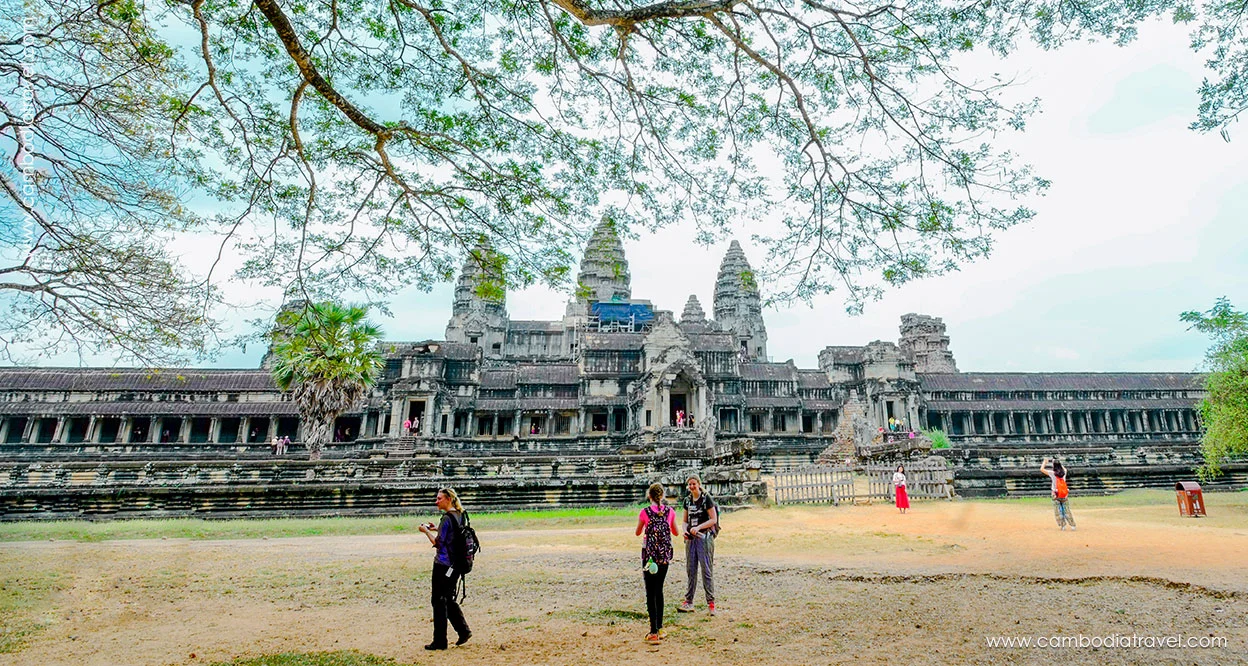 Angkor Wat was built by the Khmer King Suryavarman II in the first half of the 12th century (113-5BC) in Yaśodharapura, the capital of the Khmer Empire. It is described as a "Hindu-Buddhist" temple because it was originally built as a Hindu temple dedicated to the god Vishnu, but gradually transformed into a Buddhist temple towards the end of the 12th century.
As the best preserved temple within Angkor Area, Angkor Wat is at the top of the high classical style of Khmer architecture with two basic plans of the temple mountain and the later galleried temple. It is designed to represent Mount Meru, home of the devas in Hindu mythology. Within a more than 5 km long moat and a 3.6 km long outer wall are three rectangular galleries, each raised above the next. At the centre of the temple stands five high towers, which represent mountains. Unlike most temples in Angkor Complex, Angkor Wat is oriented to the west as the symbolism between the setting sun and death.
That concept conforms to the plan to make Angkor Wat become the funerary temple and mausoleum for King Suryavarman II. In addition, the bas-reliefs, designed for viewing from left to right in the order of Hindu funereal ritual, support this function.
You may also like:

10 Best Things to Do in Cambodia
Things to do in Angkor Wat.
Take tuk tuk to enjoy sunrise at Angkor Wat.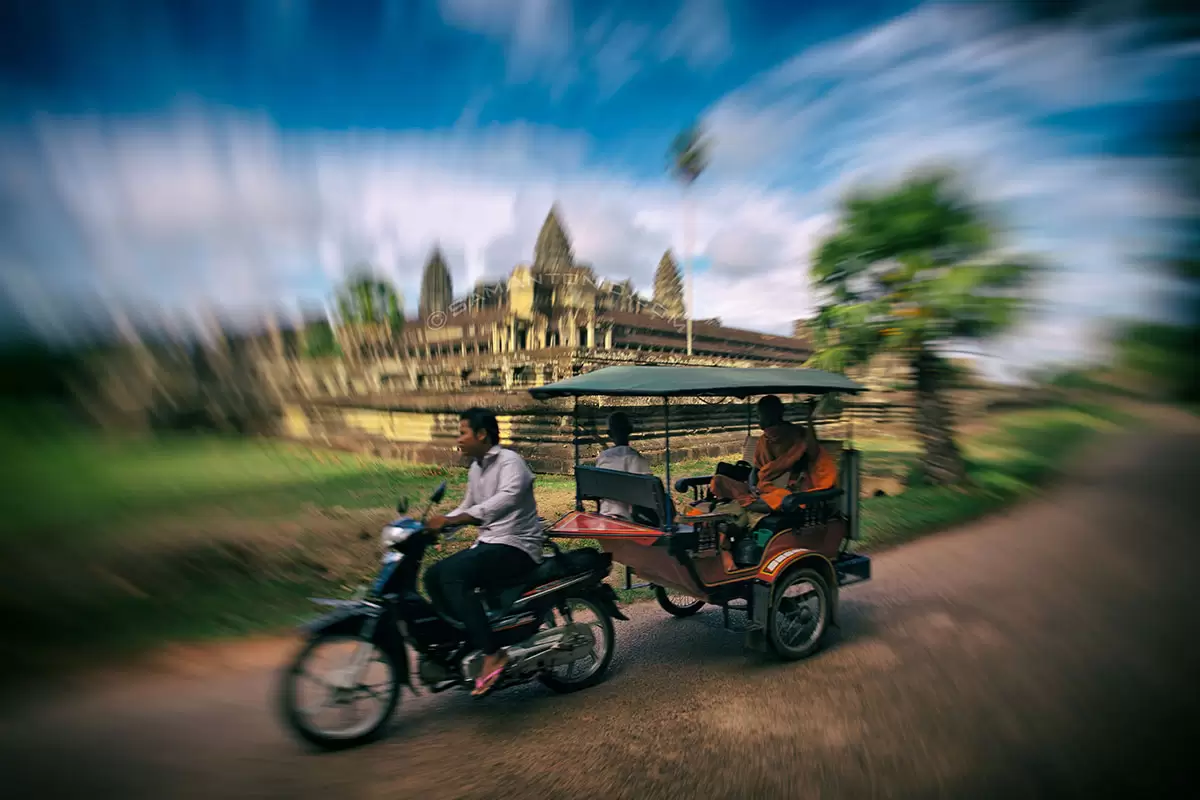 Taking tuk tuk to Angkor Wat at sunrise is designed to help tourists see "the temple reflex on the water" when it's much cooler and less crowded. The ticket office is open from 5 AM so tourists should leave their hotels at 4:30 AM and be there no later than 5:15 AM to ensure they still get a good spot for viewing temple at sunrise.
Most iconic sunrise photographs of Angkor Wat were taken from the edge of the left reflection pool so it also gets crowded there very quickly. Besides, there are alternative spots to enjoy and take photos of Angkor Wat at sunrise in more tranquil atmosphere, such as: right reflection pool or the bridge in front of the temple gate.
Once the sunrise moments end, don't forget to continue your Angkor Wat exploration while the temperatures are still cool in the early morning and not many people are there. When you feel tired and hungry, just take a rest and have light breakfast in a local restaurant right in front of the temple.
Climb to Phnom Bakeng to watch Angkor Wat at sunset.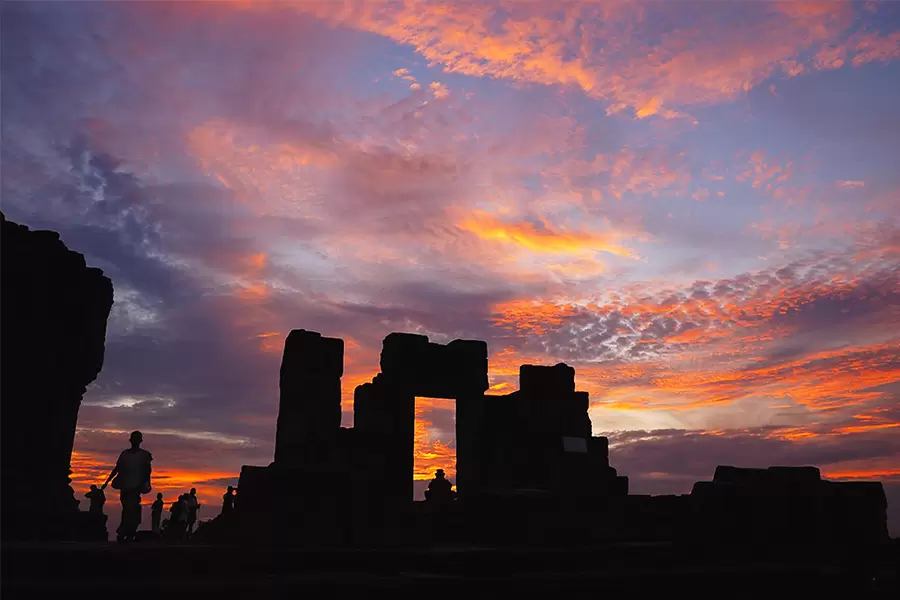 Phnom Bakeng is a temple mountain dedicated to Hindu god Shiva. Thanks to its position on a 60m high hill, which is about 1.3 km north from Angkor Wat, Phnom Bakeng is famous as sunset viewpoint of Angkor Wat. As a result, massive travelers seek for sunset moments from Bakeng mountain top. Therefore, there is a limit number of 300 tourists allowed at the top of Phnom Bakeng each one time to preserve this religious site.
For this reason, visitors are highly recommended to arrive a little bit early to beat the crowds, as well as get a premium standing or sitting spot on the southeast corner for sunset moments. Plan to start your hiking from the foot of Bakeng mountain at around 3:30 pm so you can reach the top at 4 pm and have plenty of time taking pictures, seeing Angkor Wat from a distance and at high elevation. Most temples close at 5:30 pm but Phnom Bakheng opens until 7 pm to satisfy sunset seekers.
View Angkor Wat from above.

It can't be denied that seeing Angkor temples in close distance is pretty incredible but it's even more amazing if you have chance to view them from above. There are two options that will give tourists an elevated perspective on the temples and surrounding areas: tethered balloon and helicopter.
Angkor Balloon.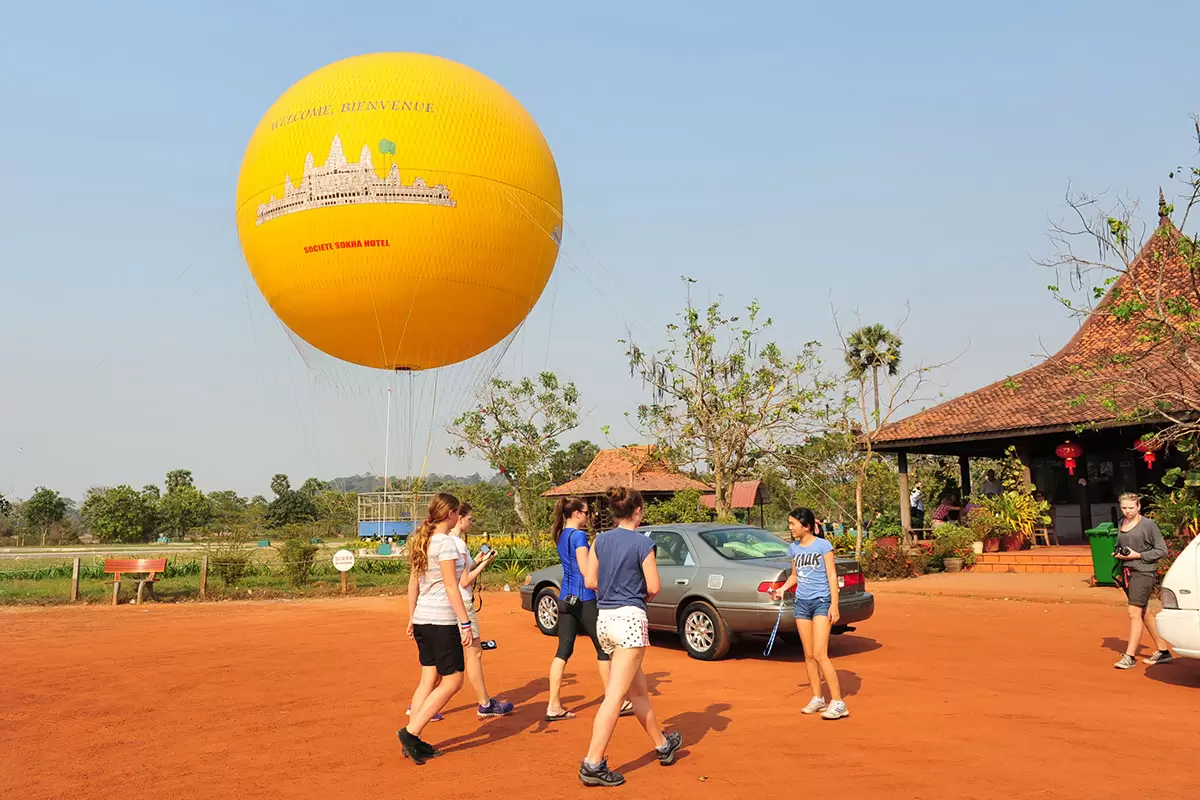 Angkor Balloon is a tethered helium balloon which is just 800 meters from Angkor Wat west gate. The 10-minute flight at 120 meters for a large bowl of fresh air allows tourists to witness Angkor Wat, Phnom Bakheng, and West Baray from a bird's eye-view. Tonle Sap Lake and Phnom Krom even can be seen from the distance in clear sky conditions. This service runs both sunrise and sunset but depends mainly on weather conditions. It's suggested to take afternoon flight in November to April and fly in the morning in May to October.
Siem Reap Scenic Flight.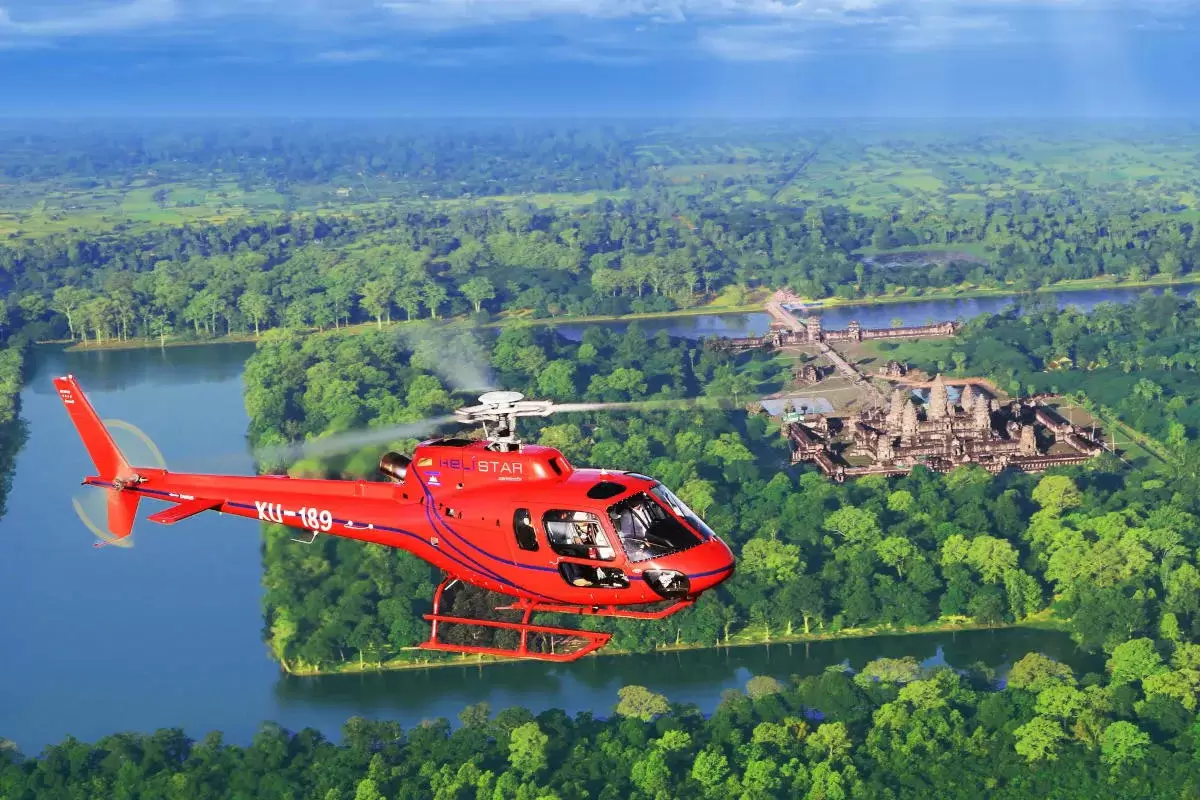 Clients with better budget can try helicopter scenic tours above Angkor. This service is offered by Helistar Cambodia with 8-minute flight or 14-minute flight options. Helicopter flies along the moat of the magnificent Angkor Wat, Phnom Bakeng, Sras Srang, Pre Rup, East Mebon and Tasom temples. These flights give tourists better orientation of Angkor from a bird's eye view and surely one of the most amazing things to do in Siem Reap.
Blessed by Buddhist Monk in Angkor Wat.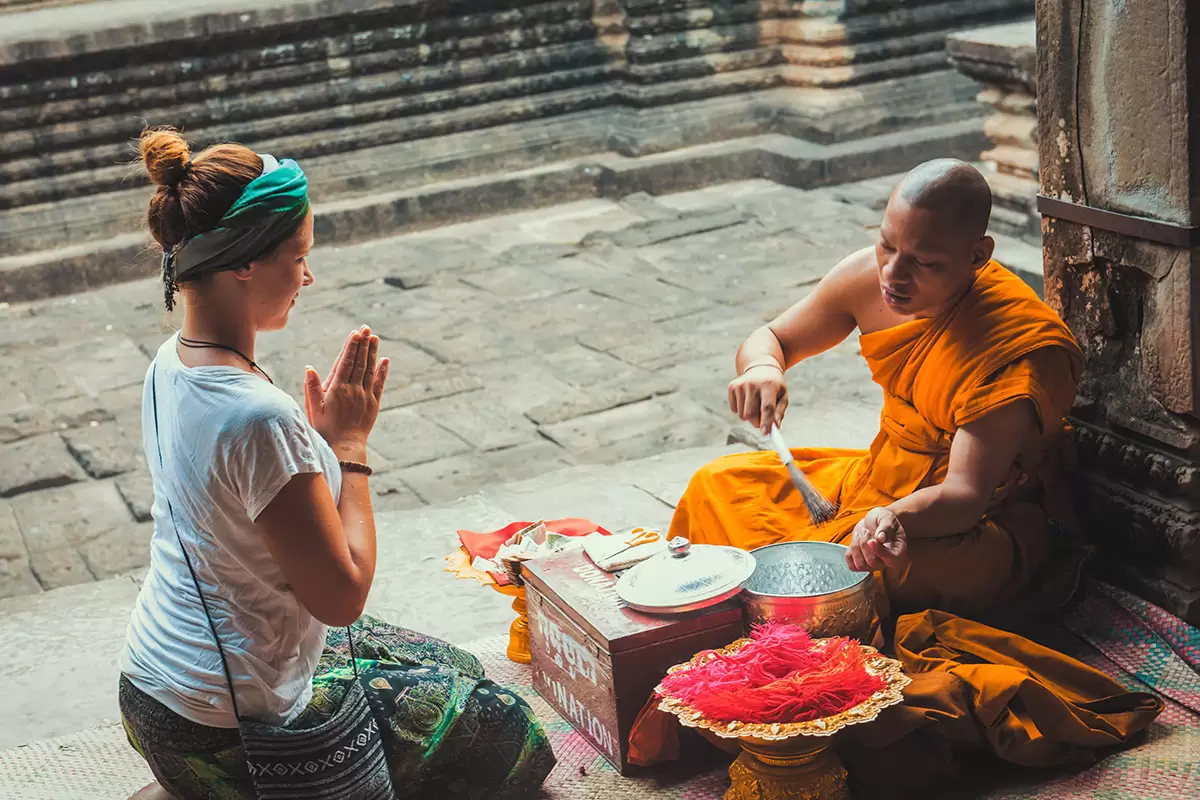 While wandering through the ancient Angkor Wat, tourists may be lucky enough to meet up Buddhist monks there. Water blessing is a traditional Cambodian practice that date back to ancient times and is preserved and maintained until modern times. You should take off your shoes and hat, sit opposite to the monk on his mat, and make donation into a small box. During the blessing, the monk will sprinkle water on your head. This holy water mixed with Jasmin and lotus is believed to be able to take away of your bad luck, weak soul, and bring back a good thing.
Then you will receive at least three holy prays from the monk. The monk's chant prayers are spoken in Pali, the language of early Buddhist scriptures. Finally, the monk gives you a personal blessing when he ties a red thread around your wrist, as the symbol of good luck and prosperity. Blessing is such a lovely memory while you are in Angkor Wat, which makes you feel fresh, safe and confident from the inner pace.
Some tips before visiting Angkor Wat.
– Visitors must dress respectfully by covering your shoulders and knees. Don't forget to follow the rules like smoking and eating in proper areas.
– Like almost temples in Angkor Area, Angkor Wat is set in open-air and in the middle of nature. So be ready to protect yourselves by mosquito repellent, sunscreen, hat and bottles of water.
– In front of Angkor Wat, before you cross the moat into the site, there are lots of local food stalls and kiosks which open as early as the sunrise. Therefore, you can take a quick break or light breakfast there after sunrise tour and continue Angkor day trip without coming back to Siem Reap town.
– For sunrise tour to Angkor Wat, visitors need to wake up early and might be a queue to get the ticket on the early morning. Angkor Wat is open from 5 am to 5:30 pm every day. Also don't forget to check hour-by-hour forecast before you go, to ensure it's a good sunrise weather.
– You have options to have tour guide or not. But Angkor Wat in particular contains so much details and incredible background of its architecture and history. Therefore, touring with a local tour guide will give you an excellent overview about Angkor Wat. And he will suggest you interesting things to do in Angkor Wat, which you may not able to find in any document or website.