The Best Time to Visit Vietnam and Cambodia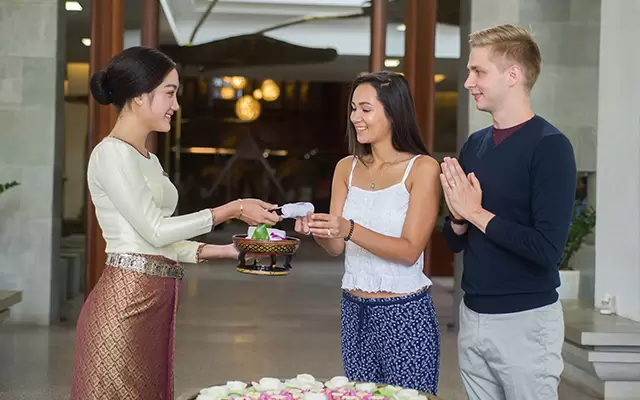 Before planning holidays in Vietnam and Cambodia, one of the most essential information you might concern about is the best time to visit Vietnam and Cambodia. Located side by side, these two countries are often visited in conjunction with each other. Generally, the area is impacted by monsoons during summer months, but there are some climate variations in different parts of each country at different times of the year. Finding the most suitable time of the year to explore Vietnam and Cambodia will make your trip more enjoyable and memorable.
Maps of Vietnam and Cambodia.
The international border between Vietnam and Cambodia is 1,158 km in length. The border runs from the tripoint with Laos in the north then proceeds overland to the south, terminating at the Gulf of Thailand at west of Ha Tien. These two countries share five international border crossings: Bavet / Moc Bai; Kaam Samnor / Vinh Xuong (riverine border); Phnom Den / Tinh Bien; Prek Chak / Xa Xia; Le Thanh / O Yadao crossing.
Bavet / Moc Bai is the longest and most popular land border crossing so both Cambodia and Vietnam E-Visa are accepted in this point. Among these border crossings, Kaam Samnor / Vinh Xuong is the only riverine crossing which links Phnom Penh Capital in Cambodia with the Vietnamese Town of Chau Doc. This port also allows foreigners enter and exit Vietnam by Vietnamese E-Visa. In other land ports, Cambodian visa on arrival is available, meanwhile Vietnamese visas must be arranged in advance.
In case you are on a vacation with very limited time, flying is the best option to take into account. There are many direct flights per day connecting main tourism hubs between Vietnam and Cambodia.
– Phnom Penh => Hanoi / Ho Chi Minh City.
– Siem Reap => Hanoi / Danang / Ho Chi Minh City.
These flights are operated by Vietnam Airlines and Cambodian Angkor Air – the flag carriers of two countries, or the low cost carrier – Vietjet Air.
Overview of climate in Vietnam and Cambodia.
Climate in Cambodia.
Cambodia has the simpler weather system in Southeast Asia with two distinct seasons: dry and wet season.
The dry season in Cambodia runs from October to April/ early May, when hot wind caused by the dry north-east monsoon blowing across the whole country. With the average temperature at around 24°C-26°C, November to January are the coolest months of the year. Characterized by dry and sunny weather, low humidity and relatively cool temperatures, it is no surprise that dry season is when the number of tourists coming to Cambodia reaches its peak.
From May to early October is the wet season in Cambodia. During these months, southwest monsoon brings almost 75% of annual rainfall to Cambodia. During this rainy season, daytime temperature still remains high between 25°C and 27°C. May, June and July are the hottest months and rainfalls comes infrequently in the form of short downpours. Toward the latter months of the wet season (late July – September), rains tend to be more intense and can be heaviest along the south coast.
Climate in Vietnam
Vietnam is located in the tropical area, with high temperature and high humidity all year round. With 3,260 km of coastline stretching from north to south, the weather in Vietnam can vary significantly from one region to another, which creates three different weather systems. The climate in Vietnam can be split by regions with characteristics as below:
* North Vietnam.
The North is a tropical monsoon climate, with 4 distinct seasons (spring-summer-autumn-winter), influenced by northeast monsoons (from mainland Asia) and southeast monsoons, with high humidity. Hanoi and North Vietnam (Ninh Binh, Halong Bay) has distinct summer and winter seasons. From May to September, the summer is hot and humid with highest rainfall. The cool but mostly dry winter lasts from November to January with average temperature around 12-20°C. North Vietnam experiences a quite pleasant but short fall season from late September to November when the monsoon withdraws from the region.
In the far north (Sapa, Ha Giang, Mu Cang Chai, Ba Be, Ban Gioc), the winter can be particularly cold and frosty at times, especially in December and January. Temperature at night can approach freezing at 0°C. However, late September – October is an ideal time of the year to visit these mountainous regions as the rice fields turn a golden color and ready to be harvested.
* Central Vietnam.
Central Vietnam (Hue, Danang, Hoian) has hot and dry weather from mid-January to late August when temperatures can hit around 30°C. Nha Trang, located at the far south of Central Vietnam, experiences a bit longer dry season until September with high temperatures and little rain. Rainy season in this region generally comes from late September and the rainfall reaches its peak level in October and November. Heavy storms can occur and the region is prone to flooding in this period.
* South Vietnam.
Due to less influence of monsoons and constant temperatures year round (between 25 – 35°C), South Vietnam share similar climate characters with neighboring Cambodia with two simple seasons: wet and dry. The dry season lasts from November to April and the wet season begins in May and ends in early November. June, July and August experience the highest rainfall of the year. Even rainfall is generally heavier in wet season, they come in form of short downpours and often occur in mid-afternoon.
The Best Time to Visit Vietnam and Cambodia
As you can see, Vietnam and Cambodia have all kinds of climate coordinated with the diversity of geographical features including mountains, highlands, jungles, deltas, beaches, and islands. The high season for travel in both Vietnam and Cambodia is from November until April, with dry and favorable weather conditions throughout almost main tourism destinations, except raining November in Central Vietnam (Hue, Danang, Hoian). Consequently, that is also when the cost of travelling tends to increase.
The travel expenses are particularly acute during special occasions, like Christmas and New Year Eve, the weeklong Vietnamese Tet Festival in late January or early February, Khmer New Year Celebration in mid-April. If traveling during this period, tourists are suggested to reserve travel services as early as possible to avoid fully booked situations.
In the spring (from January to March), North and Far North of Vietnam is really a blossoming paradise of various flowers with many colorful traditional festivals organized during New Year period. Sapa and some mountainous areas may have the high chance of snowing in winter days when temperature reaches below 00C. In January, rainfall is at its lowest level although a misty fog is not unusual, especially in coastal areas and around Halong Bay.
Not mentioning about rainfalls and storms at times from late September to November, Central Vietnam in other months of high season (December to April) return to its glory days with constant sunshine and blue skies. This time also offers the favorable swimming and diving conditions in famous beaches and islands, such as Danang, Hoian, Nha Trang, Mui Ne.
During November – April, Southern Vietnam ladles Cambodia into the Gulf of Thailand for comfortable conditions with brilliant sunshine and extremely low chance of raining. Beach and island lovers surely have difficulty in finding the beach destinations because both countries offer many pristine white sand coastlines and islands, such as Sihanouk Ville – Koh Rong – Koh Rong Samloem in Cambodia, or Vietnam's southern islands of Phu Quoc – Con Dao.
In north east regions of Cambodia, journey time to Mondulkiri and Ratanakiri is shorter thanks to good road conditions in dry season. Sunny daytime and cooler temperatures make adventure activities like trekking into jungles or interact with wildlife in these places are much more pleasant.
Although November to January are quite cool, April is one of the hottest months in Cambodia with average temperatures of 35°C. Rather than all day visits to Angkor Temples, tourists are recommended to take early morning or late afternoon tours, and have short break by the hotel swimming pool or at air-condition restaurants or tourist venues at midday. On the other hand, the summer heat somehow helps to lower the crowd numbers at the main temples in specific time of the day.
Coming to Vietnam and Cambodia between May and early October, tourists can experience a quieter holiday. Actually, wet season is not as bad as the label implies because it depends on what you want to do in these countries. And sometimes, tourist numbers may be taken into consideration rather than the weather factor.
Visitors can still come to Cambodia during monsoon season when the dust is gone and the countryside returns to its lush greenery thanks to downpours. The iconic tourism site – Angkor Temples, gets a severe decrease in visitor numbers. In some extends, these spectacular temples are more stunning in wet season with fully watered moats surrounding, which provides perfect chances to snap shots of temple reflections in the water. Rainy season is also the perfect time of the year to visit floating villages in Tonle Sap Lake by boat.
During wet season, the lake swells to six or seven times its normal size of approximately 2,600 square kilometres.
On the downside, heavy rainfalls make travelling to north east regions (Kratie, Mondulkiri, Ratanakiri) and southern coastal destinations (Sihanouk Ville, Kampot, Kep) fairly difficult. "Of the beaten path" travel should be avoided, particularly in August. Remote tracks can become unpassable due to flooding of road system there. For those who are planning some relaxing days on the beach should forget Cambodia's south coast during these months.
Instead, they can take short flight to Vietnamese beaches of Danang and Hoian, where experience sunny and dry days in summer time (from May to August).
Other beach destinations in Central Vietnam like Phu Yen, Quy Nhon, Nha Trang, Mui Ne also share the same weather scene with Danang and Hoian. In general, central coast has plenty of sunshine and blue skies, average temperature is around 31°C. This time coincidence with Vietnamese school summer holiday so locals gather at Central's beaches while the number of foreigner tourist decreases.
As mentioned earlier, the heaviest raining period in South Vietnam is from June to August. However, sightseeing trips in Ho Chi Minh City and Mekong Delta are possible because rains generally appear in short form and more likely happen in the mid-afternoon. The visit to Phu Quoc or Con Dao Island during these months should be considered seriously if you don't want to spend all day long in your resorts.
North Vietnam is in its summer with plenty of hot and humid weather and rains are frequently caught in July and August. Halong Bay is prone to heavy showers at this time of the year but summer time is still the pretty good period to enjoy Halong Bay cruise with outdoor activities like swimming, kayaking and caving.
Far North Vietnam is in best trekking conditions between September and early November. Temperatures in daytime range from 15-28°C, and from 10-18°C at night time. Especially, late September to October is when mountainous areas like Sapa, Ha Giang, Mu Cang Chai start their harvesting season. Visitors cannot take their eyes off the picturesque landscape when endless terraced rice fields turn golden color.
In conclusion, the best time to visit Vietnam and Cambodia is from December to March when both countries experience dry season with less rainfall and low humidity.
Suggested Vietnam and Cambodia tours from Cambodia Travel.
Luxury Siem Reap & North Vietnam 8 days.
– Destinations: Siem Reap, Hanoi, Ninh Binh, Halong Bay.
– Overview:
In this 8 day trip you'll visit this Wonder of the World – Angkor Temples (Cambodia) and The World Heritage Site of Halong Bay, visit the home of "King Kong" in Ninh Binh (Vietnam). This tour combines the highlights of Cambodia using the luxury accommodation and services. Start with a visit to the ancient Angkor temples of Khmer kingdom and explore the legendary Angkor Wat. Then travel to North Vietnam to discover the spectacular landscape of Red River Delta and sail through the mystical Halong Bay. This private trip could start from Siem Reap and end in Hanoi or vice versa.
More details at: https://cambodiatravel.com/tour/luxury-of-siem-reap-north-vietnam/

Splendor of Cambodia & Vietnam 8 days.

– Destinations: Siem Reap, Danang, Hoian, Saigon, Mekong Delta.
– Overview:
Enjoy a worry-free travel experience, staying in only the finest hotels and visiting the region's most beautiful sites with our expert, English-speaking guides. Enjoy the sunrise over the Khmer temple complex of Angkor Wat. Behold the haunting beauty of Ta Prohm, where jungle vines embrace ancient ruins and delight in Central Vietnam's ancient culture and diversity. Wander through Saigon bustling streets and immerse yourself in the riches of Mekong. Luxurious accommodations, incomparable service and unforgettable memories – it's all here. Get ready for the Journey of a Lifetime!
More details at: https://cambodiatravel.com/tour/splendour-of-cambodia-vietnam/
Luxury Mekong Experience 8 days.
– Destinations: Saigon, Can Tho, Chau Doc, Phnom Penh, Siem Reap.
– Overview:
Immerse yourself in the sublime beauty of the Mekong & it's river life. Travel from Saigon's modern bustle to the calm waters of Tonle Sap Lake and into the ancient Khmer Kingdom; explore South Vietnam and Cambodia on a tour that takes you along the meandering Mekong River all the way to Siem Reap – the home town of Angkor Wat while you enjoy the best accommodation and luxury facility that Vietnam and Cambodia have to offer.
More details at: https://cambodiatravel.com/tour/luxury-mekong-experience/
Luxury Heritage Journey 11 days.
– Destinations: Siem Reap (Cambodia), Hanoi, Ninh Binh, Lan Ha Bay, Danang, Hoian, Hue (Vietnam).
– Overview:
Indulge in the best very best of Vietnam and Cambodia on this one of a kind private luxury tour. Designed to capture the essence of this mysterious region, this awe-inspiring itinerary is meticulously crafted to invite you, in elegance and style, into Southeast Asia's "window of the past."
More details at: https://cambodiatravel.com/tour/luxury-heritage-journey/
Cambodia & North Vietnam 11 days.
– Destinations: Phnom Penh, Battambang, Siem Reap, Hanoi, Mai Chau, Ninh Binh, Halong Bay.
– Overview:
During this 11 day adventure, you'll visit some of the wonders of the world – The Angkor Temples of Khmer Kingdom and the World Heritage Site of Halong Bay, plus trekking to the Thail hill tribe villages in Mai Chau in Vietnam. This tour combines the highlights of Cambodia and Vietnam. Begin with a visit to the ancient Angkor temples of Khmer Kingdom and explore the legendary Angkor Wat. Then travel to North Vietnam to discover the colorful cultures of the hill tribe peoples and sail through the mystical and tranquil Halong Bay.
More details at: https://cambodiatravel.com/tour/cambodia-and-north-vietnam/
Cambodia & Central Vietnam 12 days.
– Destinations: Phnom Penh, Battambang, Siem Reap, Danang, Hue, Hoian.
– Overview:
This private adventure combines the hidden charm of Vietnam and the mystical treasures of Angkor in Cambodia with a unique opportunity to experience the natural beauty and traditional lifestyle found throughout the central of Vietnam.
More details at: https://cambodiatravel.com/tour/cambodia-central-vietnam/
Biking Vietnam & Cambodia 12 days.
– Destinations: Ho Chi Minh City, Tra Vinh, Can Tho, Chau Doc, Kep, Sihanouk Ville, Siem Reap.
– Overview:
The journey through the back roads of South Vietnam and Cambodia, where all your senses will delve deeply into the culture and life style local life along mighty Mekong River. Begin in Saigon, leisurely cycle through the graceful river landscape, pass lush green rice fields, tropical sugar palms and lotus flower dotted lakes.
More details at: https://cambodiatravel.com/tour/biking-vietnam-cambodia/
Cambodia & Vietnam Adventure 14 days.
– Destinations: Siem Reap, Ratanakiri, Pleiku, Hoian, Danang.
– Overview:
Cambodia & Vietnam Adventure takes you crossing Kingdom of Cambodia to central Vietnam. The trip starts with biking through Angkor temples, horse riding in the Khmer countryside then drive up Northeast of Cambodia to central highland of Vietnam.
This 2 weeks adventure ends at the lovely beach in Danang and lots of outdoor activities in Hoian town.
More details at: https://cambodiatravel.com/tour/cambodia-and-vietnam-adventure/
Foodie Tour Cambodia & Vietnam 16 days.
– Destinations: Siem Reap, Battambang, Phnom Penh, Chau Doc, Saigon, Hoi An, Hue, Hanoi, Halong Bay.
– Overview:
From the majestic Angkor temples to the emerald waters and haunting karst fangs of Halong Bay, Cambodia Travel designs this sixteen-day tour to take you across Vietnam and Cambodia's kaleidoscope of landscapes. This private adventure lets you dine your way, indulging all your senses in delicious tastes and tantalizing aromas, while travelling in comfort and style.
Starting in Siem Reap and ending in Hanoi, embark on a journey that covers the highlights of these two enchanting countries.
More details at: https://cambodiatravel.com/tour/foodie-tour-cambodia-vietnam/

The combination trip to Vietnam and Cambodia tends to be more popular in recent years when visitors plan the trip to Southeast Asia. This will give you broader understanding of the many similarities as well as differences between these two countries, also save lots of travelling time and expenses at the same time. Contact us and our travel consultants will help you to find out the most suitable time to visit Vietnam and Cambodia!