Cambodia Weather in July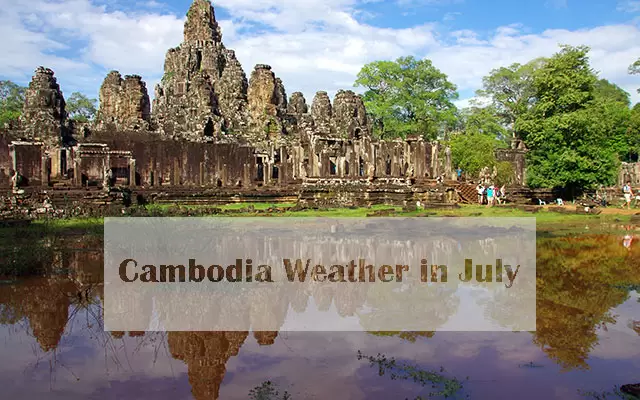 Although July is considered as one of the wettest months of the year in Cambodia, rain often comes in short and sharp downpours and doesn't last all day long. Tourists can still expect plenty of hot weather in summer mode during this month. July is especially suitable for tourists who want to avoid the high season crowds because almost tourist attractions are much quieter at this time of the year. Keep reading to discover more about Cambodia weather in July and other essential information.
1. Cambodia Climate in July.
Coming to July, the wet southwest monsoon is established and in full swing. Thanks to rains, days in Cambodia are more comfortable with average temperatures around 27°C. In Phnom Penh, temperatures range from 25°C at night to 33°C in daytime, with around 170 mm of precipitation expected over the course of the month. Siem Reap experiences the similar situation with almost a 60% chance of rain each day. Temperatures here reach highs of 32°C and lows of 27°C as observed in recent years. Over the course of this month, destinations in coastal southern part of Cambodia like Sihanoukville get the minimum temperature of 24°C and maximum temperature around 31°C. The average amount of rainfall is 146 mm but sun can be occasionally seen during this month with average 174 hours of sunlight.
When the month end draws near, monsoon rains will gradually increase. However, several dry days are still expected throughout this wet month. In a positive way, the downpours in this country don't last the entire day. They come with plenty of warning so you can have enough time to find the shelter before the precipitation hammers from the sky for about one hour. Then the skies are once again blue immediately and the sun is shining. After a couple of raining months, the countryside is much more lush and green.
2. Important notes when visiting Cambodia in July.
During July, rains can be seen throughout the country. Tourists can face more or less rain depending on their exact destination. Generally, downpours will not last all day long. Tourists can start the day trip in the morning with bright and dry conditions. In the afternoon, rainfall typically comes in the form of heavy and intense showers to clear the humidity. Impressive lightning and thunder storms can break out infrequently, which provides some spectacular views for those who have never experienced them before, especially while standing at the famous Angkor Complex.
If you don't consider rainfall as a nuisance, you will find Cambodia is a picturesque destination to travel in July. This month experiences a significant decrease in the number of tourists. This makes major landmarks like Angkor Complex in Siem Reap, Royal Palace in Phnom Penh much less crowded. Therefore, it's one of the quietest times to explore both the city and temples. In addition, almost hotels and resorts offer attractive packages or discount programs to attract tourists during this low season. Budget travelers can't deny that July is one of the ideal time to visit Cambodia.
After many days of precipitation, the countryside turns into lush and green shade and water levels in the lakes increase. However, the travel to rural north-east regions, such as Ratanakiri and Mondulkiri, is rather difficult due to flooding.
If you look for beach relaxation at the end of your Cambodia holiday, just skip the beaches of the south Cambodia during July due to the heavy downpours and hop over to the neighboring Vietnam to soak in the sunshine. Beaches in central Vietnam are at their prime at that time and this extension can be easily added to your travel plan.
3. What to pack?
– Clothing: although your visit falls in the early wet season, please keep in mind that Cambodia is still a tropical country with hot climate. So you should pack clothing including cotton t-shirt, linen pants or dry-fit. Light rain jacket is a must in your suitcase.
– Footwear: bring appropriate footwear for the wet season like weather-resistant walking shoes and/or waterproof sandals.
– Waterproof backpacks or bags: these items are necessary to keep your important belongings safe and dry while travelling in rainy season.
– Hairdryer: it's a good idea to bring a small hairdryer along with you. It's not just for drying your hair, but very useful for quick drying a wet piece of clothing in urgent cases.
– Insect repellent spray: tropical Cambodia in wet season has good conditions for mosquitoes and other insects. So protect yourself against these pesky bites by packing a good insect repellent spray and protective clothing.