Things to Do in Siem Reap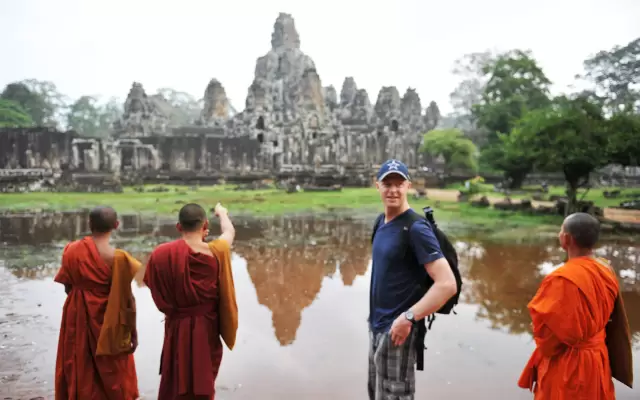 Siem Reap, located in northwest Cambodia, is the major tourist hub in this country. It serves as the linking bridge to the ancient ruins and temples of Angkor Complex. To meet the continuously increasing demand to visit magnificent Angkor, Siem Reap has transformed itself into one of the world's premier travel destinations. However, there is more to Siem Reap than Angkor with an endless choice of exciting activities awaiting the visitors. So be sure to spend an extra couple of days roaming this charming town. Check out top things to do in Siem Reap that you should not miss when visiting Cambodia.
15 Best Things to Do in Siem Reap

Explore Angkor Complex by bicycle.
Being defined as one of the most important archaeological sites in South-East Asia by UNESCO, Angkor Archaeological Park spreads over 400km2, with remains of the different capitals of the Khmer Empire from the 9th to the 15th century.
Touring Angkor by bicycle is highly recommended for those, who have a bit of time, possess moderate physical fitness, and are up for a little adventure. Seeing Angkor on a bicycle, tourists will be able to escape the crowds, have flexible itinerary and approach a different side of these majestic temples with an expert cycling guide.
Besides Angkor Wat, the temple complex contains many other temples which are impossible for you to visit solely on foot. Or some temples are in remote areas, where tour buses are not allowed to enter. In this case, biking is a perfect option for the distances which are too far to walk but not so far to take tuk tuk or car. If you are in a tight schedule and just want a quick taste, one-day biking to main temples like Angkor Wat, Angkor Thom, Ta Prohm and Preah Khan is recommended.
Otherwise, three day Angkor Pass is an ideal option for most bikers as they can break up the program into half day biking and half day doing something different in between. More importantly, even you take biking in hot and sunny Siem Reap, you are strictly required to follow dress code in Angkor Area: shoulders and knees must be covered.
Sunrise at Angkor Wat by tuk tuk.
Angkor Wat, the UNESCO World Heritage Site, which was constructed by Suryavarman II who reigned Cambodia from 1113 to 1152 and built the five towers in the 12th century and dedicated them to the Hindu God Vishnu. It's also the main reason for travelers all around the world come to visit Cambodia. Despite the growing crowds, this place is still incredible and should be visited at least one in your lifetime.
Taking tuk tuk to Angkor Wat at sunrise is designed to help tourists see "the temple reflex on the water" when it's much cooler and less crowded. The ticket office is open from 5 AM so tourists should leave their hotels at 4:30 AM and be there no later than 5:15 AM to ensure they still get a good spot for viewing temple at sunrise.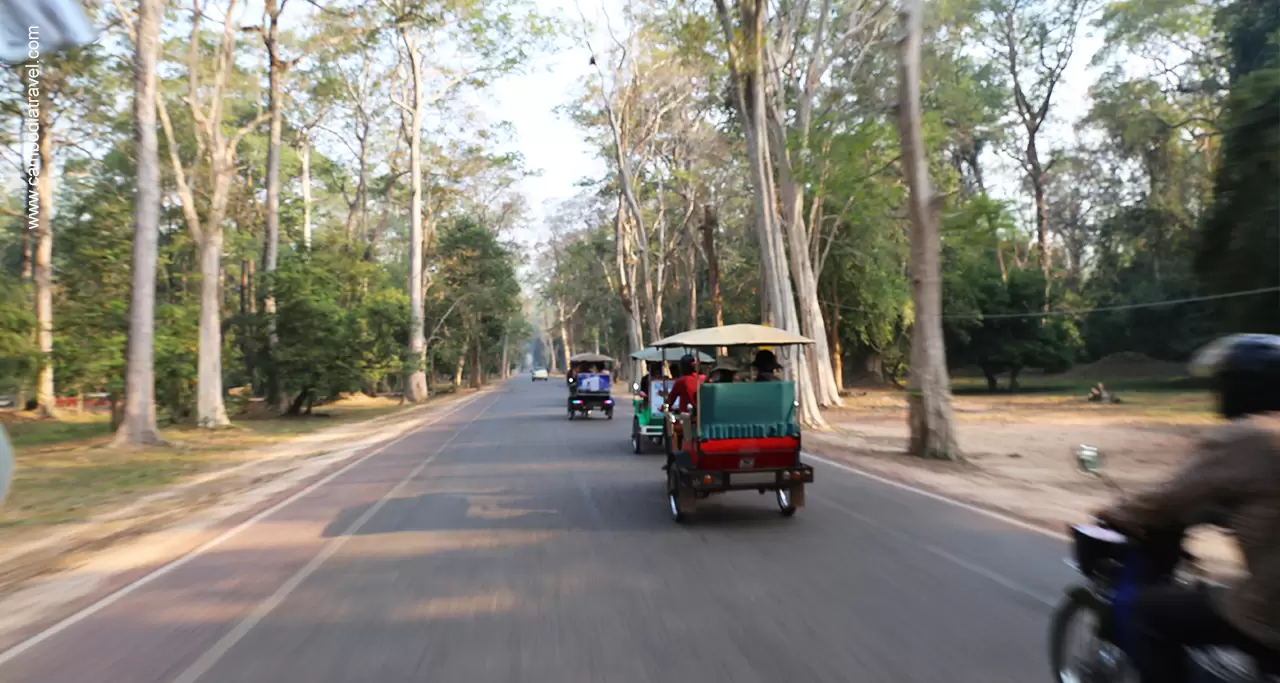 Most iconic sunrise photographs of Angkor Wat were taken from the edge of the left reflection pool so it also gets crowded there very quickly. Besides, there are alternative spots to enjoy and take photos of Angkor Wat at sunrise in more tranquil atmosphere, such as: right reflection pool or the bridge in front of the temple gate.
Once the sunrise moments end, don't forget to continue your Angkor Wat exploration while the temperatures are still cool in the early morning and not many people are there. When you feel tired and hungry, just take a rest and have light breakfast in a local restaurant right in front of the temple.
Boat trip to floating villages in Tonle Sap Lake.
Tonle Sap Lake is the largest permanent fresh-water lake in Southeast Asia and flows into Tonle Sap River, joining the Mekong in Phnom Penh. During the rainy season (from May to October), the lake swells to six or seven times its normal size of approximately 2,600 square kilometres. Locals have learnt to adapts to the unique ebb and flow of the Tonle Sap Lake through the seasons by creating floating villages.
After discovery tour in Angkor Complex, tourists are recommended to spend one day trip from Siem Reap to one of the fascinating floating villages in Tonle Sap Lake to witness the local daily lives of rural communities settled on the shores of the lake.
Please remember that floating villages are not typical tourist attraction so tourists have to respect local privacy and not invade too much into the villager's living space.
Below are main floating villages that are accessible from Siem Reap:
* Chong Kneas:
– Closest village from Siem Reap, approx.. 16 km.
– Extremely touristy, unethical crocodile farms.
– Famous for many Korean restaurants to serve Korean tourists.
– Gateway to Battambang and Phnom Penh by boat.
* Kampong Phluk:
– Just over 30 km from Siem Reap.
– Scenic, though pretty short boat trip with a stop at a stilted restaurant for sunset.
– Small boats to mangroves, or flooded forest.
* Kampong Khleang:
– A permanent stilted villagearound 50 km southeast of Siem Reap.
– Furthest away from Siem Reap, offer more genuine experience.
– The largest village on the lake and home to about 6,000 people.
– Mix of stilted houses, floating raft houses, floating schools, pagodas and medical centres.
* Mechrey:
– Located 25 km southwest of Siem Reap.
– Least visited village on Tonle Sap, offer authentic floating village experience.
– Emerged as an eco-friendly and community based tourism place in recent years.
– The entry point into the Prek Toal Core Bird Sanctuary with best time to visit between December and early February.
Best time to visit these floating villages is during rainy season from June to November. March to May should be avoided when the summer is at its peak and most of the lake's water is dried up.
Quiet Sunset over Phnom Krom.
Pre Rup Temple and Phnom Bakeng are the usual popular spots for sunset in Siem Reap. However, if you are looking for an off-the-beaten-path sunset viewpoint, Phnom Krom is strongly recommended to be included into your visit in Siem Reap. Phnom Krom is a 140 meters-high hill located about 10km southwest of Siem Reap town, along the Road 63 which leads to the Tonle Sap Lake.
Therefore, you can combine the visit to floating villages in Tonle Sap and sunset trip in Phnom Krom in the afternoon. It also houses a spectacular Angkorian temple built in the 9th century, called Prasat Phnom Krom. This temple ruin is also the best spot to view the sunset over the Tonle Sap Lake. From this view point, floating houses in Chong Kneas Village look prettier than in close distance on normal boat tours.
In addition, the journey to conquer Phnom Krohm itself takes in the beautiful scenery. Tourists will enjoy the great views of local Cambodian villages, the reflections of the sun off of the waters of Tonle Sap and the peaceful sounds of nature. In rainy season, the whole area turns green and it's a wonderful time of year to visit. Please remember that the visit to Phnom Krom included into Angkor Temple Pass.
Sunset on Kongkear Boat.
Kongkear Angkor is a unique Khmer traditional paddle boat inside Angkor Park. This boat runs along the moat from South Gate to West Gate of Angkor Thom. Along the way, tourists can make stop at the rarely visited Prasat Chroung Temple. Sunset moments can be viewed from the boat or at this temple. A boat can accommodate up to 4 passengers but it's much more suitable for honeymooners to share romantic moments under a glorious sunset best cocktail and mixed drink recipes.
This is really a peaceful experience to cruise around the magnificent Angkor Thom, travel along the water way where history, nature and culture merge into one.
Try Quad Bike Adventure.
Quad bike is really a fun adventure experience to explore off road tracks, rice fields, untouched ancient temples and local life in Cambodian countryside. Quad bike providers have many routes available, from short trips in 1 – 2 hour to longer trip (4 – 4.5 hours), or even full day discovery in 8 hours. All trips include roundtrip transfer by tuk tuk between clients' hotel and quad bike office. Riders of all levels are welcome: expert riders can take the quad on their own; beginners or elders, teenagers can be escorted by a guided rider.
Along the quad journey, riders will be welcomed by friendly and smiley villagers, children and Buddhist monks. This adventure brings them to the authentic and unique beauty of Cambodia, which are not popular with many tourists.
Angkor Zipline Eco-Adventure Canopy Tour.
This type of activity is the lifetime opportunity to experience a world-class zipline in the ancient jungles inside the designated Angkor Archaeological Park. The trip includes round-trip transportation and a traditional Khmer lunch, as well as choice of two different packages. Tour durations vary from 6 hours to 4 hours with two main packages. Gold course takes around 5 to 6 hours (including pick up & drop off services) but the canopy tour lasts around 2 to 2.5 hours, depending on the group size.
The custom silver course takes 4 hours from pick up until drop off, including 1 to 1.5 hours on the jungle canopy tour. No matter which course you choose, each group has two highly trained professionals and no more than 9 guests to ensure a safe journey.
No Angkor Pass is required for clients using shuttle transfer provided by Angkor Zipline. If not, private transportations have to get a valid pass to enter Angkor Park to take part in Angkor Zipline.
Surrounded by wildlife, butterflies, flowers, fauna and towering trees, this rainforest eco-adventure will bring tourists an unforgettable experience while in Siem Reap.
Siem Reap Cooking Class.
Cooking classes in Siem Reap are ideal places for those who want to take a taste of Cambodia back home. These classes are organized in half day duration (morning section from 9:30 and afternoon section from 3 PM). Morning classes are more preferable because learners will have opportunity to visit a local market where they will study about Cambodian vegetables, herbs, and other ingredients before going the classroom for a hands-on culinary experience.
Under the guidance of professional chef, visitors will learn how to prepare traditional and delicious Khmer dishes. Once the class is finished, learners can relax in the tropical garden setting and enjoy their own creations with other students.
Join in Bokator Class.
Bokator, considered one of the oldest martial art forms in Cambodia, and have certainly been part of Khmer culture for centuries. It is believed that Bokator was a soldier's art of the angkorian armies, crafted to be used in the battlefield. Tourists may stumble upon Bokator depictions on bas-reliefs at the base of the entrance pillars to the Bayon temple.
In Siem Reap, tourists can go to the Moha Nokor Club to learn Bokator at beginning level. Basic classes aimed at tourists last one hour at 6am, 9am and 6pm. These run 7 days a week excluding Cambodian public holidays. Students should wear comfortable clothing and be prepared for a fairly intensive physical workout. They will learn fundamental steps that define the underlying base movement of almost all Bokator techniques. Then they use these base movements to learn a variety of attack maneuvers using their elbows, knees, shins, feet, hands and head.
Bong Thom Eco Tour & Homestay.
About 26 km from Siem Reap and on the way to Bantey Srey temple, Bong Thom Homestay is a unique community-based tourism site which captures the essence of village life in the heartland of Siem Reap. Visiting Bong Thom, tourists will experience a taste of "real" Cambodian life with interesting activities: take ox cart ride to visit sugar palm village, make palm leaf, plant rice or vegetable, learn to cook some Khmer dishes. Moreover, tourists will stay in the traditional Cambodian house, which was made of timber and raised on stilts.
As a community-based project, the Bong Thom Homestay aims to help improve the livelihoods and reduce poverty in the countryside.
View Siem Reap & Angkor from above.
It can't be denied that seeing Angkor temples in close distance is pretty incredible but it's even more amazing if you have chance to view them from above. There are two options that will give tourists an elevated perspective on the temples and surrounding areas: air balloon and helicopter.
Angkor Balloon.
Angkor Balloon is a tethered helium balloon which is just 800 meters from Angkor Wat west gate. The 10-minute flight at 120 meters for a large bowl of fresh air allows tourists to witness Angkor Wat, Phnom Bakheng, and West Baray from a bird's eye-view. Tonle Sap Lake and Phnom Krom even can be seen from the distance in clear sky conditions. This service runs both sunrise and sunset but depends mainly on weather conditions. It's suggested to take afternoon flight in November to April and fly in the morning in May to October.
Siem Reap Scenic Flight
Clients with better budget can try helicopter scenic tours above Angkor. This service is offered by Helistar Cambodia with 8-minute flight or 14-minute flight options. Helicopter flies along the moat of the magnificent Angkor Wat, Phnom Bakeng, Sras Srang, Pre Rup, East Mebon and Tasom temples. These flights give tourists better orientation of Angkor from a bird's eye view and surely one of the most amazing things to do in Siem Reap.
Traditional Apsara Dance Performance.
No visit to Siem Reap is complete without at least one time watching Apsara Dance. Dated back to the 7th century, Apsara Dance is a classical Khmer performance art inspired by the water and cloud spirit of Hindu and Buddhist mythology.
Apsara dancers carved into the walls and bas-reliefs of the Angkor temples, which proves that this dance has formed an essential part of Khmer culture. Dancers wear tight-fitting traditional dresses, elaborate golden headdresses and gilded jewelry. Each of the graceful hand gestures and foot movements has its own particular symbolism, inspired by those illustrated on the walls of Angkor Wat and other ancient buildings in the area.
In the past, Apsara Dance was performed on special occasions, like the Khmer New Year or the King's Birthday. But more commonly, this cultural performance can be watched in several hotels and restaurants in Siem Reap. Usually these shows are offered as a package combining a buffet dinner and a dance show. Most shows are modern reinventions for tourists, including the four genre of traditional Khmer dance: Apsara Dance, Masked Dance, Shadow Theatre, and Folk Dance.
* List of venues offering Apsara Dance Show in Siem Reap:
– Apsara Terrace in Raffles Grand Hotel d'Angkor.
– Apsara Theater & Restaurant in Angkor Village Hotel.
– Por Cuisine Restaurant.
Phare, The Cambodian Circus Show.
Phare Circus is considered as Siem Reap's most unique, authentic top rated evening entertainment unlike any other circus in the world. More than a just a circus, Phare performers and artists create different stories based on their own life experiences, reflecting recent Cambodian history, folklore, and modern society.
Local artists astonish spectators every night as they combine their energy, emotion, talents with traditional music, dance and modern circus arts. Stories depict Cambodian culture and society with main themes of war, discrimination, relationships, poverty and spirits. Behind each production, the artists want to convey striking social message to the audiences in a baroque act of movements and songs.
In addition, Phare artists are students from Phare Ponleu Selpak's vocational training center in Battambang, where provides free education for local children. After graduating, they can perform at Phare, The Cambodian Circus to earn a decent wage, which takes them out of poverty and give them self-respect and freedom.
* Location: Intersection, Ring Road, south of the Sok San Rd, Krong Siem Reap.
* Operating hours: nightly 8 PM performances year-round.
Party on Pub Street.
After enjoying sunset over the spectacular Angkor temples, it's time to come back town center to celebrate and party on Siem Reap's infamous Pub Street. This legendary party road offers an alluring variety of pubs, clubs, cocktail bars, and restaurants that cater to any budget and preference. Coming there, tourists can find culinary tastes from Khmer specialties to Asian and European favorites, as well as inexpensive imported beers and cocktails. At night time, the road is blocked off to traffic, making it a relaxing and safe place to stroll, dance, and let loose.
Wander around Angkor Night Market.
Just a couple of blocks from Pub Street lies Angkor Night Market. Established in 2007, this was the first night market in Cambodia. The place itself fosters a very Cambodian atmosphere with a series of stylish traditional huts built in Khmer style. Walking around the labyrinth of over 240 shops, tourists can find a variety of traditional Cambodian made handicrafts ranging from clothing, silk, paintings, jewelries, wood and stone carvings.
Moreover, there are countless street food vendors and some massage and spa bars for those who need a bit more pampering after a day of exploring the city. The Angkor Night Market opens up at 5 PM every night and operates until midnight.As you can see, there's plenty to see and do in Siem Reap besides the temples of Angkor. You can warrant sticking around for a few days in between all the temple hopping. Just tell Cambodia Travel's consultants about your request and we are more than happy to put any of these above activities into your coming trip in Siem Reap.