6 Ideas for Honeymoon Destinations in Cambodia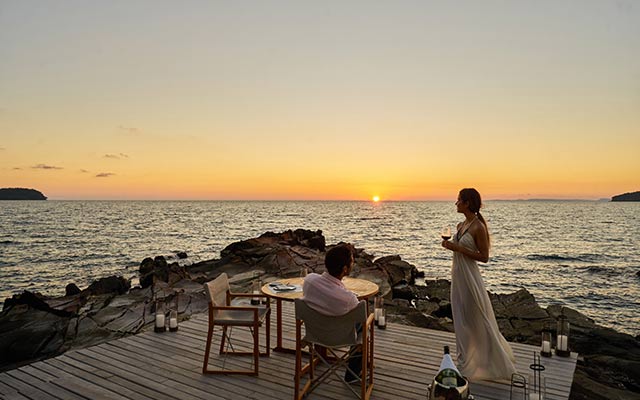 Cambodia is truly a perfect paradise for a honeymoon destination in Southeast Asia. This country may not spring to mind when you think of a special place for your romantic trip of a lifetime. But it's such an injustice if ignoring its rich history and culture, warm-hearted smiling faces of Khmer people, jaw-dropping landscapes and affordable luxury. Like a phoenix rising from the ashes of a tragic past, Cambodia has not yet experienced tourism boom compared to other Southeast Asian neighbours, and hence retains its unspoiled and authentic charm.
Not mentioning about too famous Angkor Complex and its magnificent architecture, Cambodia's romance is far from cliché. Newly-wed couples can find romantic moments while staying within the jungle in the riverside resort, or experiencing the wildlife of the eastern world, or being wrapped in luxury in stunning isolated islands.
If you are still not convinced, just check out our list of top destinations in Cambodia for honeymooners and we are pretty sure that this country will be on your bucket list.
List of Perfect Places for Honeymoon in Cambodia
Siem Reap
Honeymooners looking for a culture spot should not miss the visit to Siem Reap. Twosome experience is offered in this legendary town: breathtaking ancient wonders of Angkor Complex and enchanting locales at the bustling side of the modern town. Siem Reap serves as the linking bridge to the ancient ruins and temples of Angkor Complex. Don't expect to find any away from the crowds at most outstanding temples as Angkor Wat, Angkor Thom, Ta Prohm. Of course, there are lots of romantic things to do in Angkor Park if you know how to enjoy your moments wisely.
Your Cambodia Trip will not be completed without Angkor Wat in the list of best things to do. Try to wake up early and visit Angkor Wat at sunrise when the view is nothing short of life-changing. Once the sunrise moments end, don't forget to continue your Angkor Wat exploration while the temperatures are still cool in the early morning and not many people are there. While wandering through the ancient Angkor Wat, your couple may be lucky enough to meet up Buddhist monks and ask for their blessings for a happy and prosperous life together.
To search for quieter moments to stroll through the jungle hand in hand, couple can discover crumbling ruins in lesser known sites like Banteay Kdei, Preak Khan, Pre Rup Temples, or even further out of Angkor Park such as Banteay Srei, Koh Ker and Beng Mealea. Alternatively, it's such an amazing experience to get spectacular bird's eye views of the temples and surrounding areas from tethered balloon (budgeted option) or helicopter. Siem Reap itself is a vibrant town with many activities and attractions including lively Psar Chas Market, buzzing cafes, bars, traditional craft shops and plentiful nightlife. Or try to learn something new together by joining a Khmer cooking class or crafting Khmer ceramic pottery.
Siem Reap is also a good point to access the nearby floating villages, bird sanctuaries on the Tonle Sap Lake – the largest freshwater lake in Southeast Asia. Bring your loved one to embark on the boat trip to visit floating village, where life is both unique and colorful. Even being the major tourist hub in Cambodia, Siem Reap doesn't lack of luxury hotels and resorts in secluded locations offering senses of privacy, elegant design, top-notch spa services. These elements surely fulfill your sensual rejuvenation and partly contribute to build your happy married life.
Check out more things to do in Siem Reap: https://cambodiatravel.com/things-to-do-in-siem-reap/
Mondulkiri
If your romance taste demands nature beauty and wildlife, then a trip to Mondulkiri could be listed on the cards. Located 7-hour drive north east of Phnom Penh, Mondulkiri is the largest but most sparsely populated in Cambodia. The word "Mondulkiri" can be translated into "meeting of the hills" to explain its highland geography. Therefore, be ready to be pampered yourselves in the cool breezing with surroundings of lush green rolling hills, thickly forested mountains, powerful waterfalls like two-tiered Bou Sraa Waterfall – the highest one in Cambodia.
In this remote part of Cambodia, don't expect something luxurious but get down and be dirty with stunning nature and amazing wildlife. The Elephant Valley Project offers excellent chances for tourists to interact with elephants in an ethical way, as well as educate visitors about the importance of protecting these wonderful creatures.
This destination is also home to the majority of country's tribal minorities, including the Cham and Phnong people, who have maintained their way of living for centuries in the region's forests and hills.
Mayura Hill Resort is the only luxury option to stay close to Mondulkiri's nature and wildlife. Being located overlooking Sen Monorom Valley, the resort is the perfect base to explore surroundings. Its 11 villas take guaranteed for couples' intimacy and personal services. To take an adventure with your loved one, just head together to explore nearby wild nature and ethnic villages around.
Koh Kong
Koh Kong might be the ideal honeymoon destination for those who are keen on spending their time surrounded by unspoiled nature and outdoor adventure in peaceful ambiance. Within a five-hour drive from Phnom Penh, this pristine destination has been considered as an "emerging eco-tourism destination" in Asia be the New York Times.
Koh Kong region is located on the coast and alongside rivers that traverse inland. It means that a plethora of nature activities can be found in one place: from jungle trekking, river kayaking and cruising, to swimming on stretch of pristine beaches and diving to witness rich marine life. Being known as the hub of eco-tourism in Cambodia, Koh Kong Conservation Corridor incorporates Botum Sakor National Park – Cambodia's largest national park, and part of the Cardamom Mountains, Phnom Aural – Cambodia's highest peak at 1,813 metres.
If jungle tours and exploration activities get too much, it's time for your couple to relax and check into 4 Rivers Floating Lodge along the bank of the jungle-flanked Tatai River. Being proud to be the first in the world to set up luxury tents on floating pontoons, 4 Rivers combines quality luxury with an eco-tourism ethos and conjures images of romance. 12 luxurious tented villas floating on interconnected recycle wooden decks were designed to provide guests with the highest levels of comfort, privacy and luxury. This is the perfect way to cement wedded life in Koh Kong – the ultimate secluded getaway surrounded by unspoiled nature.
Kep
Located in a rather convenient location (just 3h30m drive from Phnom Penh), the small coastal town of Kep is a favorite among locals for weekend getaways and foreign travelers who want to get away from the tourist crowds at Sihanouk Ville. Once a tropical beach retreat for the French elite, the town is dotted of ruined shells of old villas that were destroyed in the Khmer Rouge days. Go with your loved one to explore the iconic "stairway to heaven" trail – the most scenic trail within Kep National Park, or just take a lazy stroll along the shiny white shores of the Kep Beach.
For more adventurous couple, day trips to nearby Rabbit Island can be arranged to enjoy viewing lots of colorful fishes on the bottom of the shallow sea. Don't forget to fulfill your stomach at the well-known Crab Market, where you can enjoy some delicious, inexpensive seafood, freshly plucked from the ocean. In recent years, Kep is regaining its reputation as Kep-sur-Mer with a growing number of upmarket boutique resorts and restaurants lining along its tranquil coastline. So newly-wed couples have no worry to choose the most suitable ones for their romance inquiry.
Among them, Knai Bang Chatt is the most distinctive boutique property with stunning colonial villas at seaside location. Newly-weds will be treated with a combination of privacy and personalized service at Knai Bang Chatt. From there, guests can access to the neighboring exclusive Sailing Club to enjoy sunset cocktails to celebrate your magical moments together.
Kampot
To escape away from the hustle and bustle of other popular tourist sites, just take 3 hour drive southwards from Phnom Penh to Kampot – a tranquil riverside town on the bank of Preaek Tuek Chhu River. Being known as the capital of riverside relaxation, it's no surprise that almost tourists coming to this town want to spend some time on or at least near the river. It will definitely wonderful moments if holding your spouse to take part in river-related activities, including river cruises, stand-up paddle boarding (SUP), kayaking, wakeboarding, fishing expeditions, and even water skiing.
Guests staying in guesthouses like Greenhouse and Naga House even can jump into the river from these guesthouses' dedicated platforms. To immerse yourself in the Cambodian daily life, a visit at pepper plantation will help you to observe the work of local community living there, as well as taste local dishes using this special ingredient. Need a place to get closer to nature? Ambling with your precious half to Bokor National Park – a lush primary forest with glistening waterfalls. This park also houses the old French summer getaway of Bokor Hill Station, with its abandoned church and eerie, empty shell of a once-grand hotel.
Having succumbed to its easygoing pace and chilled-out atmosphere, many travelers stay here longer than they expected. Therefore, your endearing journey will be once in a lifetime romance if taking in Kampot.
Sihanouk Ville – Best Place for Honeymoon in Cambodia
Honeymooners who are in search for sun, sea and sand, have no reason to delay their journey heading to Sihanouk Ville in southern Cambodia. Ochheuteal Beach and the Serendipity Beach in this coastal town have emerged as one of Southeast Asia's backpacker areas with party reputation. For a much quieter scene, just take 6 km to the south around Otres Beach, with huts or bungalows on the beach, a sprinkling of classy boutique hotels, and a number of up-and-coming restaurants.
Just around one hour speedboat from Sihanouk Ville port, stretches of Koh Rong and Koh Rong Sanleom are ideal for forging unforgettable honeymoon memories. Blessed with pristine, white sand beaches and beautifully clear ocean water, these islands are where couples go to enjoy the nature and stay away from the world. If you want to splash out for a slice of luxurious tropical island experiences, check into private island resorts like Song Saa Island Resort, Koh Russey Villas and Resort in Koh Russey, or Six Senses Krabey Island Resort. These fabulous properties are full of intimate spots and services to rekindle the romance.
There is no more perfect way to ending your honeymoon vacation in Cambodia's tropical beaches and islands and unwind after the whirlwind of wedding and its complicated events.
More details about Cambodia's best islands: https://cambodiatravel.com/cambodia-islands/
Whether you want to intersperse history and culture with local daily life, or in search for adventure, or just simply want to spend your honeymoon lounging on the beach, Cambodia is an exceptional destination to remember for a lifetime. Except main tourism hubs like Siem Reap and Phnom Penh, other isolated romantic destinations in Cambodia remain pretty undeveloped. Hence, honeymooners need look no further than this miracle country to spend some special time together sooner rather than later.