Cambodian Currency: Everything You Need to Know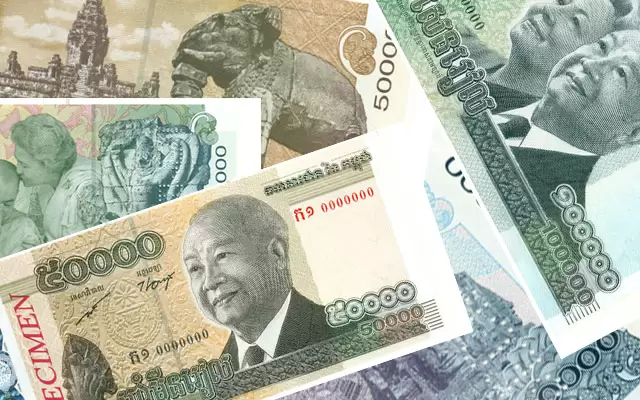 If you get ready for your Cambodia trip, local currency is one of the most familiar concerns coming into your mind. Obtaining some basic information about Cambodia currency will help travelers know how to spend it in the right way and avoid unexpected risks during their trip in the Kingdom of Wonder.
Here are all things you need to know about Cambodian currency!
Khmer Riel (KHR)
Khmer Riel or Cambodian Riel has two distinct systems in different periods of the country's history. In 1953, Cambodia gained independence from France and that also marked the debut of the first riel in the country. At that time, the Cambodian branch of the Institut d'Émission des États du Cambodge, du Laos et du Vietnamissued notes dual denominated in riel and piastre. Piastre was derived from pieces of eight (pesos) in Spain. This riel version was issued in banknotes and coins then being abolished in 1975, when the Khmer Rouge took control of the country.
When the Khmer Rouge was removed from power in 1979, the Central Bank was re-established and introduced the second riel as the Cambodia's currency in 1980. Due to the severely disrupted economy and not money to replace, the central government had no choice except handing out the new money to the public immediately to encourage its use. This is also the current version coming in the following denominations: 50, 100, 500, 1000, 5000, 10 000 and 50 000 banknotes.
There are several speculations about the origin of the word "riel". Many people believe that it comes from the Khmer word with the meaning of "small fish". Others claim that the name derives from the high silver Mexican real used in the mid-19th century throughout Cambodia by merchants coming from Malay, China and India.
US Dollar (USD)
Although Khmer Riel is the official currency in Cambodia, US Dollars are also widely accepted almost everywhere in Cambodia, particularly in urban and tourist areas. Dollarization in Cambodia started in the 1980s and continued its process to the early 90s when the United Nation launched humanitarian aid into the country. In addition, Khmer refugees started sending remittances home, which contributed to the increase of inflation as high as 177% per year.
That incident eroded the public confidence in the riel, as well as encouraged the use of the dollar. From 1991 to 1993, the United Nations Transitional Authority in Cambodia – one of the largest UN operations in history, allocated around 22,000 international personnel throughout the country. These people's expenditures in US Dollar represented a large part of the Cambodia economy during that period.
The exchange rate fluctuates between 4,000 and 4,200 Cambodian riels for 1 USD. Tourists can exchange money in banks but to get better deals, they should find local money changers in popular tourist sites. If your dollar bills are torn, ripped or old style banknotes, they will not be accepted. Therefore, make sure to bring your cash in perfect conditions for smooth circulation.
While travelling in the country with dual currency system like Cambodia, tourists can make payments in KHR, USD or a combination of the two. However, you should expect to get your change back in Cambodian riel and you might often pay more in USD compared to the local currency. Therefore, you should use riels to make smaller purchases to get the best price. In addition, if you travel to the remote areas where are not familiar with foreign tourists and locals don't use US dollars, you should have some small notes of local currency in hand.
Recently, there is a campaign of de-dollarization which phases out small US dollar notes from the circulation. Cambodians hope to instill their national pride losing over the years by increasing the use of riel. Therefore, tourists may find that in marketplaces or roadside stalls, small US dollar notes $1, $2 and $5 are not usually accepted.
Bakong – Digital Currency
A central bank-backed digital currency was launched in October 2020 by the National Bank of Cambodia (NBC). This e-money was named as Bakong – a famous Angkorian temple, and it draws on blockchain technology co-developed by a Japanese fintech company.
By installing the mobile app with the same name of Bakong on any smartphone, users can make transactions in both riels and dollars by inputting the phone numbers of the payee or scanning the QR code. This payment type occurs no transaction fees whether users transfer money from their bank account to their Bakong account or vice versa.
Bakong utilizes the "Know-Your-Customer" tiered system, in which users have to register their ID at a bank branch to open a Bakong account. Furthermore, liquidity risks are minimal because Bakong's digital riel and USD are backed to assets held at central bank.
The official launch of Bakong system is expected to promote social welfare through facilitating e-payment from person to person seamlessly without involving cash.
For more travel tips and information about currency in Cambodia, tourists can contact our professional team of travel consultants.