Cambodia Weather: General Information & Best Time to Visit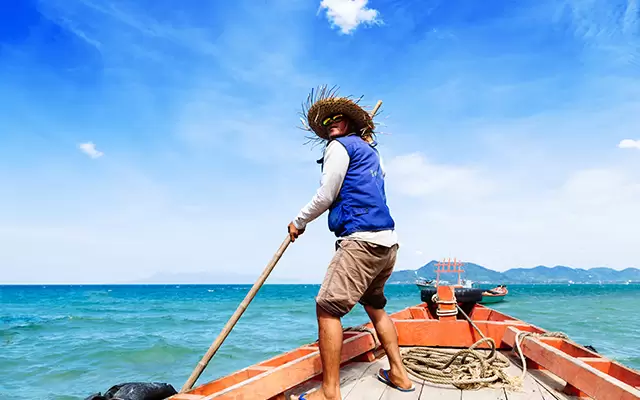 Cambodia Weather Overview.
When is the best time to visit Cambodia? What will the weather in Cambodia like when I come? These questions are always top concern from any traveler before visiting Cambodia. To help all visitors to understand better about the destination, Cambodia Travel provide information regarding Cambodia weather so you can figure out the best time of year to visit the country that works out for your plan!
Cambodia has the simpler weather system in Southeast Asia with two distinct seasons: dry and wet season.
Cambodia Climate
Located in the tropical zone in Southeast Asia, Cambodia's climate is governed by the annual monsoon cycle with two major seasons: dry and wet seasons. The cyclic air pressure changes over central Asia is the driven factor of monsoon cycle. During the summer months (from June to October), the pressure drops and moist air from the ocean is drawn landward, which brings the southwest monsoon rains to Cambodia and almost Southeast Asia. Heavy rains and high humidity caused by strong prevailing winds are the main characteristics of this wet season.
From the early November, the southwest monsoon withdraws in the north Cambodia and disappears in center-south between the middle and late November. From this moment until May, Cambodia experiences a rainless dry season because the air pressure over central Asia rises and brings cool dry air back across this region. In dry season, northeast monsoon with lighter and drier winds bring variable cloudiness, infrequent precipitation and lower humidity.
Cambodia Temperature
Generally, the whole Cambodia experiences the same weather patterns because the altitude and latitude throughout the country are relative uniform. No matter dry or wet seasons, temperatures are high throughout the year. Temperatures are in excess of 35°C, or even 40°C at times in March and April – the hottest months of the year, as well as the early months of the wet season. November, December and January are the coolest months of the year in Cambodia. However, these cool time in Cambodia is still far from chilly with average temperatures hovering around 24°C-26°C.
The annual rainfall varies considerably throughout the country. For example, in a typical year, the central lowland region receives about 1,300 to 1,800 mm (51 to 70 inches) of rainfall. Whereas, the precipitation exceeds 2,000 mm (80 inches) in the southwest region, towards the coast of the Gulf of Thailand. Highlands and mountainous areas, like Cardamom Mountains, receive up to 5,000 mm (197 inches) of rain per year, and even experience some afternoon showers before the monsoon season (from February to April).
Typhoons can occur in Cambodia but they are quite rare. They are weakened when hitting Cambodia because they pass to Vietnam and release their energy over the coasts of Vietnam. These typhoons can bring heavy rains, which can cause flooding in Cambodia in between late July and September.
Seasons in Cambodia
Cool & Dry Season
November to February is considered as the cool and dry season in Cambodia. The average temperature in daytime is around 20°C and sometimes dropping below 20 at night time. In early November, the occasional short showers in the early morning are expected but rainfall significantly decreases as the month progresses then completely stops by mid-November. December and January are characterized by sunny weather, low humidity and relatively cool temperatures (avg temp: 26 °C) across the country. The weather in February is still pleasant, but temperatures tend to rise by the end of the month.
Hot & Dry Season
Cambodia heats up steadily from March to May with average temperatures of 35°C. Throughout these months, the chances of rain are almost non-existent. Therefore, water levels in rivers and lakes are very low, which makes river cruising much more difficult and waste more travel time. April is the hottest month of the year in Cambodia. Its mid-day temperatures can hover in the mid to upper 40°C, especially in inland areas like Siem Reap.
Very hot, dry weather is the norm across the entire country.
The terrain dusty with little vegetation due to lack of rains for several months. During this time of year, it is less windy, the sun can be quite intense and the air becomes hazier with the rising humidity. Latter part of May can welcome short lived rainfall from the odd tropical storm.
Hot & Wet Season
Hot season continues from June to August but monsoon rains can be expected throughout the country. During these months, temperatures are still high (avg temp: 28°C) and humidity can reach 70% but the appearance of short showers helps to eliminate the humidity and make the days a little more comfortable. Good news is that the monsoon rains are fairly predictable. These rains often occur in the afternoon or at night, and last no more than a couple of hours so sightseeing activities can easily be plan around. 
However, there is difference about pattern of monsoon rains in Cambodia's south coast beaches, where experience the heaviest downpours. As the season progresses, the rains are more frequent and may last for several days by August.  
Cool & Wet Season
Late August and September are the peak period of rainfalls. Even occurring in short and intense forms, these rain showers bring cooler air than previous months. In September, the average temperature is a comfortable 26-27°C and slowly drop through the following months. Thanks to short and heavy downpours, the countryside is more lush and green, and water levels on the Tonle Sap Lake drastically increase, making the lake swollen to more than 5 times its size at this time of year.
On the other hand, the heavy rains in September make travelling to rural north-east regions, such as Ratanakiri and Mondulkiri, rather difficult because remote tracks can become unpassable.
In October, the frequency of rainfall drops off considerably, and completely stops by the end of this month. The country is nearly back to its best time of the year with plenty of color in the countryside.
Best Time to Visit Cambodia
The best and ideal time to visit Cambodia goes from November to February, when Cambodia weather is at its coolest, driest and sunniest period. Consequently, that is also when Cambodia's tourist numbers peak and travelling cost tends to increase. If traveling during these months, tourists are highly recommended to reserve travel services as early as possible to avoid fully booked situations.
During November – April, Cambodia experiences comfortable conditions with brilliant sunshine and extremely low chance of raining. Beach and island lovers surely have difficulty in finding the beach destinations because the south coast offers many pristine white sand coastlines and islands, such as Sihanouk Ville – Koh Rong – Koh Rong Samloem.
In north east regions of Cambodia, journey time to Mondulkiri and Ratanakiri is shorter thanks to good road conditions in dry season. Sunny daytimes and cooler temperatures make adventure activities like trekking into jungles or interact with wildlife in these places are much more pleasant.
Coming to hot and dry season from March to May (average temperatures of 35°C), tourists are recommended to take early morning or late afternoon tours rather than all day visits to Angkor Temples. And short break at the hotel's swimming pool or at air-condition restaurants or tourist venues at midday are also good recommendations. On the other hand, the summer heat somehow helps to lower the crowd numbers at the main temples in specific time of the day.
You may also like:
Many travelers try to avoid visiting Cambodia and other Southeast Asian countries in monsoon season because they are afraid that rains will spoilt their holidays. Actually, wet season is not as bad as the label implies because it depends on what you want to do in these countries. And sometimes, tourist numbers may be taken into consideration rather than the weather factor.
Visitors can still come to Cambodia during monsoon season when the dust is gone and the countryside returns to its lush greenery thanks to downpours. The iconic tourism site – Angkor Temples, gets a severe decrease in visitor numbers. In some extends, these spectacular temples are more stunning in wet season with fully watered moats surrounding, which provides perfect chances to snap shots of temple reflections in the water. Rainy season is also the perfect time of the year to visit floating villages in Tonle Sap Lake by boat.
During wet season, the lake swells to six or seven times its normal size of approximately 2,600 square kilometres. Practically speaking, rain doesn't last all of the time or even every day during the rainy season. It comes in short form in the afternoon or night time and lasts a couple of hours, making it easy to plan around in most cases. At the beginning and by the end of the season the rains occur with far less frequency.
On the downside, heavy rainfalls make travelling to north east regions (Kratie, Mondulkiri, Ratanakiri) and southern coastal destinations (Sihanouk Ville, Kampot, Kep) fairly difficult. "Off the beaten path" travel should be avoided, particularly in August. Remote tracks can become unpassable due to flooding of road system there. For those who are planning some relaxing days on the beach should forget Cambodia's south coast during these months.
To sum up, each weather type in Cambodia has its own strength and advantages which can probably surprise you when exploring the whole country. You can make up your mind on travelling time, depending on what type of weather you love, what you want to do, and how much (or how little) you're into crowds. Contact Cambodia Travel today to get a free help regarding useful travel advisory and the most suitable itineraries!