Best islands in Cambodia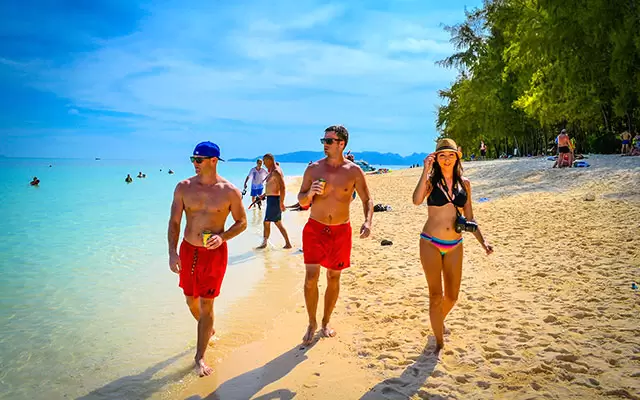 In recent years, Cambodia islands have started to get more attention from backpackers to luxury sun seekers. Luckily, these islands are still way less crowded and more affordable than Thailand's popular and well-known neighbors. Whether you are looking for a hammock to relax upon a remoted shore, take a dip underwater among pristine coral reefs or participate in an all-night party, Cambodia offers an island to meet all tastes and budgets.
From Sihanouk Ville, it's not difficult to take boat trips to explore any one of the gorgeous islands off Cambodia's south coast. Departing daily from Sihanouk Ville pier, there are lots of slow and speed boat options with various price points. Some island resorts include boat transfers to bring more comfortable stay for in-house guests.
If you are confused about finding the best islands in Cambodia to include into your next adventure in this beautiful country, just take a look at our below suggestions. Each island has its own attractiveness and here's everything you need to know about the top island destinations in Cambodia.
1. Koh Rong – Party Island.
Located about an hour's speedboat ride away from Sihanouk Ville is Koh Rong – the second largest island in Cambodia. Koh Rong has earned its reputation as a party island thanks to Koh Touch – the hub for a sandy guesthouse-packed stretch. This touristy section does have bar shacks with good food and affordable but basic accommodation. There are island pub crawls in several days of the week and all-night parties in full moon days.
On the other side, the development is mostly limited to basic bungalows and cheap guesthouses in Koh Touch, so it remains easy to find solitude elsewhere on the more remote parts of the island. The sunning on the miles of white sand has contributed to make Koh Rong become Cambodia's must-go spot for sunburned travelers who want to bake on the beach by day. As the name suggests, Lonely Beach is an isolated area of Koh Rong in a serene setting undisturbed by visitors, and offering stunning sunsets and spectacular luminous plankton.
Along the island's western shore is 7km Long Beach. With calmer and quieter waters, this island highlight is an ideal place for diving and snorkeling adventure. During the day, there are many boat options from Koh Rong to Long Beach, and it even can be accessible by some direct boats from Sihanouk Ville Pier.
Although most of the hostels are concentrated in Koh Touch, mid-range beach huts to luxurious high-end resorts can be found along the rest of the island, such as Palm Beach and Sok San Beach.
2. Koh Rong Sanloem – Relaxing Island.
Being considered as the sister island of Koh Rong, Koh Rong Sanloem is smaller, quieter and slightly more chill-out. It can be reached by 30-minute speedboat from Sihanouk Ville or via 20-minute ferry from Koh Rong.
The eastern side of the island boasts the heart-shaped Saracen Bay – the most developed bay on the island. With calm turquoise surf and eye-blinding white sand beaches, there are more than a dozen choice of accommodation from simple wooden bungalows to luxury beachfront villas.
On the other side of the island, Lazy Beach and Sunset Beach offer a more secluded getaway feel. These gorgeous yellow sand beaches are perfect for relaxing on the hammock all day long and watching the pink and purple sunsets over the water every afternoon.
For those looking for something completely different, M'Pai Bay fishing village is a great suggestion. Located on the island's northern tip, this small fishing village is where you can interact with friendly local fishermen and learn more about their daily life. Don't expect to find high quality resorts or enjoy gorgeous white sand here because this is more a beach laid-back with a true local vibe. Several inexpensive accommodations have been opened up within this friendly fishing village.
The dreamy tropical paradise Koh Rong Sanloem has white sand beaches, turquoise waters and sprawling jungle just a few steps from the shore. Here you can snorkel, dive and swim, or take a jungle hike. If coming here between April and July, you may have chance to stroll along the shoreline as your footsteps light up the bioluminescent plankton.
3. Koh Thmei – Nature-watching Island.
The pristine Koh Thmei is part of the Ream National Park. This island is flanked by mangrove forests and home to monkeys, civets, lizards, as well as several threatened species like fishing cat – a wetland feline. The visit to Koh Thmei secures excellent bird-watching opportunities because there are over 150 species of birds making their home in the island. As soon as you disembark at the pier, you will be amazed by iridescent seashells and golden sand on the beach.
This unspoiled island doesn't have an entire village, though a few families with about 200 people living there. And Koh Thmei Resort is the only one option for overnight stay. The term "resort" is used loosely because this actually included several eco-friendly wooden bungalows and equipped with solar powered electricity system.
Staying there, guest can take hike through the jungle via well-marked trails, snorkel offshore or take sea-kayak out for a spin. The nearby deserted beaches can offer occasional views of dolphins swimming between the months of December and April.
4. Koh Ta Kiev – "Back-to-basic" Island.
If you want to sample "back-to-basic" sandy haven, don't hesitate to get Koh Ta Kiev sooner rather than later. This breathtaking and yet to be destroyed island is just one hour away from Sihanouk Ville by boat and also considerably closer to the mainland than the others. The island possesses three yellow sand beaches shaded by pine trees and coral reefs here also offer excellent snorkeling conditions. Tourists can fill their island days with beachcombing and snorkeling.
If you are feeling adventurous, just follow marked trekking paths in the jungle. The blue marked path takes you to a small fishing village on the east side, where you can buy a freshly caught fish or crab lunch. While the red marked trail will lead you to Naked Beach on the southern part of the island. Bird-watchers will surely happy to know that more than hundreds of bird species call Koh Ta Kiev home. Especially, when the sun goes down, the island is almost dark and it's time for bioluminescent plankton lighting up the water.
Koh Ta Kiev is home to just a few rustic eco-friendly bungalows with dorm and basic hut options, which concentrate on the west and southwest shorelines. But what it lacks in amenities it more than makes up for in charm. For the ultimate nature experience, you can rent hammocks or tent and fall asleep under the stars.
If you want to spend the night here, be sure to bring everything you might need. This is definitely the place to unplug so don't expect much in the way of electricity or WiFi.
5. Koh Russey, Koh Krabey and Koh Ouen – Luxury Islands.
Each of these three islands are home to only one luxury resort and they are only accessible by in-house guests.
Song Saa – the first luxury private island resort in Cambodia, is located in Koh Ouen. The resort actually spans over two neighboring islands – Koh Ouen and Koh Bong, and ringed by calm clear waters. This high-end eco-friendly resort consists of 24 vast thatched roof villas in a contemporary-tropical style, with cool stone walls and four-poster beds wrapped in blousy muslin.
All villas possess private pools with sizes ranging from 26sqm to 33sqm. Lists of activities to enhance private island experience include snorkeling & scuba diving, sea kayaking, yoga & meditation, island safari, Buddhist ceremonies. The spa concept in Song Saa is "spa with no walls". It's actually made up of little 'sanctuaries' dotted across the island, where treatments take place nestled in nature.
Koh Russey or literally named Bamboo Island used to serve exclusively as an outspot for the Cambodian Navy. However, the rising tourist development in Sihanouk Ville brought tourism to the island. At this moment, the low-density Koh Russey Villas and Resort is only one place to stay on the island. This luxury resort blends seamlessly into the surrounding nature with a maximum of two storeys and set well back from the beach. Its 1.2 km beach is deep cleaned and water is crystal clear. Only 15 percent of the land area has been developed and most of the jungle has been preserved.
With the design inspired by the tradition geometry of the Cambodian Krama fabric, this ideal natural retreat boasts 50 luxurious pavilions and 13 pool villas. Besides beach infinity pool, fitness center, spa and yoga studio, the resort offers plenty of sea, beach and land excursions ideal for couples, families with children and friends.
Off Cambodia's southwestern coast is tropical paradise Koh Krabey. From Ream National Park's pier in Sihanouk Ville, tourists can access this island by only 15-minute boat ride. This transfer is included with your stay in the uber-luxurious Six Senses Krabey Island Resort. Opening in early 2019, this health-focused resort features 40 private free-standing pool villas that blend into the natural vegetation. While staying there, in-house guests can experience various water-based activities, boat trips and tailored wellness programs.
The boardwalks across the island connect lush surrounds punctuated by small secluded beaches, natural sea pools, organic farms, and cozy coves. Many a handful of romantic spots around you afford the colorful displays over the water as the sun sinks below the horizon.
The dry season (November – May) is the season for beach bum to hit Cambodia's islands. During this period, Khmer Kingdom's tropical islands bask in brilliant sunshine with clear turquoise blue waters. The weather is relatively pleasant and low chance of rain. The months of November to February coincides with Cambodia's peak tourist season when travelers look for relaxing beach vacation to take advantage of the lack of rain and relative cool. Consequently, you should prepare your trip in advance and contact Cambodia Travel today to get instant support to secure a perfect off-shore vacation in one of the most beautiful islands in Cambodia.