10 Best Things to Do in Cambodia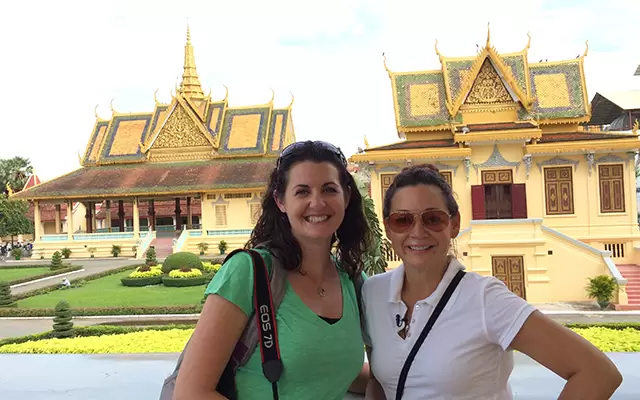 The network of awe-inspiring temples of Angkor is the first thing that comes into mind when people think of Cambodia. But there are plenty of more awesome things to do in this fascinating Southeast Asian country. If tasting freshly made local cuisine, exploring the jungles and wildlife, chilling out on tropical islands are main ingredients to your ideal holiday, then this Kingdom of Wonder should be on your bucket list. With the plethora of things to do in Cambodia, and the inborn hospitality of Khmer people, one visit may not be enough! Follow us to find out the top things in Cambodia which keep visitors coming back for more.
Here are the top 10 things to do and places to visit in Cambodia in 2023

1. Explore Angkor Complex and other Khmer Empire's temples.
It can't be denied that the impressive collection of ancient temples and monuments at Angkor Archaeological Park is a must on all itineraries to Cambodia. This UNESCO World Heritage Site contains the magnificent relics and religious structures of different capitals of the Khmer Empire, which flourished from approximately the 9th to 15th centuries. Among hundreds of temples surviving until now, Angkor Wat, Angkor Thom and Ta Prohm are the main draws attracting tourists to come to Siem Reap. Despite the growing crowds, these temples are still incredible and should be visited at least once in your lifetime.
However, there are also other temples with their own charms found throughout the 400km2 Angkor Park.  Just about 30 km from above main trio temples, the pink-colored Banteay Srei is the 10th century temple which demonstrates wealth, power and the veneration of the gods in detail and intricacy, in contrast to the grandeur of Angkor Wat or Angkor Thom.
Roluos Group, located 15 km from Angkor, is a collection of four Angkor-era monuments named Bakong, Preah Ko, Lolei, and Prei Monti. These temples, dating from the late 9th century, are the last remains of Hariharalaya, which was the second capital of the Angkor-era Khmer Empire. Their architecture, decorations and materials reveal the beginning of the classic period of Khmer art.
If you have a bit more time, the abandoned Koh Ker is highly recommended for a day trip from Siem Reap. Being the capital of the Angkorian empire from 928 to 944 CE, Koh Ker makes visitors impressed by its seven tier pyramid like Prasat Thom offering spectacular views of the surrounding forest and countryside from its top tier.
Even not including in Angkor Park, Preah Vihear is another Khmer Empire's temple which was listed as UNESCO World Heritage Site in 2008. Meanwhile other Khmer temples have the conventional rectangular plan with orientation toward the east, Preah Vihear Temple was constructed along a long north-south axis. This special architecture style harmoniously blends with the natural environment and its dramatic location atop a 525m cliff on the Dangrek Mountains, close to the border with Thailand.
2. Visit floating villages in Tonle Sap Lake.
Tonle Sap Lake is the largest permanent fresh-water lake in Southeast Asia and flows into Tonle Sap River, joining the Mekong in Phnom Penh. During the rainy season (from May to October), the lake swells to six or seven times its normal size of approximately 2,600 square kilometres. Locals have learnt to adapts to the unique ebb and flow of the Tonle Sap Lake through the seasons by creating floating villages. Taking the trip to one of the fascinating floating villages in Tonle Sap Lake, visitors will have chance to witness the local daily lives of rural communities settled on the shores of the lake.
Please remember that floating villages are not typical tourist attraction so tourists have to respect local privacy and not invade too much into the villager's living space. Best time to visit these floating villages is during rainy season from June to November. March to May should be avoided when the summer is at its peak and most of the lake's water is dried up.
Below are main floating villages that are accessible for visitors:
* Chong Kneas:
– Closest village from Siem Reap, approx. 16 km.
– Extremely touristy, unethical crocodile farms.
– Famous for many Korean restaurants to serve Korean tourists.
– Gateway to Battambang and Phnom Penh by boat.
* Kampong Phluk:
– Just over 30 km from Siem Reap.
– Scenic, though pretty short boat trip with a stop at a stilted restaurant for sunset.
– Small boats to mangroves, or flooded forest.
* Kampong Khleang:
– A permanent stilted village around 50 km southeast of Siem Reap.
– Furthest away from Siem Reap, offer more genuine experience.
– The largest village on the lake and home to about 6,000 people.
– Mix of stilted houses, floating raft houses, floating schools, pagodas and medical centres.
* Mechrey:
– Located 25 km southwest of Siem Reap.
– Least visited village on Tonle Sap, offer authentic floating village experience.
– Emerged as an eco-friendly and community based tourism place in recent years.
– The entry point into the Prek Toal Core Bird Sanctuary with best time to visit between December and early February.
* Kompong Luong:
– Situated in the southern section of Tonle Sap.
– Boats depart from north of Krakor Town, Pursat Province – 3.5 hours from Phnom Penh & 1.5 hours from Battambang.
– Learn about two different cultures of a Vietnamese village and a Khmer village.
– Experience homestay life on water and taste delicious home-cooked meals.
– Kayak to nearby local mangroves.
– Tourism project is mainly self-organized by locals so all profits go directly to local community.
3. Learn about Cambodia's bloody history during Khmer Rouge.
Compared to all of the listed things to do in Cambodia, this is the most sensitive topic which visitors should pay respect and have proper manners. During the Khmer Rouge regime from 1975 to 1979, this country experienced the darkest page in the modern history with the death of more than 2 million Cambodians through execution, starvation and disease. The visit to the Tuol Sleng Genocide Museum (S21) and the notorious Choeung Ek "Killing Fields" in Phnom Penh or the Killing Caves (Phnom Sampov) in Battambang will help people to learn about the Khmer Rouge and Cambodia's recent, bloody part of history, as well as educate young generations to ensure this tragic history never repeats itself.
These memorial sites also serve to commemorate those who died. Hence, visitors must dress appropriately, don't take disrespectful selfies in front of skulls and bones display while touring the site.  Toul Sleng in Phnom Penh is a former school which was used as Security Prison 21 (S-21) by the Khmer Rouge regime. Here, prisons were either tortured to death or sent to Choeung Ek for execution. In 1979, it became a historical museum memorializing the Khmer Rouge atrocities.
Located 17 km from Phnom Penh Capital is Choeung Ek "Killing Field". This site if a former orchard was the extermination camp, where about 20,000 men, women, children and infants were executed. It's now a memorial site where visitors can learn of the harsh realities of genocide. Admission includes an audio tour offered in several languages.
Phnom Sampov in Battambang is dubbed the Killing Caves, because there is display of human skulls in its pagoda and somber. During the Khmer Rouge period, the mountain used to be the place to kill the victims of the regime by pushing them from a high ledge. Apart from the sad story of Cambodia's dark history period in the past, Phnom Sampov attracts tourists as the great sunset viewpoint with thousands of bats make their way out of limestone caves in the hillside to feed.
Mekong River enters Cambodia at the northeastern province of Stung Treng from Laos and passes through Phnom Penh on its way to Vietnam. Many cruise companies take this advantage to offer trans-country cruises which take passengers along the Mekong from Laos to Cambodia and onto Vietnam, or a mix of these two or three countries. The cruise journeys can last several days, or even few weeks, depending on each cruise route and program.
With the prominent location right on the edge of Mekong River, Phnom Penh Capital or Kratie Town are great places to enjoy stunning sunset. From restaurants perched on the riverfront, tourists can order light snacks, grab a cold drink, enjoy a spectacular Mekong sunset with a side of quietness, tranquility and peace in this laid-back town. Kratie is also a great base to access rare Irrawaddy dolphins in their natural habitat, either in boat trips or by kayaking.
Moving further to the southern coast of Cambodia, tourists will meet another riverside place on the Preaek Tuek Chhu River named Kampot. Almost visitors coming to this town want to spend some time on or at least near the river. Therefore, it's not hard to find riverside guesthouses or resorts in town, which offer river-related activities, including river cruises, stand-up paddle boarding (SUP), kayaking, wakeboarding, fishing expeditions, and even water skiing. Or you just simply jump in to the mellow surface of Kampot River and take a swim. To watch the sun go down, just set sail to the jungle-clad part of the river north of Kampot Town.
5. Engage with wildlife adventures.
Cambodia is home to an abundance of wonderful wildlife with beautiful creatures throughout the country. About 30 km from Phnom Penh is Phnom Tamao Wildlife Rescue Centre run by Wildlife Alliance. In this centre, many animals are rescued from poachers or illegal trades and rehabilitated. It also houses a variety of threatened species as part of a sustainable breeding program. These animals then are released back into the wild whenever suitable. Coming here, visitors can see pileated gibbons, Malayan sun bears, Siamese crocodiles and adjutant storks.
If you are animal lovers or travel with children, the visit to Elephant Valley Project in Mondulkiri is highly recommended. With the distance of nearly 400 km from Phnom Penh, this place offers a fantastic living space for elephants so that they can revitalize and enjoy their freedom at their sprawling sanctuary. It's such an incredible experience to witness elephants roaming in their natural habitat, bathing in streams and rolling about in clay mud.
6. Delve into rural Cambodian life.
With countryside landscapes marking up more than 85% of Cambodia, escaping the bustling scene of town or city centers is not too difficult. Whether you are in Phnom Penh or Siem Reap, hiring a bicycle or taking tuk tuk is a really good option to explore the surrounding countryside and approach closer to local daily lives. During monsoon season, tourists are surely impressed by the lush green paddy fields studded with iconic palm trees, grazing cattle, gently rolling hills, dramatic skylines and red dirt roads running through villages.
Sleepy towns like Battambang, Kratie, Kampot and Kep are also great bases to delve into rural Cambodian life. The visits to local craft workshops, enjoy traditional Cambodian foods with local hosts are all part of your unforgettable experiences in Cambodia. Moreover, overwhelmingly warm hospitality of Khmer people and children' smiles caught during your journey are something that you will sorely miss on your departure.
7. Chill out on deserted tropical islands.
There is a collection of almost-deserted tropical islands in Cambodia, and the most interesting part is that most of them remain off the mass tourism map and maintain their authenticity. Koh Rong is the largest island and holds the crown as the party island. However, infrastructure here is still basic and limited options for accommodations and dining. The stretch of beach at Koh Touch is the liveliest part in Koh Rong and packed with guesthouses and backpacker bars.
The most luxurious resort in this island is The Royal Sands Koh Rong at white sand Long Beach.
Nearby Koh Rong Samloem remains completely unspoiled by tourism so there is a smattering of low key accommodation here. Saracen Bay is the main tourist beach with several resorts along its front. Coming to M'Pai Bay to experience a little bit of local culture, or isolate yourself from "real life" at Lazy Beachand Sunset Beach. In addition, Samloem has undeveloped natural rain forest with a diverse ecology and off shore marine life with colorful coral reefs ready to be explored.
Other remote jewels including Koh Thmei, Koh Ta Kiev and Koh Totang are slowly starting to emerge with travelers seeking to escape from the real life.
The best time to visit these peaceful tropical islands is from mid-November to the early May, when the temperature is around 25°C – 40°C with very little cloud and low humidity.
8. Admire Khmer arts & handicrafts.
Cambodia's rich culture run through the veins of Cambodians and become an integral part of Khmer national pride. Coming to this Kingdom of Wonder, tourists should not miss the chance to immerse themselves in the vibrant local scenes, from magical Apsara dancing, traditional martial art – Bokator, Phare Circus – modern circus arts but more than a circus.
When visiting Angkor Temples, tourists are surely astonished by intricate carvings and bas-reliefs into the walls of ancient temples.
They are the most vivid evidences of Khmer craftsmen's excellent skills and techniques. Cambodia is home to some of the most unique handicrafts that is inspired by the Khmer culture throughout the history. Traditional Khmer handicrafts include silk weaving, silversmithing, stone carving, lacquerware, ceramics, wat murals, and kite-making. While in Cambodia, you should pay a visit to at least one workshop or traditional handicraft village, where you can deeply understand the process of making traditional handicraft products first-hand, and buy authentic and stunning artworks to bring home as a souvenir or gift for your beloved ones!
9. Sample local delicacies.
Khmer cuisine is profoundly influenced by water, rice and freshwater fish due to Cambodian geographical location and climate. Typically, Cambodians eat their meals with at least three or four dishes. A meal will usually include rice – the staple in Asian cuisines, a soup (or locally known as samlor), served alongside the main courses. Each individual dish will be either sweet, sour, salty or bitter in taste. Chilli (either fresh, pickled or dried) and chilli sauce is served on the side so that each diner can add it up as their personal preference.
There is a range of cooking classes and food tours available in Siem Reap and Phnom Penh to take visitors on a journey through the lip-smacking delicious tastes of Khmer food. Don't miss the chance to sample Cambodia signature dishes of Fish Amok, Samlor Korkor, Lap Khmer, Crabs with infamous Kampot Pepper. More adventurous tourists can try local popular snacks like deep-fried tarantulas, crickets, cockroaches and locusts. Situated in the middle between Phnom Penh and Siem Reap, Skuon Town in Kampong Cham is regarded as "Tarantula Town" with many street stalls selling fried insects as roadside snack.
10. Get acquainted with locals at bustling markets.
Markets form an essential part in Cambodians' lives and they are the best places for tourists to learn more about locals. They are bustling early in the morning as people gather to buy the freshest products for the day. Visiting Russian Market or Central Market in Phnom Penh, tourists can find everything from clothes, souvenirs, accessories to household goods and vehicle parts. In Siem Reap, Old Market and Angkor Night Market are ideal places for market lovers. Old Market is often included in market tour of Siem Reap cooking class because it's the main hub for tropical fruits and vegetables as well as slabs of meat which hang from hooks, fish and chickens.
Whereas, Angkor Night Market has amazing local souvenirs which you can take home as the keepsakes of their Cambodia trip. A variety of authentic products can be found here, from woven natural fabrics, sculpture reproductions, to special little jewelries, handmade natural organic products, and even edible items.
Cambodia has many things to cater the needs of all traveler types and age groups: ancient temples, undisturbed islands, enchanting landscapes, rich culture and history, warm hearted people. Join us today to experience the top things to do in Cambodia!