10 Interesting Attractions in Cambodia Besides Angkor Wat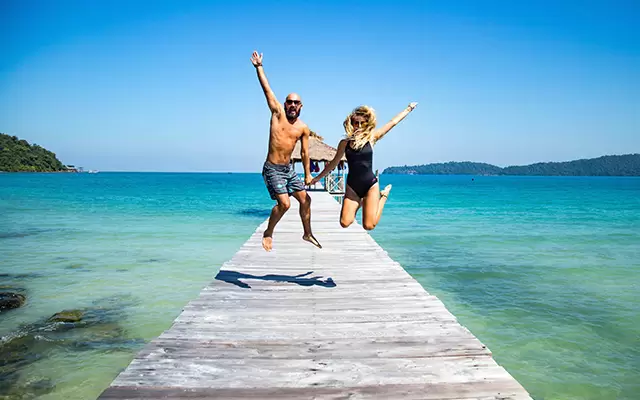 There is not only Angkor Wat but also many other attractions in Cambodia remaining their old charm: Preah Vihear Temple, Oudong Former Capital, Kratie, Koh Rong Samloem Island
Here is the list of 10 interesting attractions in Cambodia besides Angkor Wat:
1. Banteay Srei Temple
Considered by many to be the precious gem or the jewel of Khmer art, Bantey Srei Temple is a 10th century Cambodian temple dedicated to the Hindu god Shiva. Being different from other Angkorian temples which were built by monarch, Bantey Srei was constructed in 967 A.D. by Vishnukumara and Yajnavaraha, who served as counsellor to King Rajendravarman II.  Its original name was Tribhuvanamaheśvara and then was changed into Banteay Srei as we know today.
The modern name Banteay Srei, with the meaning as "citadel of women" or "citadel of beauty", may be derived from intricate decorations of many devatas (minor female deities) carved in pinkish sandstone that covers the walls like tapestry. Just about 36 km from Siem Reap town center, the visit to Banteay Srei brings an interesting experience for tourists because it demonstrates wealth, power and the veneration of the gods in detail and intricacy, in contrast to the grandeur of Angkor Wat or Bayon.
If you want to have stunning photos of this pink-colored temple, try to come here in the cooler times of the day (in the early morning or late afternoon).
2. Wildlife in Koh Kong
Koh Kong has been recognized as an "emerging eco-tourism destination" in Asia. Located on the coast and alongside rivers that traverse inland, this pristine destination is home to a treasure of natural beauty and outdoor adventure. The Koh Kong Conservation Corridor provides a setting ripe for adventure with its rugged coastline and expansive jungle interior. Being known as the hub of eco-tourism in Cambodia, this center incorporates part of the Cardamom Mountains, Phnom Aural – Cambodia's highest peak at 1,813 metres, as well as Botum Sakor National Park – Cambodia's largest national park.
The jungle-flanked Tatai River, with its myriad eco-adventures and beautiful bungalows along river banks, are also located in Koh Kong Conservation Corridor. In Tatai, tourists can feel immersed in nature, take boat trips or kayak in the verdant jungle banks, or go swimming in the crashing Tatai Waterfall and its surrounding pools.
Visiting Koh Kong Wildlife Release Station in the southern Cardamon Mountains, tourists can experiences exclusive activities like sleeping in comfortable chalets, feeding wildlife residents, hiking into the jungle, especially learning about the processes to release animals rescued from the illegal wildlife trafficking trade in Cambodia back into the wild or into forested areas they protect.
Even being the "off the beaten path" destination, Koh Kong is actually located in a quite convenient position bordering Thailand. After exploring this gorgeous area, just continue your journey to Bangkok and beyond.

3. Bokor Mountain
Bokor Mountain, around 37 km west of Kampot Town, is one of the main tourism sites in this tranquil riverside town. Located at the height of 1,075m, this mountain offers a cool escape from the humid heat and magnificent views to surrounding areas, such as Kampot Town, Kep Beach, Preah Sihanouk Province and blue sea water. Therefore, it used to be a holiday retreat for the French colonists during the early 20th century.
In 1953, Cambodia gained independence from France so the town was abandoned for long period. During the country's glory days of the 1950s and 1960s, Bokor Hill Station became the getaway for Cambodian elites. However, Bokor found itself abandoned for the second time when Cambodia was taken over by the Khmer Rouge in 1975.
Nowadays, the visit to Bokor Mountain helps tourists know more about the remnants of Cambodia's glory days, including: the skeleton of a sprawling hotel and casino, an old Catholic Church and abandoned royal residencies all reminding back to a time of decadence.
About 4 – 5 km from the casino is the two-tier Popokvil Waterfall, which worth paying a visit, especially in rainy season (from May to October) while in Bokor.
4. Kampot River
Kampot is considered as the capital of riverside relaxation in Cambodia because it is excellently located halfway between Phnom Penh and the southern coast of Sihanoukville.
Almost visitors coming to this town want to spend some time on or at least near the river. Therefore, it's not hard to find riverside guesthouses or resorts in town, which offer river-related activities, including river cruises, stand-up paddle boarding (SUP), kayaking, wakeboarding, fishing expeditions, and even water skiing. Or you just simply jump in to the mellow surface of Kampot River and take a swim. Guests staying in guesthouses like Greenhouse and Naga House even can jump into the river from these guesthouses' dedicated platforms. One great thing to do is enjoying sunset from long-tail boats ruining along Kampot River.
5. Koh Rong Samloem Island
Situated 18 km from west of Sihanoukville, Koh Rong Samloem is often called as a real island paradise. The island offers breathtaking scenery of warm turquoise ocean waters lapping onto pristine white beaches, all fringed by palm and casuarina trees. With less than an hour's ferry journey from the mainland of Sihanoukville, tourists will have the opportunity to transit from the bustling city life to quiet island living.
The island remains completely unspoiled by tourism so there is a smattering of low key accommodation here. Saracen Bay is the main tourist beach with several resorts along its front. Coming to M'Pai Bay to experience a little bit of local culture, or isolate yourself from "real life" at Lazy Beach and Sunset Beach.
Besides the gorgeous beaches, Samloem has undeveloped natural rain forest with a diverse ecology and off shore marine life with colorful coral reefs ready to be explored. The most stunning natural environment should not be missed when in Samloem is the bio-luminescent plankton. This's really once-in-a-lifetime experience to witness the ocean waters glow and sparkle at night.
The best time to visit this peaceful tropical island is from mid-November to the early May, when the temperature is around 25°C – 40°C with very little cloud and low humidity.
6. Phnom Penh At Night
Phnom Penh is the city that never sleeps, with more entertainment added every year. Whether you prefer a pleasant night time or look for something with a little more action, you will surely find something in Phnom Penh to match your nightlife style.
Phnom Penh riverside promenade is an ideal location for a relaxing stroll in the evening, get closer to local nightlife scene, and try some of the Cambodian street food. However, the best nightlife continues in the back town, with many choices of bars and clubs opening until midnight.

7. Sunset on Mekong River in Kratie
With the prominent location right on the edge of Mekong River, Kratie's center itself is a great place to enjoy stunning sunset. From restaurants perched on the riverfront, tourists can order light snacks, grab a cold drink, enjoy a spectacular Mekong sunset with a side of quietness, tranquility and peace in this laid-back town.
If you join in the kayaking trip on Mekong River in the afternoon, you will enjoy beautiful sunset from other perspective when you paddle through the less touristy river areas. 

8. Dolphin Watching on Mekong River
The top reason attracting people to visit Kratie is to see Irrawaddy dolphins in their natural habitat. These Mekong dolphins are put on the critically endangered list of marine species that lives in the freshwater. It is thought that there are between 66 and 86 dolphins left in the upper Cambodian Mekong area. Therefore, local authority puts environmental measures in place to try and help their dwindling numbers.
The best spot to watch the dolphins is Kampi Village, which is about 15 km north of Kratie Town. On arrival to the village, tourists will jump on a cruise with experienced boatman, who strictly follow the dolphin watching guidelines provided and only use oars when near the dolphins. These things are done to protect and avoid disturbing dolphins.
The chance of seeing dolphins isn't guaranteed, requires patience from tourists. In dry seasons, tourists have better opportunities to see groups together and spectacular behaviors. When the water level increases in wet season, the boat trip takes longer time because these animals move several kilometers upstream from the tourist site.
Even you can see any dolphin or not, don't feel frustrated because your visit provides funding for the protection and study of these endangered mammals.
9. Oudong Former Capital
Located about 35 km northwest of the modern capital Phnom Penh is Oudong, which was an ancient city of the post-Angkorian period. From 1618 to 1863 C.E, Oudoung served as the capital of Cambodia under several sovereigns. Many Cambodian Kings were crowned in this place, including King Norodom, who later accepted French domination and relocated the royal court to Phnom Penh.
The early 17th century to the mid-19th century CE was the most flourished period of Oudong City. Many sandstone architectural elements and artefacts left from Pre-Angkor, Angkor and Post-Angkorian periods were found in this city. Additionally, a great Artharush Vihara and Maravijjaya Buddha are on the lower peak of the mountain. Importantly, the site contains 16 stupas of earlier Theravada Buddhist Kings and the royal family of the Oudong period, of which 13 are on the mountain, and 3 are at the foot of the mountain.
Located on a picturesque hillside setting, Oudong offers spectacular views from the mountain top to surrounding areas. On weekend, Phnom Oudong is a favorite spot for locals to visit and worship, especially in special occasions. Apart from those periods, it's a tranquil place for foreigners to visit as an easy day trip from Phnom Penh.
10. Preah Vihear Temple
The Temple of Preah Vihear is an ancient Hindu temple dedicated to Shiva. Being built during the six-century-long Khmer Empire, the temple consists of sanctuaries linked by a system of pavements and staircases over an 800-meter-long axis and dates back to the first half of the 11th century AD. Meanwhile other Khmer temples have the conventional rectangular plan with orientation toward the east, Preah Vihear Temple was constructed along a long north-south axis. This special architecture style harmoniously blends with the natural environment and its dramatic location atop a 525m cliff on the Dangrek Mountains, close to the border with Thailand.
Due to its remote location, this religious site particularly remains in good preservation. Even it takes at least 2 day trip to Preah Vihear from Siem Reap, tourists are highly recommended to pay a visit there to admire an outstanding masterpiece of Khmer architecture, which was listed as UNESCO World Heritage Site in 2008.