Significant Waterfalls in Cambodia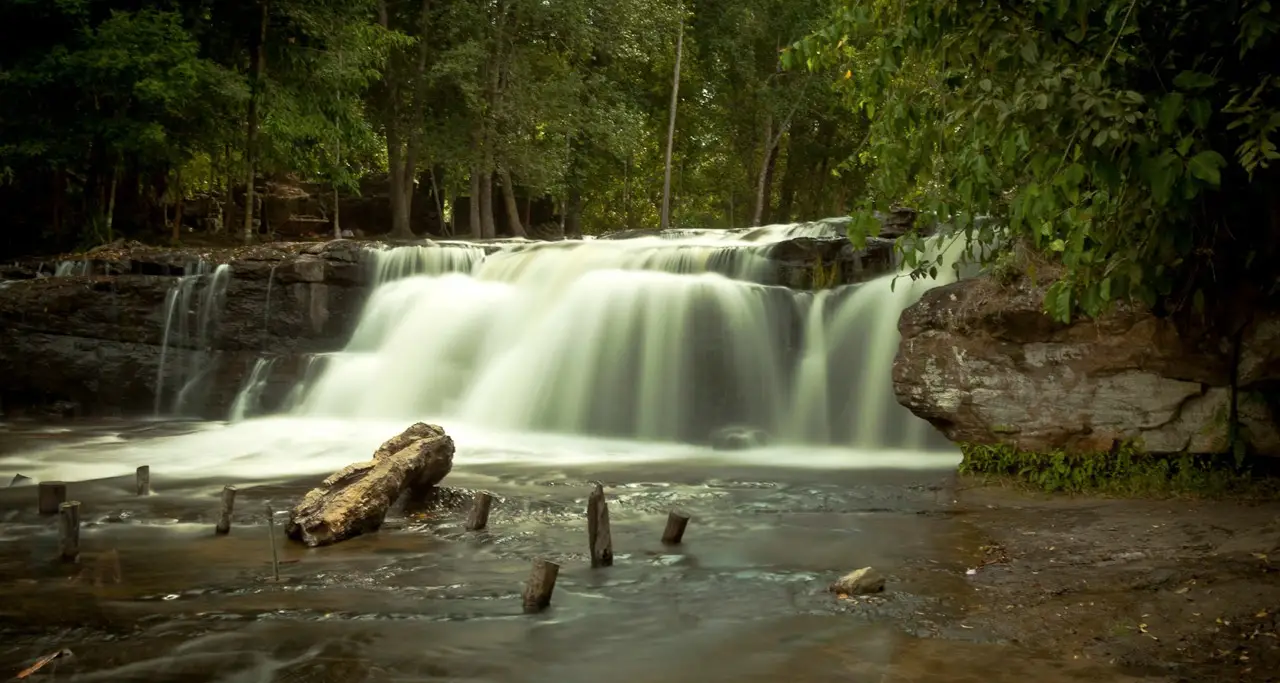 Cambodia is an emerging holiday destination for Southeast Asia travels that manages to charm all who come. Beyond the ancient temples, rivers and unexplored forests you'll find waterfalls and waterholes waiting to be explored. From crashing cascades to rock pools, here are the best waterfalls to visit in Cambodia.
1. Stueng PongRul Waterfall, Koh Kong

Stueng PongRul Waterfall or it's often called PongRul Waterfall is located in Dong Pek Commune, Sre Ambel District, Koh Kong Province and far about ~154km away from Kaoh Kong Circle. Stueng PongRul Waterfall is in the category of the Waterfall, Mountain. Things to do, as well as the attractions of Stueng PongRul Waterfall for tourists such as swimming, having picnic, hiking, trekking and more. For the trip to the location of Stueng PongRul Waterfall, it is easy because it is not necessary to walk and cross the river or take a boat. For parking, tourists can park directly at the location. For a relaxing seating area, Stueng PongRul Waterfall has a seating area for tourists, and there is also order food directly from there. Besides Stueng PongRul Waterfall has food ordering or food stations but for the canteen and restaurant are not exist. Stueng PongRul Waterfall is not available yet such as bungalow, guesthouse and hotel.
• Timings : 8 AM to 5 PM.
• Time required : 1-2 hours.
2. Bousra Waterfall, Mondulkiri
Bousra Waterfall is located about 40 kilometres from Senmonorom District, in the Bousra Eco Park. It has three tiers and is one of the biggest waterfalls in Cambodia. The forest area is perfect for a picnic and trekking behind the falls. You can also zipline over the water, facilitated by the Mayura Hills Resort. This waterfall also features in a Khmer song of the Mondulkiri Province.
• Timings : 7 AM to 5 PM.
• Time required : 1-2 hours
• Entry fee: 10120 Riel (2.50 USD).
3. Ka Choung Waterfall, Ratanakiri
Ka Choung is one of the most popular waterfalls in Cambodia. It is located 7 kilometres from Ban Lung District, in the Ratanakiri Province. The 12-meter high waterfall is formed by the O'Kan Teung Stream, flowing all year round. It is surrounded by small towns and villages, along with peaceful chaparral. This area is also home to the Kreung ethnic minority of Cambodia. It's a bit of a walking site, so you must equip yourselves accordingly.
• Timings : 7 AM to 5 PM.
• Time required : 1 hour.
4. Phnom Kulen Waterfall, Siem Reap
Phnom Kulen is located in the Phnom Kulen National Park, 40 km from Siem Reap Town. It has two levels that submerge into a pool, where you can actually swim. It is one of the largest waterfalls in Cambodia and is surrounded by greenery and temples. The grounds of this national park are known to hold ancient history, along with a reclining Buddha statue. Phnom Kulen Waterfall is delineated by large trees and rocks, and thus promotes a feeling of a secluded cove. After you are done enjoying the waterfall, you can take a walk around the parks and visit the temples and small shops.
• Timings : 7 AM to 4 PM.
• Time required : 1-2 hours
• Entry fee : 96950 Riel (24 USD).
5. Kbal Chhay Waterfall, Sihanoukville
Kbal Chhay Waterfall is located in Khan Prey Nup close to the downtown of Sihanoukville in Cambodia. Due to its beautiful location amidst dense mangrove forests, it is a popular place for locals who come on picnics as well as for tourists exploring Sihanoukville City. Travellers can plan a day trip to the waterfall to enjoy nature and hike around in the region.
• Timings : 8 AM to 5 PM.
• Entry fee : Free entry.