Cambodia Weather in April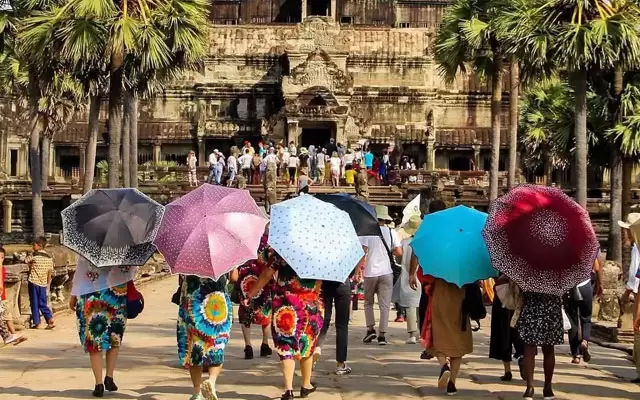 Cambodia experiences the hottest period in the month of April. However, don't let the heat stop you from exploring this magnificent destination because April in Cambodia is not bad as the label implies. If tourist numbers are taken into account rather than the weather factor, you are strongly suggested to visit Cambodia in April because there will be fewer tourists during this time thanks to April's heat. Keep reading our post about Cambodia Weather in April to get more information to have a well-planned holiday in Cambodia.
1. Cambodia Climate in April
April is considered the last month of the dry northeast monsoon so Cambodia weather during this time is generally fine but very humid. Average temperature fluctuates around 35°C but sometimes the country gets scorching hot when the mercury hits the 40°C's. Big cities in lowland areas like Siem Reap and Phnom Penh experience average temperature of 31°C,  sometimes touching 35°C. Temperatures in the southern coastal Sihanouk Ville range from 26°C to 32°C.
The possibility of rain is quite dismal making the terrain dusty with little vegetation. However, the rainy season is just around the corner so visitors can expect the odd showers to the parched land by the month end. However, these downpours are short lived during this time of the year.
2. Suggested Places to Visit in April
Sightseeing and travelling around Cambodia in sweltering heat and oppressive humidity of April can be wearying for many tourists. It can be a real burden if trying to walk along the streets, explore the temples without ventilation, and hike in the jungle during the full day trip. However, this may not seem that bad as many people exaggerate Cambodia's hot and dry weather in April.
In addition, it depends on how people are aware of and ready to react to the heat. Sensible tourists can dress appropriately, keep an eye on their fluid intake and most importantly adjust their pace of tour activities. For example, instead of making all day exploration of Angkor Temples, tourists should plan for shorter stints in early morning and/or late afternoon. At midday when the heat reaches its peak, short break at the hotel's swimming pool or at air-condition restaurants or tourist venues is not a bad idea. On the other hand, the summer heat has its advantage of thinning out the tourist crowds at the main temples in specific time of the day.
Tourists can escape from the heat with a trip Mondulkiri and Ratanakiri in north east regions of Cambodia. Lots of sunshine, cooler temperatures (average temperature 27°C), extremely low chance of raining are great conditions to experience adventure activities like trekking into jungles or interact with wildlife in these places.
More sun seekers have no reason to delay their R&R (rest and relax) time on the south coast beaches of Kep, Sihanouk Ville or head to more deserted pristine islands of Koh Rong and Koh Rong Sanloem.
3. Cambodian Events in April
April in Cambodia comes with a sense of celebration because it's the month of Khmer New Year (Choul Chnam Thmey) – the biggest and most important festival of the year in the country. This special occasion lasts for three days in Khmer calendar, which usually falls between 13th and 17th April. This time marks the end of harvesting season and farmers celebrate their successful crops before the new agricultural season starts in coming rainy period.
During this time, the whole country is in a standstill as government offices, some marketplaces and several tourist sites are closed. This is the precious time for Khmer people to reunite with their family, friends and community, visit temples to seek blessings, as well as participate in traditional games. Seemingly the entire population of Cambodia celebrate the new year with great merriment on the streets. People are at their playful best by mingling and splashing water around. This unique way of celebration really cools you down under the sweltering heat of April.
If you are in Cambodia during this great holiday, be ready to get wet and soak each other with water. Otherwise, you should stay indoor and avoid venturing outside.
Visiting Cambodia during a festival can be a great experience for those seeking a closer look into Cambodia's diverse culture and history. However, tourists should be aware of some delays and longer journeys because the roads are filled with Khmer families visiting temples, relatives and friends.
4. What to Pack to Visit Cambodia in April?
Clothing: Cambodia in April is hotter than other months of the year. So cotton t-shirt, linen pants or dry-fit is excellent, avoid synthetics which can make you drenched in sweat during the day. More importantly, even you take the trips under the heat and sunshine of Cambodia's weather in April, you are strictly required to follow dress code in Angkor Area and other spiritual/cultural places dotted across the country: shoulders and knees must be covered.
Hat, umbrella, sunglasses: these items are very useful to deal with the burning heat during the dry days, especially when temperature reaches 40°C.
Sunscreen: pack your favorite brand name with SPF higher than 50, which can help you to avoid getting sunburn from Cambodia intense sunlight in April.
Sport shoes or flat sandals: these footwear items are convenient for walking and saving space in the suitcase.
Swimsuit: you should pack at least two swimsuits because you can spend most of the day time in the hotel pool to avoid daylight's heat. Not mentioning that the trip to beautiful beaches and islands in southern coastal region.