Cambodia Trips: Best 30 Tour Packages for Your Holidays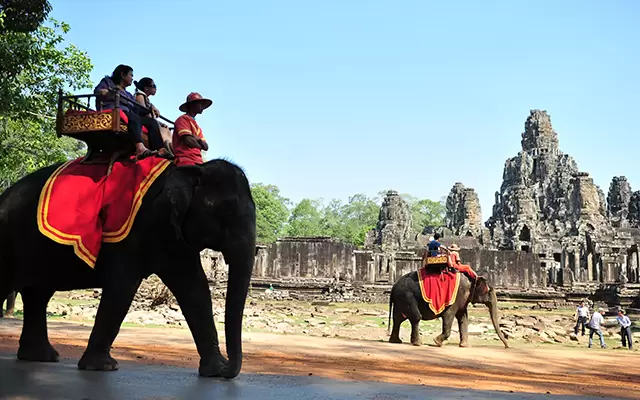 Cambodia might be one of the smallest countries in Southeast Asia but it's truly a hidden gem and now has its firm establishment on the Asia travel circuit. Travel to Cambodia to experience the collision between ancient and modern worlds. Cambodia offers countless exotic adventures, from the crumbling remains of the Khmer Empire, country's tragic history under the brutal regime of Pol Pot; to breathtaking natural beauty of blissful beaches, tropical jungles teeming with wildlife, and densely-forested hinterland full of tribal villages.
While planning a holiday to Cambodia, travelers may find difficulties in deciding the best Cambodia tour packages and the most reliable local Cambodia tour operator. In this article, Cambodia Travel will suggest you the best 30 tour packages with a wide range of places and things to do throughout Cambodia, as well as combination trips with other neighboring countries.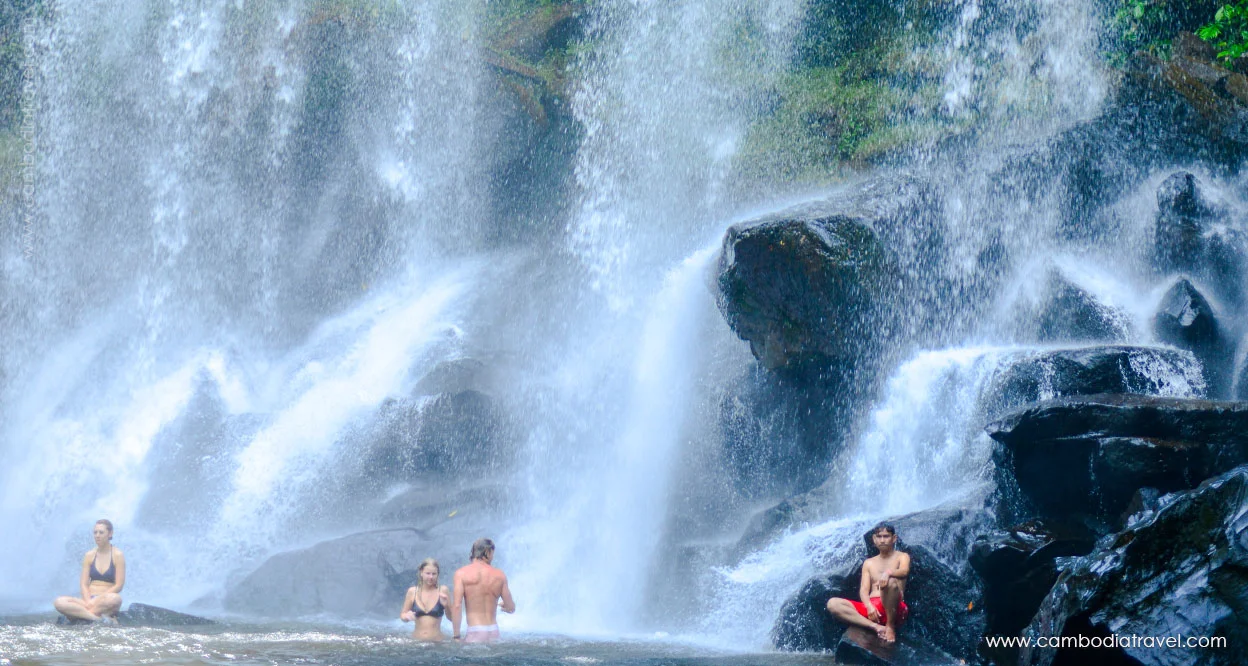 Waterfalls at the top of Kulen Mountain is a great picnic spot to escape from summer heat.
Cambodia Trips: Best 30 Tour Packages for Your Holidays
Trips to Cambodia
Undoubtedly, magnificent Angkor temples are the main draws when tourists plan trips to Cambodia. But beyond the network of awe-inspiring temples of Angkor, Cambodia holidays can cover various facets scattering through this captivating land, such as colourful floating villages, stunning countryside landscapes, authentic tropical islands, distinctive cuisine and warm-hearted Khmer hospitality.
You may also like:

6 Ideas for Honeymoon Destinations in Cambodia
Cambodia: All things you need to know
Cambodia Weather: General Information & Best Time to Visit
The Complete Cambodia Travel Guide
Trips starting from Siem Reap
Located in northwest Cambodia, Siem Reap is the country's major tourist hub and serves as the main gateway to the ancient ruins and temples of Angkor Complex. This is an ideal place to start your journey in Cambodia and the nearest airport – Siem Reap International Airport, is only 8km from Siem Reap downtown and 6km to magnificent Angkor Wat.
If you just want to take a glance of Angkor Complex in only 3 day trip, Spirit of Angkor package invites you to discover from the most highlighted Angkor Wat, Angkor Thom, Ta Prohm to the lesser visited temples which are nestled deep in the jungle.
Adventurous tourists with moderate physical fitness can try Biking Through Angkor to escape the crowds and approach a different side of Cambodia's legendary temples on two wheels.
For tourists who come back Siem Reap on the second time and look for a different temple exploration, Explore Preah Vihear is a perfect choice. Cambodia Travel arranges the 2-day trip (start and end in Siem Reap) to discover Preah Vihear Temple – the famous Hindu temple located on the top of mountain by northern border of Cambodia Kingdom. In addition, this off the beaten track journey brings you to the less traveled area of Angkor – Beng Mealea and Koh Ker Temples.
Want to have more than one week visit Cambodia? Our 10 day package Cambodia In Style or 15 day trip Absolute Cambodia are exactly designed for you! Both packages take visitors to experience Cambodia in its ancient history and modern life: wandering in the shadows of the mighty Angkor Wat, immersing into the bustling of cosmopolitan Phnom Penh, relaxing in the Kratie's Mekong River in search of rare Irrawaddy dolphins; meet locals at their living inhabits and experience some of local daily life.
Especially, animal lovers and families travelling with kids should not miss the chance to visit Elephant Valley Project in Mondulkiri offered in package Absolute Cambodia. At the end of this package, tourists will stay up-close to nature in 4 Rivers Floating Lodge, which is located in southwest Cambodia's jungle-fringed Tatai River and at the steps of the Cardamom Mountains.
Trips starting from Phnom Penh
The vibrant capital city Phnom Penh was once known as the 'Pearl of Asia'. Nowadays, this captivating city still preserves its undeniable charm with French colonial buildings, boutique hotels in old colonial mansions, combine with a new wave of upscale restaurants, bustling local nightlife scenes. Many Cambodia tour packages start and even end in Phnom Penh due to its convenient links to other countries by air, land and river.
The 7-day package Colors of Cambodia is the most basic trip covering Phnom Penh and Siem Reap – the two most highlights in Cambodia travel map. This package perfectly combines urban exploration in Phnom Penh and historical temple visits in Siem Reap, as well as cultural immersions such as Phnom Penh's Central Market, Siem Reap's floating village and cooking class.
With a holiday in Cambodia for about 2 weeks, tourists can consider the package Explore Cambodia that takes them deep into the heart of the Khmer Kingdom. Besides so popular tourist attractions like Phnom Penh and Siem Reap, this journey will take participants to off the beaten track destinations in far northeastern Cambodia: get closer to elephants in Mondulkiri or endangered freshwater Irrawaddy dolphins in Kratie; interact with ethnic minorities in Mondulkiti and Ratanakiri; admire outstanding masterpieces of Khmer architecture in remoted temples Preah Vihear, Koh Ker and Beng Mealea.
Cambodia Travel especially designs and creates Cambodia luxury travel packages like  Luxury Cambodia & Song Saa Island and Cambodia Luxury Holiday to serve high-end travelers. Taking these trips, luxury travelers can experience all main highlights of this fascinating country, and enjoy coastal relaxation in private island resorts such as Song Saa Island Resort or Six Senses Krabey Island Resort with top-notch services.
Tour Cambodia Laos Thailand
Tour Cambodia, Laos and Thailand is one of the bestselling combined trips among Southeast Asia packages. Bangkok is the great starting point of the Southeast Asia multi-destination trip because its airports are the main hubs for many international connections in the region. Travel from Thai Capital to Northern Thailand experiencing the delights of Thailand and enter Laos to enjoy the boat trip down stream Mekong River to Luang Prabang.
Visiting Laos' highlights from North to South, explore laidback river lifestyle of Laos. The last country of the trip is Cambodia – home to the once-powerful Khmer Empire. Travel down the mighty Mekong River and become immersed in the tranquility of remote villages and meet friendly faces along the way.
Join Laos Travel on 25 day Thailand – Laos and Cambodia Discover package, taking in the bright lights of Bangkok with early morning visit to floating market, listening the historical story of Ayutthaya, taking care of elephants in their living environment in Chiang Mai, enjoying relaxed life pace in Luang Prabang, exploring the charming capital Vientiane of Laos, nature beauty of Pakse, marvelous Angkor temple, laidback Battambang with its ancient pagodas and French, Thai and Khmer architecture; and hearing bloody story of Cambodia recent history in Phnom Penh.
Tour Cambodia Vietnam Myanmar
Grand Indochina Tour offered by Vietnam Travel helps travelers explore Indochina on an exciting tour through Cambodia, Vietnam and Myanmar. This 17-day trip starts from the legendary Angkor Temples, short flight to Phnom Penh's wide tree-lined boulevards and faded colonial mansions, then speedboat takes you along the meandering Mekong River all the way to Vietnam's opulent Mekong Delta to the thumping nightlife of Saigon modern metropolis. Continue your Cambodia – Vietnam – Myanmar journey to central and northern Vietnam with the visit to Vietnam's UNESCO World Heritage Sites: Hoian Ancient Town, Royal Citadel in Hue and amazing Halong Bay.
Take advantage of direct flight from Hanoi Capital of Vietnam to Yangon, we encounter the magic of Myanmar's glorious gold-leafed temples from Yangon to Bagan and end up in Mandalay. The tour Cambodia, Vietnam, Myanmar perfectly balances cultural immersion with sightseeing and relaxation, giving you an unparalleled Indochina experience. The tour could start from Siem Reap (Cambodia) and end in Mandalay (Myanmar) or vice versa.
Tour Cambodia Vietnam Laos
Many tourists look for combined trip to Cambodia Vietnam Laos because these countries are located side by side. They have so much in common yet at the same time shine with their own different charms.
Magical Vietnam Laos and Cambodia package is designed for persons who have limited time budget but still quite long enough to discover the very best of Indochina. The 11-day package takes you throughout Vietnam, Cambodia, and Laos. Start with a stroll through the hidden alleys in Hanoi Old Quarter, then sail in the less visited parts of the World Heritage Site of Halong Bay. Slow your pulse and awaken your imagination with the combination of world-class comfort and spiritual nourishment in the atmospheric Luang Prabang.
See the Khmer temple complex of Angkor Wat and behold the haunting beauty of Ta Prohm, where jungle vines embrace ancient ruins. Explore the bright lights and urban bustle of Saigon in Vietnam before departure. This tour takes you deep into three beautiful countries, immersing you in our rich culture and elegant landscapes.
For longer holiday in Cambodia – Laos – Vietnam, just click to 15 day trip Grand Indochina Adventure at Laos Travel's website or 19 day package Discover Vietnam – Laos and Cambodia offered by Vietnam Travel. These comprehensive Vietnam Cambodia Laos itineraries take you to an authentic journey to wonders of three unique countries. Stroll through bustling alleys of Hanoi and Saigon smelling ethereal coffee's odor in the morning fresh air. Be lured in charm of ancient town of Hoian and taste delicacy of Vietnamese cuisine.
Travel back in time to discover history in depth of Hue, the former capital of Vietnam. Sail picturesque cruise of Halong Bay among thousand karst islands and islets dotted in emerald water. Gain insights into culture of beguiling Luang Prabang. This exquisite small, palm fringed place is packed with fabulous colonial villas, top class restaurants, coffee shops and stunning Buddhist temples. Witness the sun rising over magnificent Angkor Wat is extreme experience of a life time. Your tripod will have a plenty of chance to capture unforgettable moments throughout these journeys.
Cambodia Vietnam Tour Packages
Cambodia and Vietnam are often visited in conjunction with each other due to close geographical location. Cambodia Vietnam tour packages tend to be more popular in recent years when visitors plan the trip to Indochina. This will give you broader understanding of the many similarities as well as differences between these two countries, also save lots of travelling time and expenses at the same time.
For 8 day trip duration, Cambodia Travel offers package Splendour of Cambodia & Vietnam to visit the region's most beautiful sites with our expert, English-speaking guides. Enjoy the sunrise over the Khmer temple complex of Angkor Wat. Behold the haunting beauty of Ta Prohm, where jungle vines embrace ancient ruins and delight in Central Vietnam's ancient culture and diversity. Wander through Saigon bustling streets and immerse yourself in the riches of Mekong.
Gourmet travelers should not miss the chance to take part in 16 day Foodie Tour Cambodia & Vietnam package. This private adventure lets you dine your way, indulging all your senses in delicious tastes and tantalizing aromas, while travelling in comfort and style. From the majestic Angkor temples to the emerald waters and haunting karst fangs of Halong Bay, Cambodia Travel designs this sixteen-day tour to take you across Vietnam and Cambodia's kaleidoscope of landscapes.
To explore of-the-beaten-tracks in two countries, adventure packages like Biking Vietnam & Cambodia and Cambodia & Vietnam Adventure are ideal suggestions. During these journeys, all your senses will delve deeply into the culture and local life style through the back roads of Cambodia and Vietnam.
Luxury Heritage Journey is the bestselling package of Cambodia Travel to serve high-end tourists. Indulge in the best very best of Vietnam and Cambodia on this one of a kind private luxury tour. Designed to capture the essence of this mysterious region, this awe-inspiring itinerary is meticulously crafted to invite you, in elegance and style, into Southeast Asia's "window of the past."
Cambodia Laos Tour Packages
With about 6 or 8 day duration, tourists will have opportunity to join in Cambodia and Laos tour packages at a glimpse with the main tourist attractions such as: Vientiane, Luang Prabang in Laos and Siem Reap in Cambodia. Both of these two countries were once the ancient Khmer Empire and predominantly Buddhist countries. Ancient temples and mysterious Buddha-filled caves, royal palaces can be found and explored during the journey in Cambodia and Laos via Cambodia Travel's sample tours: Cambodia and Laos Visit and Highlights of Laos and Cambodia.
No matter how long you want to spend on Cambodia and Laos vacation, there are some tours that would suit perfectly to your needs and budget. For those who want to have an insight into Cambodia and Laos culture and history, Splendor of Laos and Cambodia from Laos Travel is an ideal option. This 12 day trip covers four main tourism destinations in two countries: Siem Reap – Phnom Penh – Vientiane – Luang Prabang. Travel back in time to legendary Angkor temples complex. Other than that, jungle adventures, vibrant culture and great nightlife in Siem Reap add to the charm and allure of this historical part of Cambodia.
Once considered the "Pearl of Asia", Phnom Penh fell victim to war and upheaval. But nowadays, the city has revived itself with intriguing markets, a charming café culture, and a delicious food scene. Laos retains many of the traditions that have disappeared in a frenzy of development elsewhere in the region. It's hard to believe somnolent Vientiane is an Asian capital, and there's a timeless quality to rural life, where stilt houses and paddy fields look like they are straight out of a movie set. Magical Luang Prabang bears witness to hundreds of saffron-robed monks gliding through the streets every morning in a call to alms, one of the region's iconic images.
Trips to Cambodia and Thailand

Amazing Thailand and Cambodia is a perfect combination trip to Cambodia and Thailand chosen by Cambodia Travel's clients. Within 10 day journey, you will discover the many faces of Thailand and Cambodia on this adventure. The Cambodia and Thailand package commences from Bangkok, a bustling capital full of contrast between ancient temples, modern infrastructure, and buzzing Thai life. On the outskirts of Bangkok lies the ancient former capital of Ayutthaya. Heading north to the fabled Golden Triangle, once known as an opium producing area, to view and scenic panorama of three countries.
Your journey continues to Chiang Mai, a more relaxed city, known for colorful night markets, teak temples and Thai massages before immerse yourself in the magic and history of Cambodia's famous Angkor temples, cruise through Tonle Sap Lake's charming floating villages and watch the sunset behind the mystical, temple-dotted jungle.
Cambodia Honeymoon Package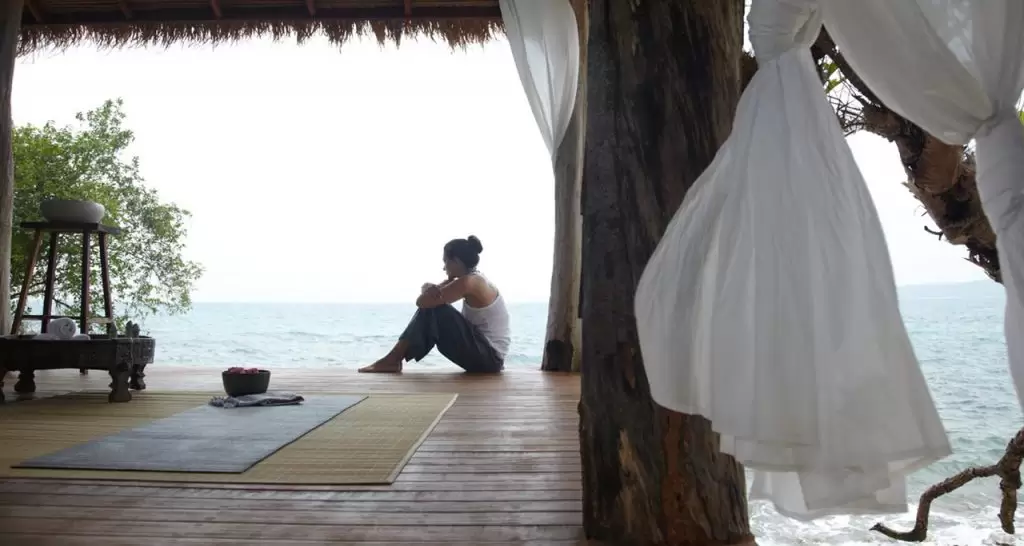 With breathtaking ancient wonders, stunning isolated islands, jaw-dropping nature, affordable luxury and friendly locals, newly-wed couples have no reason to ignore taking Cambodia honeymoon package.
Luxury Cambodia & Song Saa Island package is designed for high-end honeymooners in the very personal and special way. The visit to the awe-inspiring Angkor Wat and nearby temples is absolutely worth every second spent. It will be such romantic moments when the couple wandering through the jungle hand-in-hand discovering crumbling ruins and witnessing the magnificent sunrise over the largest religious monument in the world. If you are lucky enough to meet up Buddhist monks while in Angkor Wat, the monk will give special blessings for your newlywed couple then sprinkling you with flowered water and finally he ties red threads around your wrists, as the symbol of everlasting love.
Moreover, relaxing days on Song Saa Private Island Resort will surely be a wow factor of your Cambodia honeymoon vacation. In this private island, every detail is carefully catered for each couple. Boasting with the pristine white sand beaches and lapping turquoise waters, 24 vast thatched roof villas with private pools, spa sanctuaries where treatments take place nestled in nature, and a protected coral reef, Song Saa is full of intimate spots for the newly-wed couples to unwind after the whirlwind of chaos that is a wedding.
Honeymooners with lower budget still can celebrate their new life together on Truly Cambodia to create unforgettable memories with their loved one in Southeast Asia. A perfect journey through the ancient and modern Cambodia for 11 days exploring capital city of Phnom Penh to the wonders of Angkor Complex, some of the most iconic places around Siem Reap as well as being close to the rural Cambodian lifestyle at Battambang. Slow down your pace to create unforgettable honeymoon memories on Koh Rong Samloem's palm-fringed island and soft powder white sands before driving to Phnom Penh for departure.
No matter how much your couple spend on Cambodia honeymoon package, Cambodia Travel team can customize once-in-a-lifetime holiday with a touch of romance, beach relaxing and sightseeing to beautiful places in Cambodia.
Cambodia Day Trips
Besides all-inclusive packages, Cambodia day trips can be organized with air-conditioned transfers and an English-speaking guide give tourists more flexibility and alternative to get around and experience Cambodia at its best. Day Tours and short excursions in Cambodia are great options for travelers having a limited time or the ideal add-on to a longer holiday. Whether you want to experience Cambodia's intoxicating history, meet the extremely friendly Khmer people or immerse into the country's breathtaking landscapes, there is a Cambodia private day tour that perfectly matches your demand!
For more details, you should visit: Best Cambodia Day Tours
Full day explore Angkor Temples
Explore the Khmer architectural treasures of Cambodia in one day excursion from Siem Reap. The full day Angkor exploration starts by rising up early to pick up the most beautiful, haunting and spiritual moment to visit magnificent Angkor Wat at dawn. Your journey then continues with a visit of the South Gate of Angkor Thom, which is famous for its majestic doors and artifacts. Later, visit the Elephant Terrace, Terrace of the Leper King and Takeo "Jewel of Crystal", which is dedicated to the Hindu God Shiva and was erected at the end of the 10th century.
You should not miss Ta Prohm Temple, which is a wonderful combination of human genius and natural beauty with its giant trees that have grown there for centuries. If the weather permits, you can enjoy tethered balloon over the Angkor at sunset from a bird's eye-view.
Awake remoted temples Koh Ker and Beng Mealea
Escape from the hordes of tourists at the main Angkor temples on the private day trip to hidden temples outside of Siem Reap. The mystical overgrown Beng Mealea and the pyramid-shaped Koh Ker are located in the Cambodian countryside within a short drive from Siem Reap. Koh Ker – the former capital of the Khmer Empire under the reign of Jayavarman IV, now is abandoned deep in the jungle. There are many structures inside Koh Ker, but the most outstanding temple is seven-tiered pyramid Prasat Thom.
On the way back to Siem Reap, continue on to visit the incredible jungle-covered temple: Beng Mealea. This distant temple is a gem in the midst of the jungle; half strangled with vines and decorated by lichen, Beng Mealea is the true adventure experience. This one day excursion includes Cambodia Travel's private tour guide, entrance fee, picnic lunch and round-trip transfer from Siem Reap.
Phnom Penh City Tour
Discover Phnom Penh – Cambodia's capital. Despite its recent turbulent history, Phnom Penh still holds an undeniable charm with its wide tree-lined boulevards and faded colonial mansions. On this full day excursion, you will learn about Cambodia's war-torn past under the Khmer Rouge, as well as take a glimpse into ancient Khmer art and civilization in National Museum and Royal Palace. The day trip will end at Phnom Penh's historic riverfront area where stands lots of  restaurants, art galleries and silk shops, or the distinctive Central Market where you can buy jewelry, curios, clothes and souvenirs.
Phnom Tamao Wildlife Rescue Center
Day trip from Phnom Penh to Phnom Tamao Wildlife Rescue Centre is an ideal suggestion for animal lovers or families travelling with kids. Located an hour's drive from Cambodia's capital, this is the world's largest sanctuary for sun bears and has education programs about the threats facing wild bear populations. This rescue center is home to more than 1,200 animals, such as tigers, elephants, snakes, gibbons and clouded leopards, that have been rescued from the clutches of poachers and illegal trafficking.
During the visit, you can have chance to get up close and interact with endangered species kept at Phnom Tamao at a safe distance. A delicious Cambodian-style lunch is also included into this one-day tour package.
Battambang Sightseeing Trip
Battambang is a perfect stop to make on the long journey between two main tourism hubs: Phnom Penh and Siem Reap. One full day sightseeing in Battambang includes the visit to the city's bustling boulevards lined with quaint French colonial buildings; tranquil Wat Kor Village with a cluster of Khmer heritage houses. Go further out of the central town, tourists will join-in an interesting adventure from bamboo trains to enjoy countryside vista.
The reminder of the brutal Khmer Rouge can be found in notorious Phnom Sampov. On the brighter side, one of nature's wonders can be witnessed from the nearby cave at sunset. Every evening at nightfall, thousands of bats make their way out of caves in the hillside to feed before returning at dawn.
Conclusion
You are surely surprised to know that there are a lot of options to visit Cambodia as well as take combined trips between Cambodia and other neighboring Southeast Asian countries. And your Cambodia holiday will be at its best if being escorted by excellent local tour guides. All our Cambodia travel packages are 100% tailored-made to fulfill all your travel dreams. Our Travel Consultants are knowledgeable and well-traveled professionals who are confident in delivering first-class personalized services. Contact Cambodia Travel team today to see how we can assist you with your travel demands.