Angkor Temples Complex – All Things You Need to Know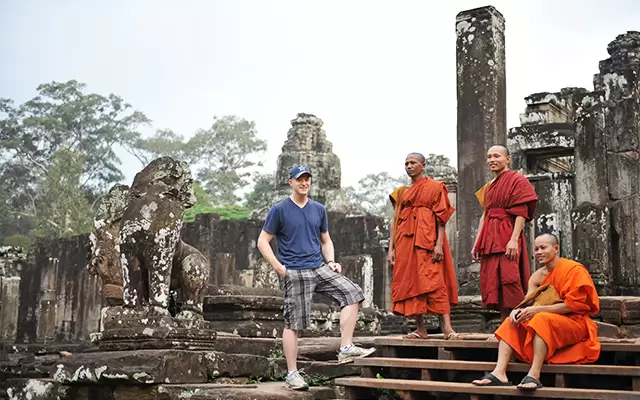 Angkor Archaeological Park with the impressive collection of ancient temples and monuments is a must on all itineraries to Cambodia. This UNESCO World Heritage Site contains the magnificent relics and religious structures of different capitals of the Khmer Empire, which flourished from approximately the 9th to 15th centuries. Among hundreds of temples surviving until now, Angkor Wat, Angkor Thom and Ta Prohm are the main draws attracting tourists to come to Siem Reap. Despite the growing crowds, these temples are still incredible and should be visited at least once in your lifetime.
However, there are also other temples with their own charms found throughout the 400km2 Angkor Park. This post aims to show all things you need to know about Angkor Temples. Just use this guide to make the most of your days in the Angkor Archaeological Park.
1. General Information About Angkor Archaeological Park.
Angkor Archaeological Park is located between the Tonle Sap lake and the Kulen Mountains in Cambodia. The park's 400 square kilometers, including forested area, contains the glorious remains of several capitals of the Khmer Empire, as well as the largest pre-industrial city in the world. It outlined an impressive progression of history and a hierarchy of reigning kings from both the Hindu to the Buddhist faith. The kingdom was run by kings of both faiths at different times, which accounts for the construction of statues from both religions.
Since the fall of the Khmer Empire, Angkor Temples and hundreds of smaller structures were swallowed by the jungle for centuries. In 1992, Angkor Archaeological Park was declared a UNESCO World Heritage Site and also placed on the list of World Heritage in Danger. Many international teams have worked closely with Cambodian professionals and the APSARA Authority to conserve and protect these astonishingly beautiful and important historic monumental complexes. Cambodians have also been trained in the conservation and management of their country's heritage.
Today Angkor Archaeological Park is one of the most visited heritage sites in the world and considered as the first and foremost reason for tourists coming to Cambodia.
2. The Most Distinctive Temples In Angkor Archaeological Park.
2.1. Angkor Small Circuit.
Angkor Wat.
Angkor Wat was built by the Khmer King Suryavarman II in the first half of the 12th century in Yaśodharapura, the capital of the Khmer Empire. It is described as a "Hindu-Buddhist" temple because it was originally built as a Hindu temple dedicated to the god Vishnu, but gradually transformed into a Buddhist temple towards the end of the 12th century.
As the best preserved temple within Angkor Area, Angkor Wat is at the top of the high classical style of Khmer architecture with two basic plans of the temple mountain and the later galleried temple. It is designed to represent Mount Meru, home of the devas in Hindu mythology. Within a more than 5 km long moat and a 3.6 km long outer wall are three rectangular galleries, each raised above the next. At the centre of the temple stands five high towers, which represent mountains.
Unlike most temples in Angkor Complex, Angkor Wat is oriented to the west as the symbolism between the setting sun and death. That concept conforms to the plan to make Angkor Wat become the funerary temple and mausoleum for King Suryavarman II. In addition, the bas-reliefs, designed for viewing from left to right in the order of Hindu funereal ritual, support this function.
Angkor Thom.
Angkor Thom (literally "Great City") was the last and most enduring capital city of the Khmer Empire. Covering an area of 9 km2, it was established in the late 12th century as the capital of King Jayavarman VII's empire. The Bayon style of Angkor Thom manifests in its large scaled construction, the widespread use of laterite, in the face-towers at each of the entrances to the city and in the naga-carrying giant figures which accompany each of the towers.
Inside the walls of Angkor Thom are temples: Bayon, Phimeanakas, Baphuon, Terrace of the Elephants, Terrace of the Leper King, Prah Palilay, Tep Pranam and Prasat Sour Prat. Among those, Bayon is probably the most well-known temple for its giant stone face towers. Bayon Temple stands at the exact center of the axes as the symbolical link between heaven and earth. 54 towers with four faces each make totally 216 distinctive smiling face carvings. There was speculation that these colossal faces may represent Avalokiteshvara, Mahayana Buddhism's compassionate Bodhisattva, or perhaps a combination of King Jayavarman VII and Buddha. In Bayon, tourists will also be impressed by 1.2 km of bas-reliefs with more than 11,000 figures. This huge gallery depicts from mythical figures and stories, historical events to everyday life.
Angkor Thom has four entrance gates at each ordinal compass point and the fifth one is the Victory Gate in the east wall, which are among the most photographed points in Angkor Park. Each sandstone towered gate rises 23 meters and is topped by the four headed statue. The lower half of each gate is adorned with an elephant with three heads. The South Gate is by far the most often visited because it links from Angkor Wat to Angkor Thom. Its causeway is flanked by 54 gods and 54 demons depicting parts of the popular Hindu legend "The Churning of the Ocean of Milk".
Ta Keo.
Ta Keo was built with the so-called Khleang style to be the state temple of Jayavarman V and dedicated to the Hindu god Shiva. Jayavarman V was son of Rajandravarman, who had built the Pre Rup Temple. The construction of Ta Keo started in 975 when Jayavarman V was 17 years old. Similar to Pre Rup, Ta Keo consists of five towers built on the uppermost level of five-tier pyramid with overlapping terraces to represent Mount Meru.
This temple-mountain is possibly the first to be built entirely in sandstones, which were cut into a regular size and placed in position. The temple is distinctive from other monuments because it lacks of external decorations and ornaments. The carving had just begun when the work stopped at the start of the 11th century. The reason why the temple left unfinished is still mysterious. An inscription indicated that a lightning strike hit the temple as a sign of bad luck so the work stopped. Other simple reason is because of the death of King Jayavarman V who commissioned the temple.
The stepped climb to the top of the temple at scale of 22 meters will offer good views of the surrounding area.
Ta Prohm.
Ta Prohm is one of Angkor's most visited temples because it offers photogenic and atmospheric combination of trees growing out of the ruins and surrounding jungles. Built in the late 12th and early 13th centuries under the reign of King Jayavarman VII, Ta Prohm was established as a Mahayana Buddhist monastery and university in honor of Jayavarman VII's family. Not like temple-pyramid design, this temple is a typical flat Khmer temple with five rectangular enclosing walls surrounding a central sanctuary.
According to the temple's stele, this site was home to more than 12,500 people (including 18 high priests and 615 dancers), with an additional 80,000 souls in the surrounding villages working to provide services and supplies.  After the fall of the Khmer Empire in the 15th century, the temple was abandoned for centuries. Until early 21st century, the restoration of Ta Prohm Temple was implemented. Wooden walkways, platforms and roped railings have been set up around the site to protect the temple from further damages due to the large tourist inflow.
Ta Prohm is a popular photographed spot with iconic trees growing out of the ruins, and it became more famous after appearing on several scenes of the film Tomb Raider.
Banteay Kdei.
Banteay Kdei, also known as "Citadel of Chambers" or "Citadel of Monks' cells", was built in the mid-12th to early 13th centuries under the reign of King Jayavarman VII. This Buddhist temple was constructed in similar architectural style of Ta Prohm and Preah Khan Temples, but in smaller scale and less complexity.  The sacred temple site consists of two successive enclosure walls, and consist of two concentric galleries from which emerge towers, preceded to the east by a cloister. Its gates are interestingly adorned with the same face towers as Angkor Thom's five gates.
If tourists want to avoid the crowds in too famous temples in Angkor Complex, Banteay Kdei with its opposite royal bathing pool Srah Srang is a good option for peaceful moments.
2.2. Angkor Grand Circuit.
Preah Khan.
Situated at the northern edge of Angkor Park is Preah Khan Temple. This temple is one of the most significant buildings during the ancient Khmer Empire. It was built in the 12th century by King Jayavarman VII to dedicate his father. The temple has flat design with a basic plan of rectangular galleries adorned by monumental carved stone garudas – eagle-like divine beings. Occupying 138 acres, Preah Khan includes entryways, towers, ceremonial spaces, courtyards, shrines, and a variety of connecting corridors. Located at central position is a Buddhist sanctuary complicated by Hindu satellite temples.
The stele discovered in Preah Khan in 1939 revealed that nearly 100,000 people were dedicated to serve the temple, including famers, monks and dancers; and there were lots of silver, gold and gems here. In 1991, the detailed planning and conservation at Preah Khan was started. There are the many trees growing around the ruins and mossy stones left laying everywhere. Visiting Preah Khan, tourists can take pictures with a massive tree rooted at the back entrance to the temple.
Neak Pean.
Neak Pean (literally means "The entwined serpents") is a large man-made pond and consists of four ponds surrounding a large pond with a tower in the middle. This central tower can be accessible by the long boardwalk over the pond. Its name – Neak Pean, comes from its unique circular construction and the serpent carvings around the base of the tower.
Built in the 12th century during the reign of King Jayavarman VII as a part of Preah Khan Temple, Neak Pean is believed to represent Anavatapta – a mythical lake in the Himalayas whose waters could cure all illnesses. Therefore, Neak Pean was constructed for medical purposes and based on the ancient Hindu belief of balance. Natural elements like Water – Earth – Fire and Wind are represented by four connected ponds. There are four stone conduits connecting these ponds to the central water source. The stone conduits are presided over by Four Great Animals, namely Elephant, Bull, Horse and Lion. There is a long boardwalk over the pond leading to central tower. The uncrowded Peak Pean is the perfect spot for meditation and contemplation.
Ta Som.
Ta Som is one of the smaller temple sites in Angkor Park and frequently skipped because tourists are more interested in visiting other better known temples. However, this small temple is definitely worth visiting, especially for those who want to explore temples in peaceful moments. This temple was built at the end of the 12th century but its history and purpose is still unknown clearly. Maybe it was dedicated to King Jayavarman VII's father or one of his teachers.
Ta Som is surrounded by a moat and three laterite walls with two sets of entrance ways. These entrance ways are good examples of well-preserved towers. Towers are carved with four faces in the Bayon style depicting Avalokiteshvara (the bodhisattva of compassion).
Like Preah Khan and Ta Prohm, Ta Som was also left largely unrestored with trees and other vegetation growing over and through the walls of the temple ruins. The eastern entrance gate is embraced by a large Ficus tree, which makes for a catching picture without waiting in line as in too famous Ta Prohm Temple.
East Mebon.
East Mebon is the 10th century temple built during the reign of King Rajendravarman to dedicate to the Hindu god Shiva and honored King's parents. It's located on an artificial 120 meters wide island at the center of now dry Eastern Baray reservoir. This is a three-story temple-mountain with five towers, consists of two enclosing walls and three tiers. Sandstone, brick, laterite and stucco are all durable materials used to construct this temple. In addition, the temple is also famous for its varied and exceptional sculptures, including two-meter-high free-standing stone elephants at corners of the first and second tiers.
Standing at the upper level of the temple, visitors can image how vast of the Eastern Baray which formerly surrounded the temple and made it only reached by boat.
Pre Rup.
Pre Rup was built as the state temple of King Rajendravarman in 961 or early 962 and dedicated to Hindu god Shiva. The temple's name means "turn the body" to reflect Cambodian belief that the body's ashes should be ritually rotated in different directions when the funerals were conducted at the temple.
Located just south of the Eastern Baray, Pre Rup has similar architectural style to the earlier East Mebon. However, Pre Rup was constructed with the steeped pyramid representing Mount Meru. This temple-mountain was constructed by brick, laterite and sandstone. The reddish tone of temple's brick structure makes it highlighted in the mid day's sunshine. Three large towers on the main entrance gate is the most striking feature of Pre Rup.
Climbing up via steeped steps to reach the top of towers, tourists will be awarded by spectacular sunset view into the jungles and surrounding Cambodian countryside.
3. Travel Tips For Perfect Trip To Angkor Temples.
3.1. Best time to visit Angkor Temples.
Angkor Complex is pretty hot all-year-round with two distinct seasons: dry and wet season. The complex is accessible whole year round, but the drier, cooler season (the average temperature at around 24°C-26°C) between November and March is the best time to visit Angkor. Consequently, this is also peak tourist season, so please be aware to share your explorations with some crowds of other tourists.
April and May are the hottest months with average temperatures of 35°C, sometimes reaching 40°C. Rather than all day visits to Angkor Temples, tourists are recommended to take early morning or late afternoon tours, and have short break by the hotel swimming pool or at air-condition restaurants or other tourist venues at midday. On the other hand, the summer heat somehow helps to lower the crowd numbers at the main temples in specific time of the day.
If crowds are what you want to avoid, plan your visit to Angkor in wet season between June and October. During wet season, spectacular temples in Angkor Park are more stunning with fully watered moats surrounding, which provides perfect chances to snap shots of temple reflections in the water. More importantly, there is a severe decrease in visitor numbers and you can enjoy quieter Angkor sightseeing trip.
Almost day trips to Angkor follow the same clockwise route around the temple circuit. To escape the tourist groups and have more enjoyable experience, you are recommended to go against the crowd by visiting temples in counterclockwise direction or even depending on your own interests.
3.2. Visitor Code of Conduct in Angkor Temples.
Dress Code.
It's important to note that Angkor Complex is a religious site so tourists have to dress appropriately otherwise they will be denied accessing in certain areas. Temples in Thailand and Indonesia has rental services in which you can borrow scarf or sarong to cover your knees and shoulders. However, this service is not available in Angkor Park. Therefore, if you are not dressed appropriately, guards at entrances in certain sites will not allow you to go in.
Your clothing has to cover your shoulders and knees. In addition, light – airy fabric and bright colors are recommended to make you comfortable under the heat and sunshine of Cambodia's weather. Brightly-coloured clothes could create great photos because they really stand out and contrast against the grey and pink stone backgrounds of Angkor Temples.
It's expected to be hot at any time of the year in Angkor so it makes sense to bring hat, umbrella, as well as comfortable footwear to do lots of walking and climbing during your Angkor trip.
If your visit happens in rainy season, a thin raincoat is useful to deal with unexpected short showers in the afternoon.
Monuments.
Tourists are strongly advised to avoid practice following things to minimize their impact on vulnerable monuments in Angkor Park.
– Touch carvings;
– Sit on fragile structures;
– Lean on temple structures;
– Move or take archaeological artifacts;
– Leave graffiti on walls;
Sacred Sites.
Angkor is still frequented by Buddhist monks and spiritual practitioners. Therefore, please show your respect by visiting quietly and avoid making noise.
Restricted Areas.
Some parts in Angkor are closed for maintenance or restoration. Tourists must be aware of posted signs in restricted areas to protect themselves.
Smoking and Littering.
Even it's an outdoor park, Angkor has been a smoke-free historic site since 2012. So tourists are not allowed to smoke to prevent the risk of bush fires.
Trash cans are set up throughout the park so tourists must take responsible visits by not throwing garbage anywhere.
Candy or Money to Children.
It's common to see children selling items to tourists in Angkor Park. Tourists are advised not to give candy or money to children because this will encourage them to not attend school.
Instead, you can donate money to reputable charity organizations to raise funds for education programs.
Monks.
Buddhist monks are revered in Cambodian culture.  You should ask for their permission before taking their photos. Women have to be careful to not stand or sit too close to them. Do not touch or put your arms around them at any time.
3.3. Angkor Pass and Opening Times.
All foreigners are required to purchase an admission pass, also known as Angkor Pass to visit all the temples within Angkor Archaeological Park and Beng Mealea (free for children under 12 years old). The visit to Koh Ker and Phnom Kulen are additionally charged at $15 and $20 respectively.
+ 1-Day Pass: $37 (valid the day of purchase)
+ 3-Day Pass: $62 (valid for 10 days from the issue date)
+ 7-Day pass: $72 (valid for one month from the issue date)
$2 per ticket will be contributed to the Katha Bopha Children's Hospital Fund. 
Angkor Pass MUST be purchased at the Angkor Ticket Office (Angkor Enterprise) located about 5km from Angkor Wat, open daily from 5am to 5:30pm. Tickets purchased elsewhere are not valid.
Visitors have to appear at the ticket office in person because their picture will be printed on their ticket to make sure that tickets are non-transferable. Try to keep your ticket safe and easily accessible because it will be checked at any temple.
One small but important tip is that entry tickets issued after 4:45pm are valid for the next day. If you buy 1-Day Angkor Pass, especially in high tourism season, the lines for purchasing entry ticket can be very long and you may miss the chance to enjoying sunrise moments in Angkor Wat. Therefore, you are strongly recommended to buy the 1-Day Angkor Pass in the late afternoon one day in advance.
* Opening hours for Angkor Temples:
+ Angkor Wat Temple and Sras Srang – from 5am to 5:30pm
+ Phnom Bakheng and Pre Rup Temple – from 5am to 7pm
+ Other temples – 7:30am to 5:30pm
3.4. Suitable vehicles to get around Angkor Temples.
* Tour buses offer tour guides and cheap rates. However, you will go with large crowds to the same temple routes. Join-in trips only take visitors to 2 or 3 main tourist attractions and other interesting and less crowded sights may be left out from tour program.
* Private cars/vans are flexible options because you can hire for single or multiple days. Drivers are familiar with the area so they will take you to the right temples you want and extend your day a bit. Especially the temple visits in hot day will be pleasant by around 5 – 10 minute travelling on air-conditioned vehicles between temples. In addition, you can leave unnecessary things in your private cars/vans while visiting around Angkor Park.
You have options to have private tour guide or not. But Angkor Temples in particular contains so much details and incredible background of its architecture and history. Therefore, touring with a local tour guide will give you an excellent overview about temples in Angkor Park. And he will suggest you interesting things to do in Angkor Temples, which you may not able to find in any travel document or website.
* Tuk tuks or Motorbikes (with drivers) can be arranged for about $6-8/day. These drivers can take you to the main Angkor Temples Complex, as well as remote ruins with additional charge. You should negotiate the final price before departure. Drivers are required to be licensed and must wear their grey numbered vest while travelling within the Angkor Park. Some drivers can speak some English, and give you basic information about Angkor and Cambodian life. However, tourists need to do lots of research in advance because they will mainly explore Angkor on their own.
* Bicycles is the more organic method to seeing Angkor. Touring Angkor by bicycle is highly recommended for those, who have a bit of time, possess moderate physical fitness, and are up for a little adventure. Seeing Angkor on a bicycle, tourists will be able to escape the crowds, have flexible itinerary and approach a different side of these majestic temples with an expert cycling guide. Besides Angkor Wat, the Angkor temples complex contains many other temples which are impossible for you to visit solely on foot. Or some temples are in remote areas, where tour buses are not allowed to enter. In this case, biking is a perfect option for the distances which are too far to walk but not so far to take tuk tuk or car.
If you choose this method, you should be prepared for long hours pedaling in the heat. More importantly, even you take biking in hot and sunny Siem Reap, you are strictly required to follow dress code in Angkor Area: shoulders and knees must be covered.
3.5. Necessary stuffs to pack for an Angkor Trip.
Angkor Pass
Camera (fully charged battery)
Sunscreen
Water (lots of water/ reusable bottles)
Insect repellent
Sunglasses
Hat
Umbrella/ Raincoat
Snacks/Lunch
Cash (to buy lunch/snacks/souvenirs/anything you've forgotten!)