Bayon Temple Travel Guide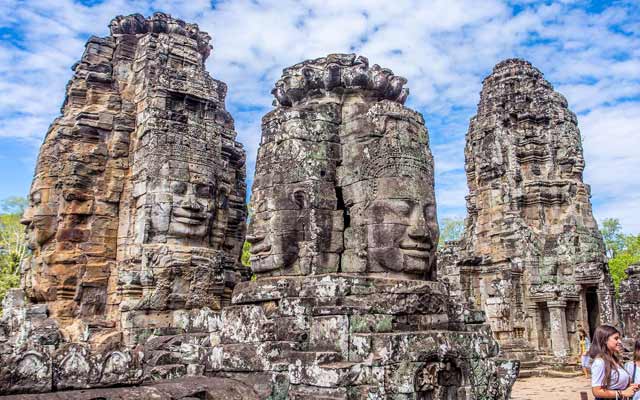 The multitude of serene and smiling stone faces of Bayon Temple are some of the most appealing and recognizable images from the Angkor Archeological Park. Located at the heart of Angkor Thom, it epitomizes the creative genius and served as the state temple for Cambodia's most celebrated King Jayavarman VII. Together with Angkor Wat and Ta Prohm, Bayon Temple is considered as the must-see site while exploring the magnificent Angkor Complex.
Before planning your trip, you should read this post to know more about this famous but still mysterious temple.
Bayon Temple Facts
Date: End of the 12th century or Early 13th century.
Built by: King Jayavarman VII (reigned c.1181–1218).
Style: Bayon.
Religion: Buddhism.
Opening hours: 07:30 AM – 05:30 PM.
Entrance fee: included in Angkor Pass.
Length of visit: 1 hour to 2 hours.
Location
Bayon Temple is exactly located in the center of the ancient city of Angkor Thom. If tourists start the trip from Siem Reap Town or Angkor Wat, they will approach Angkor Thom by its South Gate. From there, continue heading north for about 1.6 km and Bayon is right in front of you. Unlike most Angkor temples, there is no moat or surrounding walls with gopura entrance gates in Bayon because all sides are embraced and protected by the great city of Angkor Thom. Being surrounded by road and centrally situated within Angkor Thom, Bayon is easily accessible from four entrance gopuras of Angkor Thom.
History & Background
From approximately the 9th to 15th centuries, Khmer Empire was ruled by a series of Kings. Each Khmer King set his royal center in the 400km2 Angkor Park and left his distinctive mark on this historical site. The construction of Angkor Thom was ordered by King Jayavarman VII (c. 1122-1218) – a great Buddhist ruler. Inside Angkor Thom, he built Bayon Temple in the late 12th century or early 13th century to dedicate to Mahayana Buddhism. It was the centerpiece of Jayavarman VII's massive program of monumental construction and public works. Bayon was originally built to serve as the primary locus of the royal cult and also as Jayavarman VII's own personal mausoleum.
During the reign of King Jayavarman VIII, the Khmer Empire briefly reverted back to Hinduism in the mid-13th century. Consequently, Bayon Temple was altered into Hindu styles before being modified and augmented by later Theravada Buddhist Kings in accordance with their own religious preferences.
Bayon Temple had its original name as Jayagiri (means "Victory Mountain"). After the period of French occupancy, it was renamed "Bayan Temple" due to its Buddhist imagery and religious significance of many bayan trees growing around the temple site. The Buddha is believed to have attained enlightenment after a long period of meditation beneath a banyan tree. Interestingly, the name "Bayan" was mispronounced as "Bayon" by local Khmer who worked on the temple restoration later.
Architecture & Layout of Bayon Temple
Bayon's architecture style is distinctively different from Angkor Wat and other Angkor Temples. As mentioned previously, it had undergone numerous alternations and additions at the hands of subsequent monarchs during Khmer Empire. Since the fall of the Khmer Empire, Bayon Temple and hundreds of structures within Angkor Park were swallowed by the jungle for centuries. It took some time for researchers to identify that Bayon stands in the exact centre of Angkor Thom, symbolizing its connection with Heaven and Earth. Bayon is oriented towards the east and its buildings are set back to the west inside enclosures stretched along the east-west axis.
If Angkor Wat has magnificent façade and looks impressive from all angles, Bayon from a distance seems like a rather formless jumble of stone. It's only when getting inside the temple, you will find out that the interior is a stunning maze of bas-relief galleries, serene stone towers and passageways.
Temple's Layouts and Bas-reliefs
Bayon's basic structure consists of three different levels, which relate to three distinct phases of temple constructions. The first two layers are square-shaped and adorned with impressive bas-relief. They are adorned with 1.2km of incredible bas-reliefs incorporating more than 11,000 carved figures. The third one was designed in circular shape and comprises the central sanctuary and face towers.
The first layer consists of four gopuras (entrance gates), four pavilions⁠ in four corners and the outer gallery. A series of bas-reliefs in the outer gallery depicts scenes of historical events and daily life of Angkorian Khmer. There are two libraries in a courtyard of the outer gallery.
The second layer is a square space as the first one and contains the inner gallery. Bas-reliefs in this gallery are depictions of religious and mythological events.
The third layer is where the central and circular sanctuary is located. The tower rises 43 meters above the ground and a 3.6m tall Buddha statue used to be put at the heart of the central tower at the time of temple's foundation. However, this figure was removed from the sanctuary during the reign of Hindu monarch Jayavarman VIII.
Bayon's Face Towers
Bayon's most distinctive feature is 216 gigantic smiling stone faces adorned on the temple's 54 towers. There are several hypotheses about these enigmatic faces. Many scholars concluded that these faces represented for King Jayavarman VII himself. Others supposed that the faces depicted Bodhisattva Avalokitesvara or Lokesvara, a significant Buddhist deity who signifies the virtue of compassion.
George Coedès – an Angkor scholar, theorized that two above hypotheses were not mutually exclusive because the faces were the combination of the King and a deity. He gave further clarification that it was the tradition of the Khmer monarchs to regard themselves as a "devaraja" (also known as "god-king"). For example, if the King followed Hinduism, he thought of himself as consubstantial with Shiva and the lingam was his symbol. Therefore, Jayavarman VII identified himself as the Buddha and the bodhisattva.
Most towers in Bayon Temple are known with four faces looking to four directions, some towers have two or three gigantic smiling faces. These huge heads staring from every angle to exude power and control with serene smile and closed eyes to state the inner peace. It's really a magical experience to stroll around with a dozen or more of smiling faces at any one time. Some faces are the same level with your eyes, some faces glare down from on high.
Best Time to Visit Bayon Temple
Bayon Temple is included in all Angkor Tour because it's considered as one of the "big three" tourist sites in Angkor Complex (including Angkor Wat, Ta Prohm and Bayon). Due to its eastward orientation, the temple tends to be crowded in the morning but it's actually looks good around late afternoon.
Therefore, if you want to avoid the crowds, don't take the group tours because you will be put in the site with many tourists and visiting time in Bayon only lasts around 30 minutes. Instead, you are highly recommended to consider private tour with local tour guide. You will be escorted to the temple in the early morning or in the late afternoon when the temple feels almost mystical in the quiet atmosphere. You should take at least one to two hours to wander along Bayon's maze of chambers, passages and galleries with bas-reliefs.
Tour guide will give you detailed information as well as point out where to get the best shots – including the popular composition of visitors facing "nose to nose" with one of the giant heads. If you are ready to experience the mysterious charm and beauty of Bayon Temple, contact one of Cambodia Travel's vacation planners today!