Things to Do in Battambang, Cambodia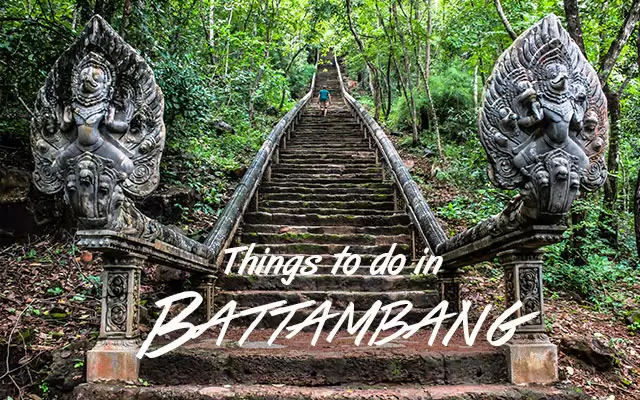 Located on the tranquil Sangkae River in northwest Cambodia is Battambang. Even being the second largest city in Cambodia, this destination is a little off the beaten track and not often put into traveler bucket list. However, it turns out to be a perfect stop to make on the long journey between two main tourism hubs: Phnom Penh and Siem Reap. Running parallel to the banks of the Sangkae River, life here is in slow and laidback pace.
Just keep reading on our post of top things to do in Battambang, which surely entices tourists to explore its expertly preserved French colonial architecture, forgotten crumbling ancient temples, pancake-flat rice fields into stilted villages, premier outdoor attractions and unusual activities just outside the city center. This guide is designed for anyone who is planning to stay in Battambang for one or two days.
Top 9 things to do in Battambang
1. Enjoy bamboo train riding.
Bamboo train is the first and foremost thing any tourist want to experience while in Battambang. In the past, Battambang took a crucial position as the secondary hub on the overland route between Thailand and Vietnam, as well as the Cambodian "rice bowl". Therefore, the railway system here were previously used to transport essential goods and people around Cambodia and through neighboring countries. Due to the developments of road & highway constructions, the train tracks were abandoned and disrepaired for many years.
And local people make use of those abandoned rail lines and create their own transport system calling "bamboo train". Actually, bamboo train is a bamboo flatbed on wheels, which is powered by a small motorcycle or tractor engine. The bamboo ride only runs 7 kilometers in length to a nearby village and back. During 30-minute train journey with speed up to 40km/h, tourists will have a lifetime experience of a beautiful, exhilarating ride alongside the countryside, through bridges and local houses.
The fun thing happens when two trains encounter one another. As this is a single train track, there is no way of passing the opposite vehicles. The train with fewer passengers has to take off the track and continue the ride only after the other passes by. Once it reaches the end of the line, the bamboo train is disassembled and transferred to an adjacent set of tracks to take tourists back to the starting point.
Morning is the best time to take the train because it's pretty cool weather at this time and there are not many tourists.
You may also like:

10 Best Things to Do in Cambodia
2. Visit Khmer heritage houses in Wat Kor Village.
Wat Kor Cultural Village lies only 2 km south of central Battambang and is considered the "homeland" of Khmer heritage hardwood houses. Among around 20 traditional houses, which were built almost 100 years ago, Mrs. Bun Roeung's house and Khor Sang house are the two oldest houses in the area.
Surviving after the French colonized period and the Khmer Rouge civil war, these historic houses have been well preserved by the owners and family members. Typically, these houses were built by precious wooden with real, traditional, Khmer architecture. They are surrounded by orchard garden, possess wide verandahs and exude the ambiance of another era. If the French-speaking matriarch is at home by the time you visit, you will be escorted to see around. Going inside, you will be impressed by the old furniture, family photos and other family artefacts, as well as learn more about the interesting stories related to ancient houses.
Also, the simple daily activity of the local farmers along the Sangker River and at their homes and gardens is a major interest while you wander around Wat Kor Village.
3. Take walking tour around town center.
Central Battambang itself is an interesting mix of French colonial, mainly shop house style, architecture and vibrant cafes, artist-run galleries and boutique shops. The town is framed by a single road following the curve of Sangkae River.
The walking tour should start in the morning from the Central Market – the beating heart of Battambang, which opens daily from 6 AM. Locally known as Psar Nat Market, it is an example of New Khmer Architecture that's hard to find anywhere else outside Phnom Penh. Visitors, who are familiar with Phnom Penh Central Market and Ben Thanh Market in Saigon, will notice the similarities shared in the Art Deco design of Battambang's center market. Because all three markets were designed by the same French architect.
The market is at its peak of excitement in the morning, when you can see lots of locals buying and selling all sorts of household goods and products. To deeply immerse yourself in the market atmosphere, just pull up a stool at one of the little restaurants inside the market hall and enjoy a bowl of kuy teav noodle soup, a traditional Cambodian breakfast.
Continue your stroll along the city's bustling boulevards lined with quaint French colonial buildings, vibrant shopfronts and murals depict some of the area's just-as-colourful historic characters. End up your half day walking tour at one of the finest restaurants in town for lunch time.
4. Learn about Cambodian bloody history & experience swarms of bats in Phnom Sampov at dusk.
Phnom Sampov, Battambang's highest peak, is an important religious site known throughout all Cambodia. Located about 11km southwest of Battambang, this site is also known as the "Killing Caves" and there is display of human skulls in its pagoda and somber. During the Khmer Rouge period, the mountain used to be the place to kill the victims of the regime by pushing them from a high ledge. Just prepare yourself to learn about the Khmer Rouge and Cambodia's recent, bloody part of history.
Apart from the sad story of Cambodia's dark history period in the past, Phnom Sampov attracts tourists as the great sunset viewpoint. Coming there at dusk, you will witness extremely impressive sights when thousands upon thousands of bats make their way out of limestone caves in the hillside to feed, like a stroke of black ink painted in the sky. This natural phenomenon really is a "must see" for the visitors while in Battambang.
5. See both the ancient and modern sides of Wat Ek Phnom.

Wat Ek Phnom is a partially collapsed Hindu temple, which is about 13 km north of Battambang. The 45-minute drive from central town to the temple is a gorgeous trip, passing by the tranquil Cambodian countryside settings. Situated next to a large pond, the dilapidated temple is well known for its carved pediments and lintels.
Built in the 11th-century, under the reign of King Sorayak Varman II (1002-1050), today it has been mostly reduced to ruins and visitors have to climb over fallen masonry and huge blocks of stone in order to traverse the grounds. Because of this, and its tranquil setting, the visit to Wat Ek Phnom actually gives tourists the impression that they are discovering a mysterious forgotten temple.
In front of the ancient ruins lying the modern Buddhist pagoda Ek Phnom with colorful decorations, which is surrounded by 18 Bodhi Trees. Interestingly, there is a gigantic white Buddha Statue sitting next to the modern pagoda.
This holy site is a very popular picnic and pilgrimage destination for local Khmers at celebration times.
6. Hike up to hilltop Wat Banan.
Unique yet ancient Wat Banan is highly recommended for those who have more than one day in Battambang because this temple is about 27 km from south of town center. Constructed at the end of the 12th century, Wat Banan sits on top of approximate 400-meter heighten mountain, or phnom, surrounded by rice fields. In spite of the looting in the past, this archaeological site is still well preserved up to now.
Just prepare your energy and tie your sneakers up tight because you will take 358 steps via a set of eroding olden brick stairs to conquer the mountain top and reach the temple. Known as a "mini Angkor Wat", Banan temple consists of five tower structure, with the middle being the largest. From the temple platforms, tourists can enjoy beautiful views of the winding Sangker River, amidst sugar palm trees, rice paddies and small villages. On clear days, you will see a mountain range in the south, that features a crocodile shaped mountain.
7. Go on a cycling tour to countryside villages.
Hiring a bicycle in Battambang is a fantastic option to explore the surrounding countryside of this region. From town center, it's very easy to access to a rustic landscape of red dirt roads and rice paddies. On a bike tour (either half day or full day upon your own interest), especially with the escort of local biking guide, you will immerse yourself in Khmer culture and get glimpses of authentic natural beauty.
Visitors will have chance to visit local industries and workshops, see how locals make bamboo sticky rice, rice wine, and spring roll wrappers. Participants even can try their hand at making rice paper with the assistance of friendly locals. Stop en route at a family home, where you will have lunch with traditional Cambodian food. These things are absolutely unforgettable experiences in your lifetime.
8. Reserve a seat at Phare Ponleu Selpak – Battambang's Phare Circus.

It can be said that Phare Circus is the most popular nightlife activity in Battambang. Unlike other circuses which involve animals, this is a display of physical theatre, acrobatics, gymnastics, and traditional dance. In fact, Phare Ponleu Selpak was found in 1994 and run by a Cambodian NGO. This project aims to help to take street kids and youth from rough backgrounds, and gives them a chance to improve their living conditions by learning the art of circus. After 6 years of professional circus training, they are qualified to become performers in the Battambang circus, as well as have opportunity to perform in Siem Reap and tour around the world.
Shows are held two to four nights per week, depending on the season, and start at 7pm. Even there are daily shows in Siem Reap, it's still worth your time to watch this amazing spectacle in Battambang, where it began. All the money earned from selling tickets will be invested to fund the future generation of Cambodian artists.
9. Discover Battambang art scene at Romcheik 5 Artspace.
Historically, Battambang used to be the epicentre of Cambodian art and music, as well as consider as the country's unofficial cultural capital. During Khmer Rouge period, lots of Battambang's artists and intellectuals killed or forced to fled. Luckily, the revival is on process after some decades of slow forgetfulness and reconstruction. Today, the sleepy streets of Battambang are once again sparkling with vibrant trendy cafes, artist-run galleries and boutique shops.
Among plenty of galleries and studio spaces in town center, Romcheik 5 Art Space is really worth paying a visit. It is an ambitious museum and gallery and has three floors of contemporary Cambodian art. The museum includes collections of folklore, religious and abstract artworks, and wooden art sculptures created by local artists. Romcheik 5 is nominated in the top 10 best independent art spaces in Southeast Asia and Number 1 in Cambodia (The Guardian / November 2017).
For tourists who seek for off the beaten track destination in Cambodia, Battambang is an ideal suggestion because there are few visitors here and it has retained its Cambodian charm. Time seems to stands still in this small town. The blend of small-town friendliness, some well-preserved colonial architecture, nearby ancient temples and ruins, and rural authenticity all works together to give the town a unique charm. Sincerely hope that our article will inspire you to visit Battambang, a city that deserves more attention than it currently gets!