Cambodia Weather in October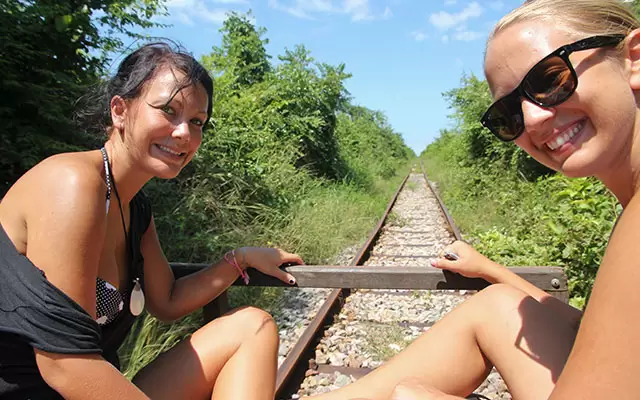 When Cambodia comes to October, rainfall starts to subside as the month progresses and the dry season will arrive soon. As the transitional month from wet to dry season, October is another good period to visit the country. This post will deliver more details about Cambodia weather in October and other information you may need to know!
1. Cambodia Climate in October
Even a few rainy days are still expected in October, fairly good weather can be found for much of the month. The frequency of rainfall drops off considerably, and completely stops by the end of this month. The warm days with average temperatures at 27°C make this month more pleasant to visit Cambodia. Temperatures in the capital of Phnom Penh range from 23°C to 31°C.
Sihanouk Ville and other destinations on the southern coast are a bit cooler with average of 29°C at the beginning of the month and decrease to 24°C after dark. Rain showers can be experienced on the coast at this time but with less frequency.
The climate of Siem Reap is similar to that of Sihanouk Ville. But lying in the north of Cambodia, this ancient capital tends to be drier than the beach resorts at this time of year. In the early October, the sun rises at 5:55 am and sets just before 6 pm.
October is the time when the rainy season comes to an end and the dry season arrives very soon. After many months of wet weather, the country is nearly back to its best time of the year with plenty of color in the countryside.

2. Suggested Places to visit in October
After long spells of raining season, Tonle Sap Lake grows more than five times its normal size of approximately 2,600 square kilometres. With water levels at their peak, October is the great time to make boat trips to the floating villages and flooded forests. The high water levels also contribute to increase the water volume flowing into the waterfalls at Kulen Mountain (nearby Siem Reap) and in Rattanakiri and Mondulkiri, which are located in the north east regions of the country. These full flowing waterfalls are great refreshing swimming spots to beat the summer heat of Cambodia.
Did you know that Ka Choung is one of the most popular waterfalls in Cambodia
Countryside regions like Battambang or Kampong Thom are covered with lush greenery thanks to downpours in the earlier monsoon months. Life there is back to normal with cleaner drainage canals and drier mornings.
Sihanouk Ville and Kep on the south coast are ready to welcome more visitors when the monsoon starts to dissipate, although the chances of showers are still a possibility but less frequent. Moving towards the end of October, long periods of sunshine can be expected as the dry season is just around the corner.
Before the dry season officially comes with full swing of tourist season, those who are keen on quiet holiday atmosphere while the weather is still pleasant are highly recommended to travel to Cambodia in October.
3. Cambodian Events in October
3.1. Pchum Ben Day
Pchum Ben Day (or also known as Ancestors' Day in Khmer) is the 15-day religious festival in Cambodia. It's celebrated on the 15th day of the tenth month in the Khmer calendar to follow the period called "Vassa" in the Buddhist Lent. The dates may vary in the Gregorian calendar but it normally falls in October with three days off as national public holiday. This occasion is a time when Cambodians pay their respects to deceased relatives of up to seven generations. During this period, "gates of hell" are supposed to open and imprisoned spirits are especially active. Some are supposed to gain permanent relief, while other are thought to leave hell temporarily, then return to endure more sufferings. Therefore, Khmer people make many food offerings at temples and pagodas during this period. By this way, offerers believe that they will receive merits and blessings from the dead.
With three days off from work, Cambodians will come back their hometown in Pchum Ben to participate in ceremonies involving processions around the temples. Large crowds dressing in bright color (normally white) wait outside the temple with lit incense in hand as the monks perform rituals inside. The monks chant suttas (Buddhist scriptures) in Pali language overnight without sleeping, then conduct the colourful and complex food offering ceremonies.
3.2. Commemoration Day of King's Father – Norodom Sihanouk
Cambodian celebrates 15 Oct every year to honour their former king, Norodom Sihanouk. He was born in 1922 and took the throne of Cambodia during French colonial rule in 1941. He abdicated in 1955 and was exiled from Cambodia several times. Sihanouk took the second reign in 1993 until his abdication in 2004 due to health problems. On 15 October 2012, he passed away in Beijing after a heart attack.
His body was cremated as his wish and part of his ashes was scattered into the Tonle Sap River. While the rest were kept at the Silver Pagoda within the compound of Royal Palace in Phnom Penh. His bronze status was inaugurated next to the Independence Monument in 2013. On yearly 15 Oct, many Cambodians come there to remember and pay respects to their late king.
3.3. King's Coronation Day – Norodom Sihamoni
After Norodom Sihanouk announced his abdication due to illness in 2004, his son – Norodom Sihamoni was chosen as his successor. Cambodia is one of the few elected monarchies in the world. Therefore, Sihamoni was chosen by the Royal Council of the throne for his great life and significant contribution to national prestige. Before formally being appointed as King on 29th Oct 2004, Sihammoni spent most of his life to study arts and become a classical dancer abroad. Then he was appointed Cambodia's delegate to UNESCO in Paris, and contributed significantly to Cambodia culture.
Every year, Cambodians celebrate the anniversary of King Norodom Sihamoni's Coronation on 29 Oct. In major cities, tourists can take part in all types of celebrations with parades, fireworks, cultural displays and entertainment events. In Cambodia, the monarchy is deeply ingrained in the national history and culture so this day is the time when local people express their great love and passion for the king.