Cambodia weather in December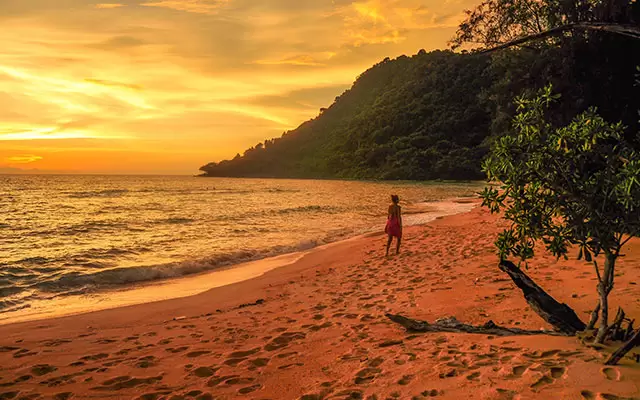 Cambodia weather in December remains good for almost all destinations with optimum conditions. This last month of the year covers some most important international holidays such as Christmas and New Year Eve. Therefore, a lot of travelers choose this period for their once in a life time trip to Cambodia. Let's see what you should expect for the weather of Cambodia in December!
Cambodia Climate in December
Characterized by the low humidity level, dry and sunny weather, December is amongst the most popular months of the year to visit Cambodia. Rainfall is very rare or it will be an unusual phenomenon if you catch the rain during this month.
In terms of temperature, December enjoys relatively cool atmosphere at average 26°C across Cambodia. Siem Reap in the north part experiences temperature hovering around 19°C – 30°C. Phnom Penh Capital reaches average highs of 30°C at the peak of the day, along with lows of 22°C after dark. Further to the south on the coast, Sihanoukville has slightly cooler temperature with average 29°C in the daytime, but night time is warmer with average lows of 23°C. Sometimes, locals even complain about the cold and prepare woollies and jackets to cope with their "winter". You don't need to worry about the "winter" in this tropical country if you come from a cooler climate.
However, the temperatures can decrease a bit at night time or in coastal areas so tourists are still recommended to bring light jacket or coat.
Suggested Places to visit in December
With excellent conditions of brilliant sunshine and extremely low chance of raining, December is a great month to sightsee in Cambodia. In addition, tourists tend to escape their cold countries which are located in the higher regions of the Northern Hemisphere and look for sunny vacations in tropical paradises like Cambodia.
Several days of exploring Angkor Temples in Siem Reap are very achievable. But tourists should seek shade in air-conditioned lunch spots or inside tourist venues in the middle of the day. The water levels of Tonle Sap and Mekong River are still fairly high, making boat trips to the floating villages still possible.
Thanks to good road conditions in dry season, journey time to Mondulkiri and Ratanakiri in north east region is shorter and more pleasant. Adventurous tourists will feel satisfied with activities like trekking into jungles or interact with wildlife in these "off-the-beaten-track" destinations.
Moving southward, sun-kissed sandy beaches in the mainland of Kep and Sihanoukville are well prepared for "rest & relax" vacationers. There is no time more suitable than December for divers to take dip in the underwater world around pristine islands of Koh Rong or Koh Rong Samloem.
Even December is considered a bit cooler than other months of the year in Cambodia, it's still hot and dry in some extends. Therefore, tourists should remember to apply sun cream regularly and drink lots of water while visiting Cambodia this month.
On the downside, December is the peak tourism season in Cambodia and get crowded with many Westerners taking long holidays in Christmas and New Year Eve. Consequently, travelling cost tends to increase and fully booked situations are common. If planning to spend the last month of the year in Cambodia, tourists are highly recommended to reserve travel services as early as possible.
Cambodian Events in December
Angkor Wat International Half Marathon
The biggest event of this month is Angkor Wat International Half Marathon, which is held right inside the spectacular Angkor Wat. First organized in 1996 by a Japanese woman who won a marathon medal in the Olympics, this marathon's motto is "Building a better future – Aid for the children and disabled in Cambodia". Every year, thousands of runners from all over the world take part in this meaningful marathon. Their participations contribute to support a ban on the manufacture and inhumane use of antipersonnel mines. Landmine victims are also encouraged to attend this event to reinforce their confidence.
Christmas Day
Although Cambodia is a Buddhist country and Christmas is not the official public holiday there, this occasion is still celebrated in big cities and main tourist regions. Streets, restaurants, hotels and public venues are beautifully decorated in traditional Christmas fashion like Christmas trees and blinking colorful decorations.
In luxury hotels, Christmas gala dinners are offered with many interesting activities so that Christian tourists and expats will feel like being home in this special occasion while on vacation.
International New Year Day
International New Year Day is the first day of the year according to the Gregorian calendar. Even Cambodia has its own New Year in the mid-April, Khmer people recently also celebrate International New Year to say goodbye to the old year and welcome the new one. On this day, people are off from work and take chance to participate in exciting journeys. If you are in Siem Reap or Phnom Penh during this time, just head straight to Pub Street (Siem Reap) or Sisowath Quay (Phnom Penh) to bar hop, drink and dance until midnight. Another option is booking seats at a rooftop bar where you can chill out with friends, sip on cocktails and wait for countdown moments. Don't forget to find the place with great view of the firework display.