Cambodia Weather in August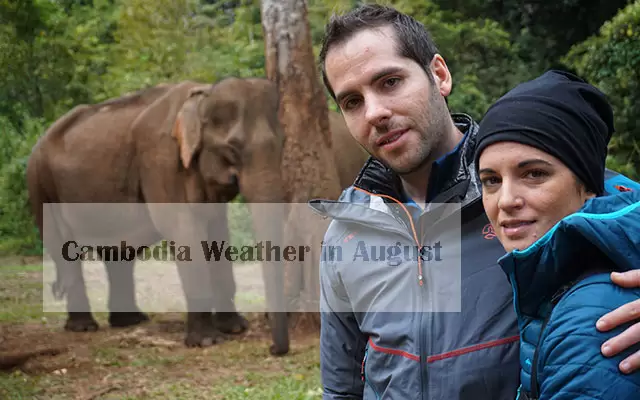 Cambodia weather in August is not much different from July. Even being one of the wettest months of the year, you can still expect several sunny days at this time. In addition, the travel services in this low season are offered with attractive rates so don't let the rain put you off. Let's see what August can bring you if travelling in Cambodia during this time of the year.
1. Cambodia Climate in August
When it comes to August, the amount of precipitation per day starts to increase and tends to hit its peak from the middle of the month. Cambodia in this wet season can experience rains every day. But generally, August sees more short and intense downpours rather than all day showers. It's really a good news for those who plan to visit Cambodia in its most lush glory. Rain waters turn the countryside landscape into new life.
In August, temperatures in Cambodia hover around 27°C and there are 18 rainy days in the month on average. In main tourist destinations like Phnom Penh and Siem Reap, the average daily sunshine hours in August is about 6 hours. The main characteristics of weather in Siem Reap are hot, humid and wet. The temperature ranges from 32°C in the daytime to 26°C at night time. With 18 rainy days, August rainfall in this town reaches at 229 mm.
Phnom Penh is slightly cooler than Siem Reap but its climate is still humid and wet. Phnom Penh has average highs of 31°C, while lows are at 24°C after dark at this time of the year. In spite of the high temperatures, rainfalls account for three quarters of the days with an average of 165 mm of precipitation across the month.
2. Important notes when visiting Cambodia in August
Cambodia is right in the middle of heavy monsoons when it comes to August. So torrential downpours may be an obstacle for sightseeing activities in the ancient monuments. It will be a great idea to arrange indoor activities while raining then taking outdoor excursions when the weather brightens up.
The terms "rainy season" or "wet season" can prevent many people from visiting Cambodia in August. In a positive perspective, tourists can still enjoy their holiday in this tropical country when temperatures are much more pleasant and the countryside is lush and green thanks to downpours. In addition, the country's waterways are in full flow, making it possible to visit the flooded forests and floating villages in Tonle Sap by boat.
In the rural areas, such as Ratanakiri and Mondulkiri, where roads are less developed, the heavy rains can cause travel disruption and remote tracks become impassable. Therefore, it's better to forget "off the beaten path" destinations when you are in Cambodia at this time of the year.
Destinations along the south coast like Kampot, Kep and Sihanoukville experience the heaviest precipitation during this month. Those looking to a beautiful sun kissed sandy bow after exploring Cambodian culture and history do not have to look far. Just take a short flight to neighboring Vietnam where Hoian and Danang beaches are still enjoying sunny and dry weather in August.
3. What to pack?
– Clothing: although your visit falls in the wet season, please keep in mind that Cambodia is still a tropical country with hot climate. So you should pack clothing including cotton t-shirt, linen pants or dry-fit. Light raincoat or waterproof jacket is a must in your suitcase.
– Footwear: bring appropriate footwear for the wet season like weather-resistant walking shoes and/or waterproof sandals.
– Waterproof backpacks or bags: these items are necessary to keep your important belongings safe and dry while travelling in rainy season.
– Hairdryer: it's a good idea to bring a small hairdryer along with you. It's not just for drying your hair, but very useful for quick drying a wet piece of clothing in urgent cases.
– Insect repellent spray: tropical Cambodia in wet season has good conditions for mosquitoes and other insects. So protect yourself against these pesky bites by packing a good insect repellent spray and protective clothing.
4. What's on August in Cambodia?
4.1. Khmer Empire Marathon
In early August, the Khmer Empire Marathon is annually organized by Cambodia Event Organizer in Siem Reap. Thousands of professional and amateur runners around the world come to participate this exceptional marathon. This meaningful event's outcomes support disabled people and poor children in Cambodia. Runners will get unique experience while running through ancient temple ruins in the heart of Angkor Complex, rice paddy fields, and traditional villages. Participants can register distances of 3 km, 10.5 km, 21.1 km or the full marathon distance of 42.195 km.
4.2. World Elephant Day
Every year on 12 August, World Elephant Day is celebrated in Mondulkiri to honour all the elephants as well as organizations that are working to protect wild elephants, stop the illegal trade of elephants and other wildlife animals, as well as provide alternative habitats for elephants to live freely.