The 8 Most Attractive Things to Do in Kratie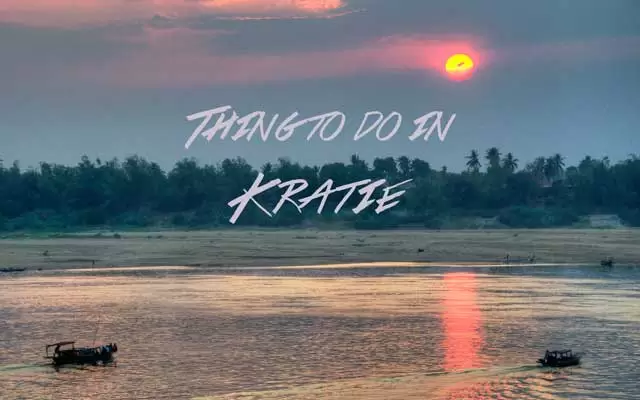 Kratie is a small town spreading along the banks of the mighty Mekong River. The town itself is dominated by a central marketplace surrounded by old, French colonial buildings. Even there's no large scale tourism in this town, plenty of backpackers pour through here during the peak season. The main reason tourists come to Kratie because it's an excellent base for dolphin-watching tours. Besides, Kratie also brings tourists closer to nature, eco-tourism. Similarly, Kratie deserves a place on your itinerary if you are interested in temples, markets and small towns. Follow us and find out the most attractive things to do in Kratie.
Top 8 things to do in Kratie.
Take cruise to spot the Irrawaddy dolphins.
The top reason attracting people to visit Kratie is to see Irrawaddy dolphins in their natural habitat. These Mekong dolphins are put on the critically endangered list of marine species that lives in the freshwater. It is thought that there are between 66 and 86 dolphins left in the upper Cambodian Mekong area. Therefore, local authority puts environmental measures in place to try and help their dwindling numbers.
The best spot to watch the dolphins is Kampi Village, which is about 15 km north of Kratie Town. On arrival to the village, tourists will jump on a cruise with experienced boatman, who strictly follow the dolphin watching guidelines provided and only use oars when near the dolphins. These things are done to protect and avoid disturbing dolphins.
The chance of seeing dolphins isn't guaranteed, requires patience from tourists. In dry seasons, tourists have better opportunities to see groups together and spectacular behaviors. When the water level increases in wet season, the boat trip takes longer time because these animals move several kilometers upstream from the tourist site.
Even you can see any dolphin or not, don't feel frustrated because your visit provides funding for the protection and study of these endangered mammals.
Bike around eco-tourism Koh Trong Island.
Koh Trong Island is actually a giant sandbar on the Mekong River and can be seen from Kratie's riverbank. The island is an ideal location for those who want to experience the real rural Cambodia and enjoy a peaceful and relaxing biking trip. There is a small and wooden public ferry boat crossing the river every 30 minutes, from 6 am to 6 pm daily. The 5-minute ferry picks up passengers at the pier in front of Jasmine Boat Restaurant in downtown Kratie. On arrival, just hop off the ferry and start half day biking around the nine kilometer island circuit.
Along the journey, tourists will immerse themselves into idyllic countryside setting filled with sugar palms, paddy fields, market gardens and pretty Khmer-style wooden houses. There are a small Vietnamese pagoda and floating Vietnamese village at the southern tip of the island. You don't need to prepare picnic meals because a couple of homestays and resorts here offer foods and drinks as well. At the northern tip is Rajabori Villas – a relative upmarket resort with a swimming pool, where you can spend one night to relax in this bucolic destination.
Picnic like locals in Kampi River Rapids.
Located just a couple of kilometers further to the north of the dolphin watching spot is Kampi Rapids. It is a small archipelago with beautiful streams, the favorite place for locals to go picnic on weekends or public holidays. At the top of the rapids, there is a bunch of knick-knack shops and stalls selling local food and drinks, consisting of Chak Chreng, a type of snail only found in this area. Coming to this scenic spot, tourists can go swimming in the refreshing waters, chill out with local snacks and cold drink. All make for a perfect lazy and slow afternoon.
There is a small note is that Kampi Rapids opens in dry season from January to May. In wet season, water is in high level and not safe for swimming.
Admire beautiful architecture in 100 Pillar Pagoda
Admire beautiful architecture in 100 Pillar Pagoda & visit Mekong Turtle Conservation Center on pagoda's grounds. Located around 38 km to the north of Kratie Town is 100 Pillar Pagoda (in Khmer language: Wat Sorsor Muoy Roi) in Sam Bor District. It was built on the base where the Royal Palace temple of Sam Phu Borak Capital of the Chen La time located. According to the legend, the original temple and its 100 columns were built by Preah Ang Chan Reachea II for dedicating to the power of Vihear Sar Sarr-100 to maintain the soul of his daughter who was the victim of a crocodile in the nearby river.
Around 100 years later, the temple was damaged by the strong lightening, then was rebuilt by the locals with only 78 columns. In 1978, the pagoda was once again renovated and has 116 columns until today.
Being one of the largest and most beautiful pagodas in Cambodia, the 100 Pillar Pagoda is painted in pristine white color and decorated with Buddhist flags. Entering inside, tourists must be impressed by vibrant paintings from floor to ceiling. These colorful murals depict different Buddhist mythologies and explain legends of nature. The pagoda is an important religious site in this area so tourists should show their respects and dress up properly during the visit.
* Mekong Turtle Conservation Center (MTCC).
Located on the grounds of the 100 Pillar Pagoda is home to several species of turtle, including the Cantor's giant softshell – one of the largest freshwater turtles in the world. These gentle creatures are protected and nurtured in this center from their youngest forms for about 10 months. Then hatchlings will be released into the wild. The opening hours of this center is from 8:30 AM to 4:30 PM daily.
Climb up to get fantastic view from the top of Phnom Sombok.
Perched high on a hillock, which is about 10 km north of Kratie Town, is Phnom Sombok. To access the main temple, visitors need to conquer a long set of 300 steps leading up to a pavilion. Inside the temple are covered by paintings of torture scenes, which depict the consequences to those who are not virtuous enough to lead a holy and clean lifestyle. Along the way up to the hill's top, there is an impressive line of monk statues standing in a single file, forming a guard of honor. Reaching to the top, you will get the fantastic view of surrounding countryside. If you are lucky enough, you will have chance to meet several monkeys living around the temple.
Kayaking on Mekong River.
If you want to be close to the dolphins without the engine noise, kayaking is an excellent approach. During the half day kayaking trip, tourists will have nature experience when paddling through picturesque and rarely visited section of the Mekong River. In addition, kayakers will go downstream through sand islands and stop for a swim. Along the river, there is a large variety of bird life, butterflies and sea life. Finally, you will walk to a nearby floating village to witness how the residents live and fish and enjoy beautiful sunset (if you take afternoon trip).
Enjoy sunset from riverside restaurants in town center.
With the prominent location right on the Mekong River, Kratie's center itself is a great place to enjoy stunning sunset. From restaurants perched on the riverfront, tourists can order light snacks, grab a cold drink, enjoy a spectacular Mekong sunset with a side of quietness, tranquility and peace in this laid-back town.
* Suggested riverside restaurants for perfect sunset moments in Kratie.
– Sorya Café – between Street 1 & 2, above SunnyMart, Kratie 10109.
– Balcony House Restaurant – Somarith St between St 2 and 3, Kratie 10109.
– Jasmine Boat Restaurant – #010 Stree Preah Saramrith Quay, Phum Wat, Kratie 10109.
Wander around Kratie's central market.
Just back from the waterfront are side streets, which lead to the central market. Even being the largest market in town, this is not where tourists can expect to purchase souvenirs because it mainly serves locals with daily household trading activities. The best time to visit the market is in the early morning, when you can find abundant amounts of freshly caught seafood and baskets of vibrant fruit and vegetables.
Don't forget to try Kralan – Kratie's local delicacy, when you are in the market. It's made from sticky rice cooked with coconut milk and red bean, then steamed and served in bamboo stems. To enjoy it, gourmets peel back the bamboo and start chomping on the firm but sticky rice from the top.
To sum up, Kratie is really a nice relaxing change from bustling main tourism hubs and allows you time to take rest before moving forward onto next adventures. Due to its less popularity in Cambodia travel map, it will be better if you have experienced tour guide and driver from Cambodia Travel to escort you during the journey to Kratie.