The 8 Best and Most Beautiful Beaches in Cambodia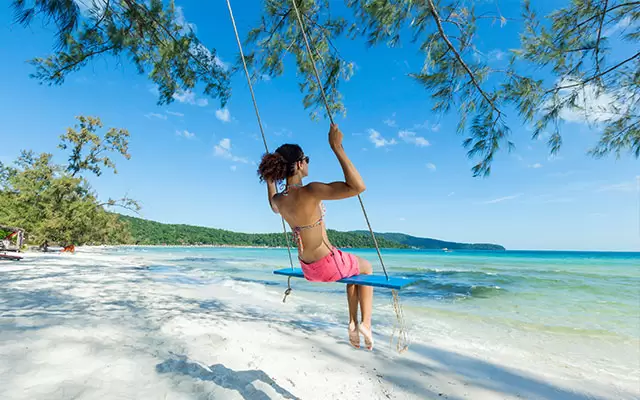 Cambodia is very famous for its Angkor Wat – UNESCO World Heritage Site and no one should miss it for sure. However, this country is home to a huge number of beautiful coastal destinations which allow you plenty of relaxed time and make for a perfect retreat. From developed beach areas with many luxurious resorts to tranquil and pristine beaches on remote islands, Cambodia has it all. So if you are planning for a trip here, don't forget to check in at least one of the best beaches in Cambodia included in the following list.
Most Beautiful Beaches in Cambodia:
1. Best beaches in Sihanoukville
Sihanoukville is known as the heaven of beaches in Cambodia, lining the west contour of the city from the North to South with white sand beaches and warm turquoise waters. Here you will have a chance to enjoy the fresh from-the-ocean seafood, take part in snorkeling, kitesurfing, windsurfing, kayaking, paddle boarding and generally slow-down, lay back and relax.
Serendipity Beach (Ou Chheuteal Beach), Sihanoukville
Serendipity Beach is located on the eastern side of Sihanoukville. Dotted with quaint restaurants, beach bars and BBQ shacks, Serendipity Beach is a perfect place to organize a beach party which can run late into the night. It is also well-known for a variety of interesting activities on the beach and budget beachfront accommodations. However, if you are looking a peaceful destination to unwind, Serendipity Beach may not for you.
Otres Beach, Sihanoukville
Otres Beach is a bit far away from city center so it is quieter and less crowded than other beaches in Sihanoukville. But you can easily find many hotels with beachfront access, restaurants and eateries here. With the fine white sand and clear water, Otres Beach is perfect for sunbathing and swimming. It is also known as one of the best places to watch spectacular sunset in Cambodia. In contrast to active and dynamic nightlife of Serendipity Beach, Otres Beach it is more relaxing with a cup of beer or cocktails at a chilling bar.
Sokha Beach, Sihanoukville
Sokha Beach is privately owned by Sokka Beach Resort in Sihanoukville, making it one of the cleaner and less crowded beaches on the mainland. However, the tiny eastern end of Sokha Beach is open to the public. If you want to get full access of Sokha Beach, you have to pay entrance fee to enter or stay at the resort.
2. Best beaches in Koh Rong
Located just 25km from Sihanoukville, Koh Rong is one of the most idyllic and beautiful islands in Cambodia. For travelers loving to immerse in the sublime natural beauty and lovely beaches, Koh Rong is a good choice. You can spend all day long here soaking up some sunshine on the beaches, wallowing in the sparkling and turquoise waters, taking part in some water activities and admiring the stunning sunset.
Long Set Beach (4K Beach), Koh Rong
Long Set Beach is located at the southern part of Koh Rong Island. It takes you around 2-3 hours to reach the beach by boat from Sihanoukville Pier. With 4km stretch of white sand, sparkling turquoise ocean, and tropical jungle wilderness, Long Set Beach is an ideal place for sunbathing, collecting shells and crabbing. It is also one of the best locations for snorkeling and diving thanks to its rich coral reef and marine life.
Sunset on Long Set Beach is stunning when the sky turns from blue to warm orange and navy, and gets even more perfect at nightfall. Especially, you will have a chance to admire an underwater Milky Way created by tiny glowing plankton if coming here between April and July.
Long Beach Beach (Sok San Beach or 7km Beach), Koh Rong
Long Beach is one of the most stunning beaches on Koh Rong – an island off Sihanoukville. This beach has calmer and quieter waters, small fishing villages and untamed forests. It is described as an ideal place for diving and snorkeling to explore colorful marine life with diverse flora and fauna. Long Beach can be accessible by boat from Koh Toch village and even some direct boats from Sihanoukville Pier.
3. Best beaches in Koh Rong Samloem
Koh Rong Samloem on the south of Koh Rong is definitely a perfect destination to escape from the busy modern life. This island provides an unspoiled natural beauty and pristine beaches which offer gorgeous yellow sands and clear waters.
Lazy Beach, Koh Rong Samloem
Lazy Beach is a peaceful piece of paradise on Koh Rong Samloem – a quieter and less rowdy neighbor of Koh Rong. National Geographic once listed it as one of the top 21 beaches in the world. For those who truly want to be a bit secluded from crowds and bustling life, Lazy Beach is absolutely the best choice. From the main pier of Sihanoukville Port, you can take a speed ferry to reach to this beautiful beach in 2-3 hours.
Swimming and snorkeling are two popular activities which allows you to immerse in clear blue waters and discover the beauty of marine life. Or its name suggests, you can be lazy, relax on the hammock and enjoy the sea breezes with a tropical cocktail in hand. There is a bar and restaurant located on Lazy Beach so you don't have to leave the island for refreshments and delicious cuisine.
M'Pai Bay, Koh Rong Samloem
If you are looking to experience local culture during your stay, then M'Pai Bay is a really fantastic option. As a small fishing village on the island, here you can get the chance to meet local fishermen, be an active part of their friendly community and learn more about their local daily life. This beach area is relatively unspoiled and there are just some friendly-budget accommodations so it is not suitable for those expecting high-end hotels or a comfortable place but a perfect spot for backpackers.
Sunset Beach, Koh Rong Samloem
As its name implies, Sunset Beach offers the gorgeous pink and purple sunset on Koh Rong Salamloem. Just 1km from Lazy Beach, it is a bit busier due to a handful of accommodations like guesthouses, bungalows, tents… There's no wifi here, so if you're looking for a getaway or a detox from the modern mobile phone world, this is one of the best beaches on Koh Rong Samloem to do it. Here you can take a jungle hike, swim or just relax on the beach. A few bars and restaurants are also available on the beach.
Best Time to Visit Cambodia Beaches
The dry season (November – May) is considered as the best time to hit Cambodia's beaches when the weather is relatively pleasant, warm, sunny and low chance of rain. However, this is also high tourism season in Cambodia, especially the months of November to February, with a large number of travelers looking for a beach visit. So you should plan your trip and book accommodation as soon as possible.
Where should I stay on a beach holiday in Cambodia?
– Koh Ta Kiev: Koh Ta Kiev is just perfect for travelers and trippers who are seeking for the solace. Unplug from the outside world, sleep in tents under the stars and live through a real castaway experience.
– Koh Rong: Known for its sandy coves and coral reefs, Koh Rong features crystal clear water, golden strips, jungle-clad wilderness, swaying coconut trees and gurgling waterfalls.
– Lazy Beach: Nestled amidst the picturesque tropical foliage, Lazy Beach offers excellent swimming, scuba diving and snorkeling conditions.
Which are the most beautiful beaches in Cambodia?
– Long Beach: In Koh Rong Island, Long Beach offers an authentic experience where transparent water crashes the sparkling shoreline. Make sure to stroll by the beach at night to get a mind-boggling view of the illuminating water due to Bioluminescence.
– Coral Beach, Koh Ta Kiev: Truly a tropical paradise and a private beach, Coral Beach is the place to go if you want to cut off from the real world for a week or a month.
– Otres Beach, Sihanoukville: Aesthetically dotted with Tamarisk & Casuarina trees, Otres Beach is a hidden gem which is away from the urban chaos. What's better than sipping on exquisite drinks, having delicious food and enjoying a stupefying view?
Which are the best beaches in Cambodia with luxury resorts?
– Sok San Beach: Eminent for its pristine beach, warm ocean waters, hot tropical climate and surreal beauty, Sok San Beach is home to upscale stays like Royal Sands Hotel and Sok San Beach Resort.
– Song Saa Private Island: Off the exquisite Koh Rong archipelago, Song Saa Private Island is an intimate escape and shares a spiritual connection with the environment. Come and explore the never seen before luxury amidst the tropical milieu and go back home with tones of memories.
Which is the best time to visit beaches in Cambodia?
The best time to visit beaches in Cambodia is between November to May. During this period, you'll see transparent water, clear blue skies and enjoy pleasant weather and serene atmosphere.
What activities can be done on the beaches of Cambodia?
– Scuba diving/ Snorkeling: Explore the underwater landscape in Cambodia with scuba diving at Koh Tang, Koh Rong Samloem and Koh Kong. Get up, close and personal with incredible marine lives like cobia fish, scorpion fish, stingrays, starfish, large barracuda, and a range of crustaceans.
– Swimming: Indulge in a swimming session with your partner/ family in the turquoise blue water of Cambodia and have a pleasant time.
– Unwinding on a hammock: How about sipping some handcrafted drinks and digging into delicious dishes while lazing on a hammock? If you are somebody who is looking forward to a laid-back holiday, unwinding on a hammock is just what you need!
Which beaches in Cambodia are on private island?
– Song Saa Private Island: In Koh Rong Archipelago, Cambodia only has one private island i.e. Song Saa Private Island. It is an intimate escapade and shares a distinctive relationship with the environment. Away from the humdrum of daily life, Song Saa Private Island lets you indulge in sheer luxury with wooden villas, delicious cuisines, heavenly spa sanctuaries, yoga sessions, aqua activities and a preserved coral reef.