Angkor Thom Travel Guide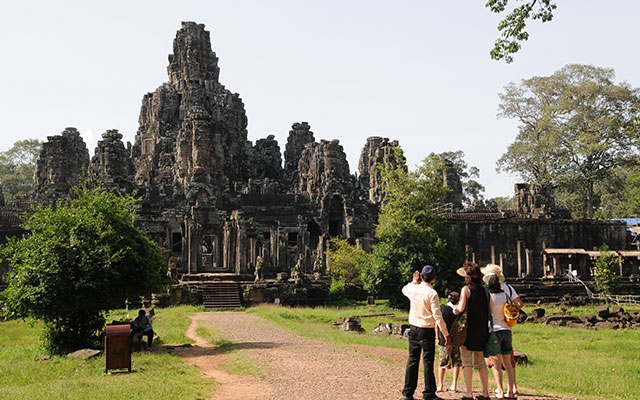 Angkor Thom (literally means "Great City") was the last and most enduring capital city of the Khmer Empire. It was established in the late 12th century as the capital of King Jayavarman VII's regime. Covering an area of 9 km2, the walled city consists of monuments and temples from earlier eras as well as those established by Jayavarman and his successors. The Bayon style of Angkor Thom manifests in its large scaled construction, the widespread use of laterite, in the face-towers at each of the entrances to the city and in the naga-carrying giant figures which accompany each of the towers.
Besides Angkor Wat, Angkor Thom is the must see attraction within Angkor Complex, and attracts lots of tourists from all over the world.
Besides Angkor Wat, Angkor Thom is the must see attraction within Angkor Complex.
1. Angkor Thom Location.
Angkor Thom lies on the Siem Reap River's west bank. It is located 9 km north of the modern town of Siem Reap. From the town center, just head north out on Charles de Gaulle until reaching the moat of Angkor Wat. Then turn left and follow the road around Angkor Wat, keep going straight and you will reach the South Gate of Angkor Thom.
There are four entrance gates in each direction and an extra entrance called Victory Gate in the east wall. This gate links Angkor Thom and other popular temples in Angkor Small Circuit like Ta Keo, Ta Prohm and Banteay Kdei.
2. History & Background.
In 1181, Jayavarman successfully defeated Cham invaders and made it a dependency of the Khmer Empire for 30 years. Then he was crowned king himself as Jayavarman VII and embarked on a massive construction campaign that included both public works and monuments during over 37 years of his reign. He began building a glorious new capital city called Angkor Thom, which was the center for a population for nearly one million citizens.
Actually, Angkor Thom overlapped part of the previous capital city of Yasodharapura, which was established by King Yasovarman I in the late 9th century. The outer wall was added around existing structures such as Baphuon and Phimeanakas, which was incorporated into the Royal Palace. Finally, King Jayavarman VII built his own "temple-mountain" known as Bayon Temple featuring Buddha and Bodhisattavas at the exact center of Angkor Thom and developed the city around it.
Mangalartha is probably the last known structure to be built inside Angkor Thom. It is a small Hindu temple located about 300 m from the Victory Gate and was built during the reign of Jayavarman VIII. Thereafter, Angkor Thom continued to be modified from time to time until being raided and abandoned in the late 14th century by King Borommarachathirat II of Ayutthaya Kingdom from Siam (present-day Thailand).
It's hard to know exactly how long Angkor Thom was abandoned but prior to 1609 when an early Western visitor documented about an uninhabited city "as fantastic as the Atlantis of Plato" with a population of around 80,000 – 150,000 people.
3. Architecture & Layout.
The Great City was built on a perfect square ground and surrounded by a lateritic wall. The 8m high and 13km long wall is enclosed by a 100-meter-wide moat which used to be filled with ferocious crocodiles to protect the capital and its people from even the hardiest invaders in their tracks. This architectural layout was inspired by Mount Meru which is surrounded by the oceans.
The most important monuments gathering inside the walled enclosure include Bayon Temple, Baphuon Temple, Phimeanakas, Terrace of Elephants and Terrace of the Leper King.
In addition, there are four small shrines named "Prasat Chrung" standing at each corner of the wall surrounding Angkor Thom. These shrines were built of sandstone and dedicated to Avalokiteshvara. Within the city, water flowed from the northeast to the southwest through a system of canals.
3.1. Entrance gates & Causeways.
Each side of the wall surrounding Angkor Thom has an entrance tower gate, plus an extra gate called Victory Gate in the east wall, which are among the most photographed points in Angkor Park. Each sandstone towered gate rises 23 meters to the sky and is crowned with a tower of four giant heads facing each cardinal direction. This grandiose and elegant design may represent the rulers of the four cardinal points at the summit of Mount Meru.
The lower half of each gate is adorned with an elephant with three heads. Elephant trunks serving as pillars are plucking lotus flowers. At the center of the elephant sitting the Hindu god Indra with an Apsara on each side. A thunderbolt is held in his lower left hand. The South Gate is by far the most often visited because it links from Angkor Wat to Angkor Thom.
A causeway extending over the moat leads to each entrance gate. These causeway help visitors access the inner city of Angkor Thom. Each bridge is flanked by 54 gods and 54 demons depicting parts of the popular Hindu legend "The Churning of the Ocean of Milk". The gods on the left-side wear a conical headdress and look peaceful with their almond-shaped eyes. Whereas, the demons on the right hand side wear a military headdress and have a grimacing expression. Some of these statues are replicas because the original ones have been removed and stored for safe-keeping at the Angkor National Museum.
A nine headed serpent in the shape of a fan is adorned on each side of the bridge leading to entrance gate. The naga's whole body extends the length of the bridge and is held by the gods and demons in the attitude of a tug-of-war, forming a barrier over the edge of the bridge. This representation may symbolize the transition from the world of men to the world of the gods, and reinforced by Indra's presence.
3.2. Bayon Temple.
Among many temples inside the wall of Angkor Thom, Bayon is probably the most well-known temple for its giant stone face towers. Bayon Temple stands at the exact center of the axes as the symbolical link between heaven and earth. 54 towers with four faces each make totally 216 distinctive smiling face carvings. There was speculation that these colossal faces may represent Avalokiteshvara, Mahayana Buddhism's compassionate Bodhisattva, or perhaps a combination of King Jayavarman VII and Buddha.
In Bayon, tourists will also be impressed by 1.2 km of bas-reliefs with more than 11,000 figures. This huge gallery depicts from mythical figures and stories, historical events to everyday life. Unlike most Angkor temples, there is no moat or surrounding walls with gopura entrance gates in Bayon because all sides are embraced and protected by the great city of Angkor Thom. Being surrounded by road and centrally situated within Angkor Thom, Bayon is easily accessible from five entrance gopuras of Angkor Thom.
* More details about Bayon Temple: https://cambodiatravel.com/bayon-temple/
3.3. Baphuon Temple.
Located 200 meter from northwest of Bayon is Baphuon Temple. This three-tiered temple mountain was built in the mid-11th century as the state temple of Udayadityavarman II, before the walled city of Angkor Thom was established. Baphuon was originally dedicated to the Hindu God Shiva. Following the Baphuon style, every available surface of Baphuon Temple is covered with intricate carvings with realistic and fanciful depictions of lotus flowers, wild animals and hunters, devata figures, and men in battle.
Some carvings have indirect references to Hindu mythology and scenes illustrating epic poems such as the Ramayana. Thereafter, Baphuon was converted into a Buddhist temple in the late 15th century and a 9 meter tall by 70 meter long statue of a reclining Buddha was added to the west side of temple's second level.
Built on a sandy soil foundation which was inadequate for an immense structure, the site was unstable throughout its history and large portions had probably already collapsed by the time it was converted to a Buddhist temple. In the 1960s, a large scale project to dismantle the temple to reinforce the foundation was implemented because Baphuon was on the verge of complete collapse. 300,000 blocks were carefully labelled and numbered across 10 hectares surrounding the temple. Unfortunately, the project was disrupted and abandoned during the decade of civil war and the following Khmer Rouge.
In 1996, the second project to restore the temple was launched under the guidance of the architect Pascal Royère. This restoration, which had been known as the "largest 3D jigsaw puzzle in the world", took another 16 years to be completed.
3.4. Phimeanakas.
Phimeanakas (also called as Vimeanakas) is a Hindu temple built at the end of the 10th century with Khleang style. With the meaning of "celestial temple", Phimeanakas was constructed in the shape of a three tier pyramid with a tower on the top and galleries on the edge of the top platform. The temple was the focal point of King Suryavarman I's capital. Located at the north of Baphuon Temple, Phimeanakas is surrounded by a 600m by 250m wall with five gopuras.
The most important gate is east gate, where only King and his people could access to enter the temple. The Royal Palace used to be housed in this site and there were also two bath pools for female and male respectively. The tower was originally crowned with a golden pinnacle, where King spent the first watch of every night with Naga – a serpent spirit with nine heads. If he didn't show up, calamity would fall upon his country.
3.5. Terrace of the Elephants.
Terrace of the Elephants was built in the late 12th century with original function as viewing platform from which King Jayavarman VII looked over his victorious returning army.
The terrace was once attached to the Palace of Phimeanakas but much of the original structure, which was made of organic material, has long since collapsed and disappeared.
This a striking 350m long and 2.5m high foundation used to be a giant reviewing stand for public ceremonies and king's grand audience hall. As its name suggests, this platform is mostly decorated with carved elephants on its eastern face.
Tourists can see three dimensional elephant sculptures along five outworks extending towards the Central Square. Life size garuda and lions are displayed in the middle section of the retaining wall. Towards either ends are decorated with the famous parade of elephants complete with their Khmer mahouts.
3.6. Terrace of Leper King.
Terrace of Leper King is the 7 meter high platform located in the northwest corner of the Royal Square of Angkor Thom. Dating from the late 12th century, it was built in the Bayon style under Jayavarman VII. Five tiers of meticulously executed carvings were displayed in the front retaining walls of the terrace. The carved walls include seated apsaras and kings wearing pointed diadems, armed with short double-edged swords and accompanied by the court and princesses. There is access to a hidden terrace with exquisitely preserved carvings on the southern side of the terrace.
The terrace was named after a statue on the top of its platform (the original statue is stored at Phnom Penh's National Museum). There have been many theories to explain its meaning. Some believed that this statue represented one Angkorian King who had leprosy. Another theory explained that it is the statue of Yama – God of Death and the Terrace of Leper King housed the royal crematorium.
4. Travel advices when visiting Angkor Thom.
4.1. Entrance fee & Opening hours.
Entrance fee to Angkor Thom is included in Angkor Pass. Angkor Pass MUST be purchased at the Angkor Ticket Office (Angkor Enterprise) located about 8 km from Angkor Thom's South Gate, open daily from 5am to 5:30pm. Tickets purchased elsewhere are not valid. Visitors have to appear at the ticket office in person because their picture will be printed on their ticket to make sure that tickets are non-transferable. Try to keep your ticket safe and easily accessible because it will be checked at any temple. Angkor Thom opens from 7:30 am to 5:30 pm.
4.2. How to explore Angkor Thom efficiently?
Angkor Thom is included in all Angkor Tour because it's considered as one of the "big three" tourist sites in Angkor Complex (including Angkor Wat, Ta Prohm and Angkor Thom). If crowd is not your thing, you are highly recommended to book private tour with local tour guides who will take you to different touring path. The ideal length of visit in Angkor Thom lasts from half day to full day, depending your own travel interests and physical conditions.
The complex is best explored by tuk tuk or biking which help tourists move in comfort for the distances which are too far to walk but not so far to take car.
4.3. What to wear and pack for Angkor Thom trip?
Tourists have to dress appropriately when visiting Angkor Thom, as well as other religious sites within Angkor Complex. Your clothing has to cover your shoulders and knees. In addition, light – airy fabric and bright colors are recommended to make you comfortable under the heat and sunshine of Cambodia's weather. Brightly-coloured clothes could create great photos because they really stand out and contrast against the grey and pink stone backgrounds of Angkor Temples.
It's expected to be hot at any time of the year in Angkor so it makes sense to bring hat, umbrella, as well as comfortable footwear to do lots of walking and climbing during your trip in Angkor Thom. If your visit happens in rainy season, a thin raincoat is useful to deal with unexpected short showers in the afternoon.