Things to do in Sihanoukville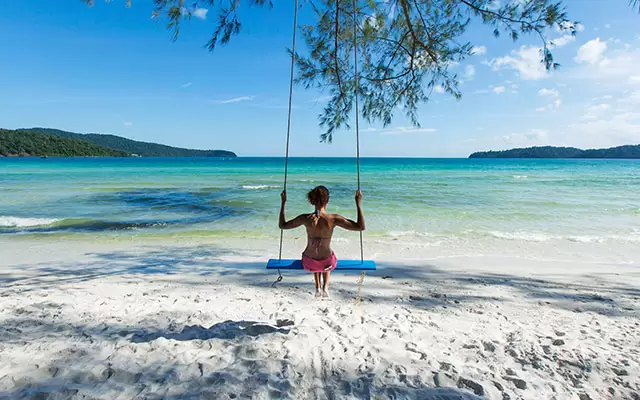 Situated on the eastern part of the Gulf of Thailand, Sihanoukville is the premier seaside destination in Cambodia. Things to do in Sihanoukville range from pampering in thrilling water sports & island hopping to mesmerizing in the natural landscapes and exciting nightlife at beach bars, or just simply hang out by the shore enjoying the cool sea breeze. Sihanoukville also acts as the jumping off point for close-by idyllic undeveloped islands such as Kong Rong and Koh Rong Samloem. Within the easy access from Siem Reap and Phnom Penh, Sihanoukville is gradually becoming the must-visited tourist hubs in Cambodia.
Let's explore top things to do in Sihanoukville for a breezy & rejuvenating vacation.
1. Explore countless gorgeous white sand beaches
With an array of beaches along its shore, Sihanoukville earns its reputation as the country's premier beach destination. Lining the west contour of the city from the North to South are powdered white sand beaches and warm turquoise waters. Activity enthusiasts and party lovers can head to the vibrant Serendipity Beach and Ochheuteaul Beach. These beach areas are dotted with quaint restaurants, BBQ shacks where tourists can enjoy the freshest seafood and mid-day cocktails. The endless collection of beach bars are perfect places to host beach parties running late into the night.
Otres Beach and Independence Beach are ideal places for those seeking a more relaxed and serene perch. It's not difficult to find boutique resorts with beachfront access there. Staying in these beaches, you can leisurely sunbath, swim and watch spectacular sunset while taking a sip of beer or cocktail at a chilling beachside bar.
2. Submerge yourself in the ocean with water sport activities
The endless stretches of coastline and crystal clear blue waters make Sihanoukville an ideal location for a plethora of water sport activities and adventures. There are several dive centers (The Dive Shop, Scuba Nation Diving Center) offering PADI certification and excellent diving equipment so that divers can get a good view of the colorful coral reefs and lively sea creatures lurking deeply in Sihanoukville's ocean. If you find that scuba diving is too much, snorkeling is alternative to have a flipper around to explore marine wonders. Other water sport adventures can be found here with reasonable prices, like   kayaking, windsurfing, kitesurfing and paddle boarding. All of these activities surely make your day by the sea thrilling.
3.Spend blissful moments on pristine off-shore islands
Sihanouk Ville is also the main entry point to offshore islands, where are ideal places for a thoroughly relaxing beach vacation. Blessed with pristine, wild and beautiful islands, these islands are where tourists go to enjoy the nature and stay away from the world. From Sihanouk Ville, there are many options for boat trips to explore any one of the gorgeous islands off Cambodia's south coast. Some island resorts include boat transfers to bring more comfortable stay for in-house guests.
Koh Rong and Koh Rong Samloem are the two very different islands but close to each other and can be combined in one day island hopping trip. Of course, if you have plenty of time, you are highly recommended to spend several days to pamper yourself in one of these spectacular islands.
More details about the tops island destinations nearby Sihanoukville can be found here.
4. Experience nature at its best in Ream National Park
Ream Park is one of the seven national parks in Cambodia. It was established in 1993 with the main mission of preserving many of the threatened and endangered species of animals that indigenous to the area. Wildlife found here includes: dugongs, turtles, dolphins, mouse-deer, Sarus crane, rhesus monkeys, and pelicans. Ream Park is also home to more than 150 different bird species, including a few threatened species. Spreading over 210 square kilometers, Ream National Park boasts a wide variety of ecosystems including rivers, estuaries, beaches, coral reefs, mangrove forests, rain forests, freshwater wetlands and islands. Located 18 km from downtown Sihanoukville, a day trip to visit Ream National Park can easily be arranged to help tourists experience wilderness and raw nature at its best.
Once there, tourists can board on a local wooden boat and cruise along the emerald Ream River to enjoy a breathtakingly natural view of mangrove forest. To add a little adventure in your journey, trekking trip through the jungles to explore numerous animal and plant life is a perfect option. If visiting this site from November to March, you can be lucky enough to get closer to dolphins by tour boats. Another site worth paying a visit while in the area is the Buddhist temple named Wat Ream. Climbing to the top of the hill, visitors can enjoy spectacular view of surrounding areas.
5. Cool down in Kbal Chhay Waterfall
If you want to switch up from relaxing days in the sandy beaches, just head out to Kbal Chhay Waterfall, which is located about 40 minutes away from Sihanoukville. Kbal Chhay is a collection of from 3 meters to 5 meters high waterfalls. The water here originates from many sources along the mountain range but only three of these sources visible. Rainy season between July and October is the best time to visit these stunning cascading falls, when the gushing froth flows strongly to create a serene natural ambience.
Kbal Chhay is a popular picnic spot amongst locals in the weekend and public holidays. So if you want a quiet visit, try going there on a weekday to splash around or take a dip in the cool water. When you are ready to dry off, the area offers abundance of traditional Khmer bamboo huts which provide some shade and sturdy hammocks and straw mats. Local snack and beverage stands are available to help you refill your energy after an active day.
6. Pay a visit to religious sites
Although Sihanoukville is best known as the port town and beach destination, religious and historical sites scattered around the town attract many people when staying in this place. Wat Leu is commonly known as "Upper Wat" due to its hilltop location just around 1.5 km from the downtown Sihanoukville. Once standing at the platform of Wat Leu, visitors can enjoy wonderful views of beautifully lush greenery and wilderness of surrounding forest, the bustling downtown and nearby islands. Sunrise and sunset are the perfect time to soak into the serenity in Wat Leu.
Apart from Wat Leu, locals also practice Buddhism in Wat Krom. Its name means "Lower Wat" because it's located right at the foot of Sihanoukville Mountain, approximately 3 km south of the cruise pier. Coming there, tourists can witness monks chanting in Pali – the sacred language of the Buddhist scriptures.
The tranquility and sacredness of these places attracts those who are in search of peace in their souls. When visiting these religious sites, tourists must dress properly to show their respects to local culture.
7. Indulge in local culture of purchasing in bustling markets
With an abundance of local food and handcrafted goods to purchase, Sihanoukville is really the shopping paradise for all types of travelers. Phsar Leu or Upper Market is the largest and oldest traditional style market in town. This market is situated right in the town center on 7 Makara Street and encompasses more than 1,000 vendors selling a wide range of goods and products. The inside area consists of stalls with beachwear, sarongs, and shoes. You can also expect a wide range of jewelry and souvenir shops while in Phsar Leu Market.
The outside perimeter of the market is the hectic scene of local residents who come to pick up fresh produce like vegetables, meats, fruits to feed their whole family. If you don't mind about hygiene standards, just join in local life by taking a plastic chair and try on mouthwatering seafood and other local delicacies cooked fresh on the streets.
8. Get lost in the nightlife scene
With the increasing supplies of cheap accommodation and cheap alcohol, Sihanoukville seems more and more popular with backpackers looking to party all night long. Ochheuteal and Serendipity are the most popular places which consist of busy bars with numerous activities like fire juggling, live music, and DJs every night. Off-beach areas like Monkey Republic and Big Easy are also popular night places. Along the way leading to the top of Victory Hill line dozens of hostess, music and sport bars, a couple of eateries. Some open until late night.
To get more relaxed and chill-out evening atmosphere, tourists can head to Otres Beach which is a bit further from town. Plenty of beach shacks and bungalows with laid-back atmosphere can be found there. Some open quite late and offer special events, live music and such.  
It can be claimed that Sihanoukville is transforming from a quiet beach town into one of three main tourist hubs in Cambodia, together with Phnom Penh and Siem Reap. Travelers fall in love with its amazing selection of fresh seafood, low priced accommodation, pristine white sandy beaches and consistently wild nightlife. All of these factors create the perfect atmosphere for a great tropical getaway. Therefore, make sure to include these activities into your next adventure to Cambodia with Cambodia Travel!