Phnom Penh Travel Guide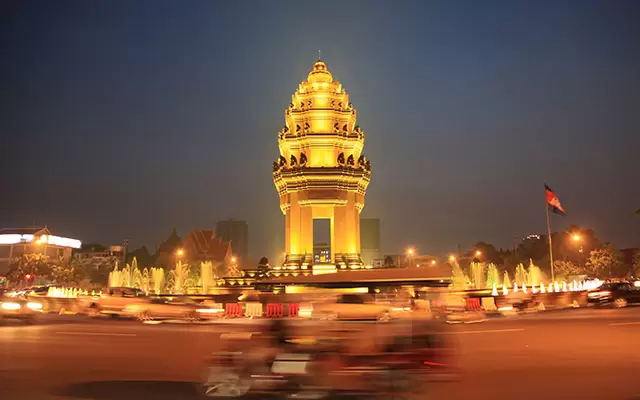 Phnom Penh is the vibrant bustling capital of the Kingdom of Cambodia, and conveniently located at the conjunction of three grand rivers – the Tonle Sap, the Mekong and the Bassac river. The city was referred to as the "Pearl of Asia" in the 1920s and considered one of the most charming cities in Asia with its strong base of architectural attractions. Despite recent rapid changes, the city exudes a sort of provincial charm and tranquility with French colonial mansions and tree-lined boulevards amidst monumental Angkorian architecture.
With Phnom Penh Travel Guide provided by Cambodia Travel in hand, tourists will definitely be confident to explore this influential industrial, economic and cultural hub of Cambodia.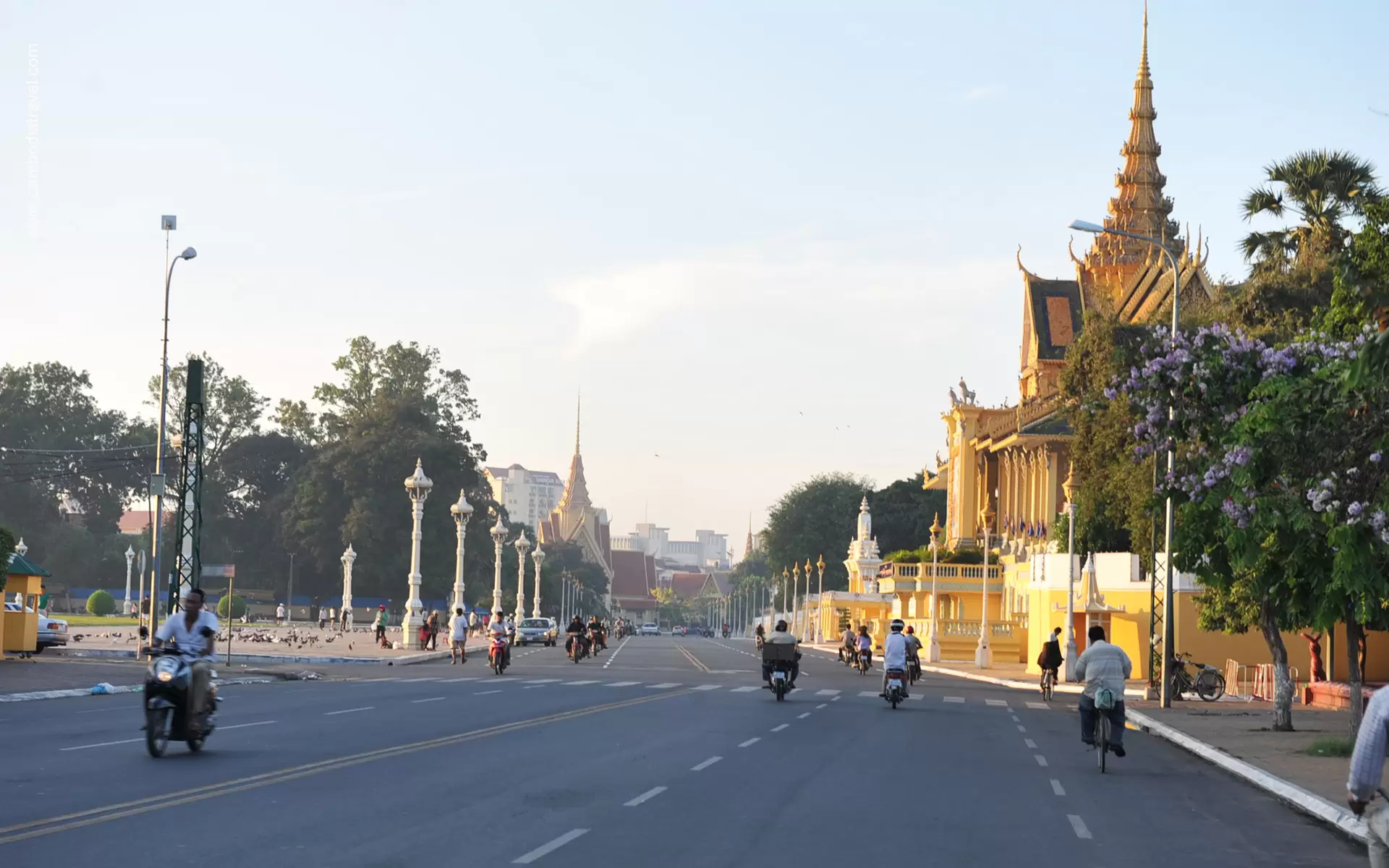 Phnom Penh is the vibrant bustling capital of the Kingdom of Cambodia.
Phnom Penh's Overview
Geographical Location
Fully surrounded by Kandal Province, Phnom Penh is located in the south-central region of Cambodia. The municipality is on the intersection of the Tonlé Sap, Mekong, and Bassac rivers. From the past to present days, these rivers have created potential ecosystem and freshwater resources for sustainable environment developments, nature beauty and prosperous culture of Phnom Penh citizens.
Area: 678.46 square kilometres (262 sq mi).
Population: 2,129,371 people (2019 census).
Elevation: 11.89 metres (39 ft) above the river.
Postal Code: 12000.
Telephone Code: +855.
Time Zone: UTC/GMT +7 hours.
Ethnic Groups:
As 2017 census of the National Institute of Statistics, Khmer is the largest ethnic group in Phnom Penh with 95.3% of the population, 4% is Chams, and 0.7% are other groups (predominantly Chinese, Vietnamese, and other small groups of Thai, Budong, Mnong Preh, Kuy, Chong).
Official Currency: Khmer Riel (KHR).
Banknotes come in denominations of 50, 100, 500, 1000, 5000, 10 000 and 50 000. US dollars are also widely accepted almost everywhere in the city. This dual currency system brings more convenience for tourists while travelling around Phnom Penh. They can make payments in KHR, USD or a combination of the two.
Language:
The official language is Khmer, but English is the most preferred foreign language and widely used in the city.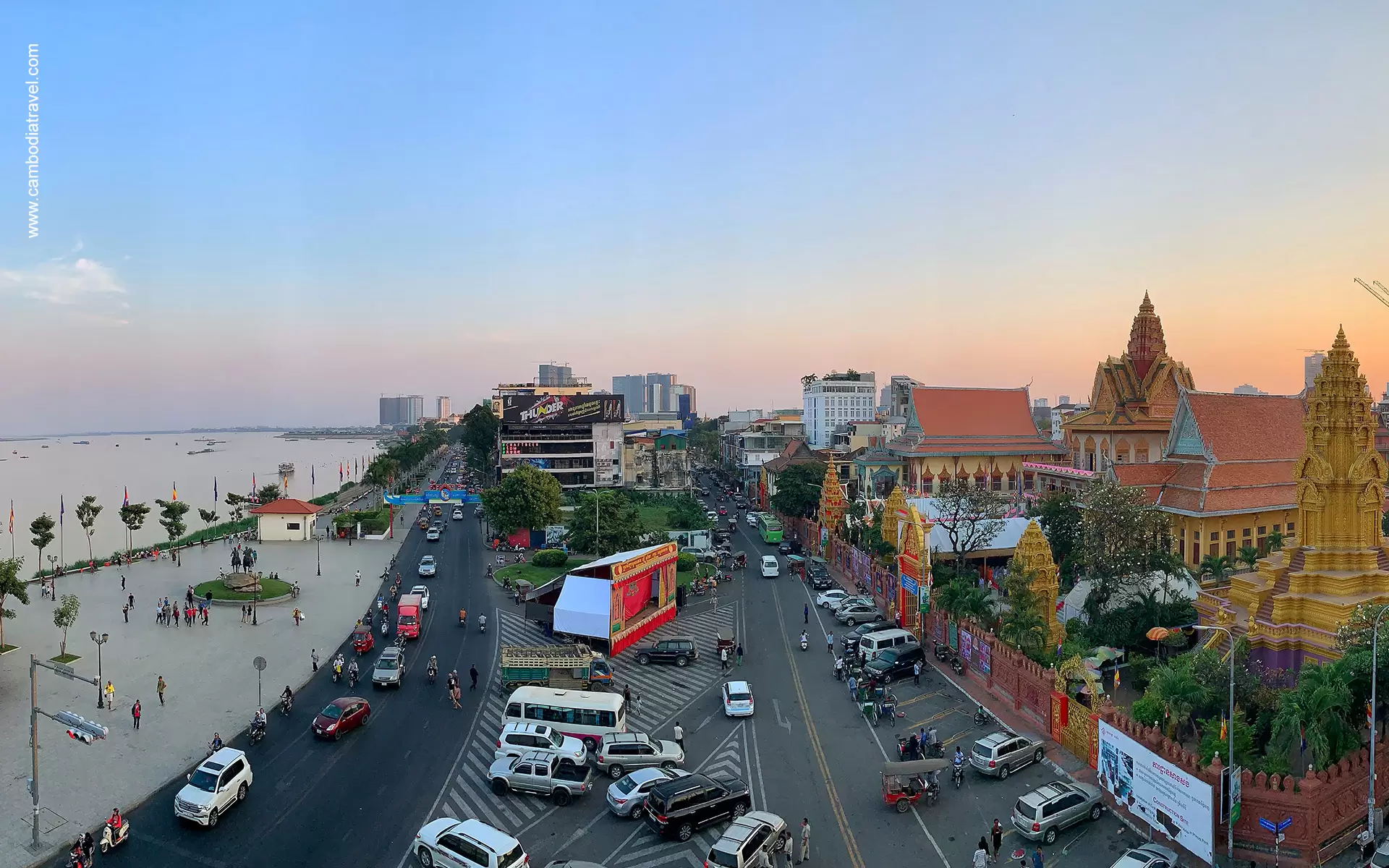 Overview of Phnom Penh's central area from above.
Phnom Penh Weather & Climate
Primarily influenced by tropical monsoons, Phnom Penh experiences two distinct seasons: wet and dry. No matter which season it is, the city is hot year round with only minor variations. Average temperatures fluctuate around 22 to 35°C.
From June to October, the southwestern moisture monsoon winds from Indian Ocean and the Gulf of Thailand bring wet season to Phnom Penh. During this rainy season, the daily temperature remains high (25 – 32°C) but becomes mildly manageable towards the evenings thanks to short downpours in the afternoon. The heaviest precipitation happens from September to October, at approximate 225 – 255 mm (8.9 to 10 in) with average rainy days of 18 per month. Consequently, this latter part of the monsoon period has the highest potentiality of flooding, especially in the area crossed by the great rivers.
The dry season in Phnom Penh lasts from November to May, with the appearance of the northeast monsoon. In November and December, the daytime temperature is 30°C, then continues to rise in January with an average of 35°C and reaches its peak at or upper 40°C in April – the hottest month of the year. Coming to latter part of dry season (March to May), the chances of rain are almost non-existent. Therefore, water levels in rivers and lakes are very low, which makes river cruising much more difficult and waste more travel time.
November to February are the best time to visit Phnom Penh, also coincides with the peak tourism period. During this time, touring Phnom Penh is smooth and not prevented by heavy rainfall, strong sunshine and other weather-related issues.
Transportation from-to/in Phnom Penh
By Air
Phnom Penh International Airport, which is situated 10 km northwest of Phnom Penh's center, is the largest airport in Cambodia. Domestic flights connect Phnom Penh to other two main tourism hubs of Siem Reap and Sihanouk Ville via national airlines: Cambodia Airways, Cambodia Angkor Air, Lanmei Airlines.
It's quite convenient for international passengers to start or end their Cambodia trip in Phnom Penh because its airport serves many major international airlines, such as: China Southern Airlines (China), China Eastern Airlines (China), Cathay Pacific Air (Hong Kong), EVA Air (Taipei), All Nippon Airways (Japan), Vietnam Airlines (Vietnam), Malaysia Airlines (Malaysia), Philippines Airlines (Philippines), Qatar Airways (Qatar), Silk Air (Singapore), Korean Air (South Korea), Bangkok Airways (Thailand).
From the airport to city center, there are several options of transportation: city bus number 3 operates from 5 AM to 8:30 PM with fare around 0.4 USD; non-stop 30-minute train journey from airport's parking area to Phnom Penh railway station in city center; or other private vehicles like tuk tuk, taxi or private car/van depending on travelers' budgets.
By Road
Due to huge development through improving national highway systems, together with its central location, Phnom Penh serves as country's transportation hub for many domestic bus routes to major tourist destinations like Siem Reap, Sihanouk Ville, Kampot, Kep, Koh Kong, Battambang, Mondulkiri, Ratanakiri, Stung Treng. Budgeted travelers can choose public bus to move between Phnom Penh and neighboring countries like Vietnam (Ho Chi Minh City), and Thailand (Bangkok).
In Phnom Penh, there are more than dozen bus companies offering regularly scheduled buses but Giant Ibis and Mekong Express are two most popular ones with good standard of service, safety and comfort. Each bus company departs and arrives from its office or makes drop-off and pick-up at the most convenient tourist areas. Complimentary pickup service is offered to passengers staying at partner hotels of bus company. In case passengers don't use free pick up, they should arrive to bus company office 30 minutes before departure time.
To get around the city, Phnom Penh City Bus is the cheapest option with the fare of 0.37 USD per voyage irrespective of distance. However, air-conditioned public buses only operate with 3 lines from 5:30 AM to 8:30 PM. Outside these hours, passengers have to look for other means of transport. Bus Line 01 is the most frequent route because it stops at the main tourist sites in the city: Wat Phnom, Central Market, further walking: Tuol Sleng Genocide Museum, Olympic Stadium, Royal Palace and National Museum.
Private vehicles like taxi and hired car/van can bring more flexibility and hassle-free travel around the town. However, taxi fares must be agreed in advance and sometimes, foreigners may meet taxi driver with little English speaking to make smooth conversation. Therefore, private car with experienced driver can help you a lot to visit main sites in and around the city, and avoid massive traffic jams in this bustling capital.
Within short distance, tourists can hire tuk tuk or bicycle with very cheap fee for 1 – 3 USD per day for short journey.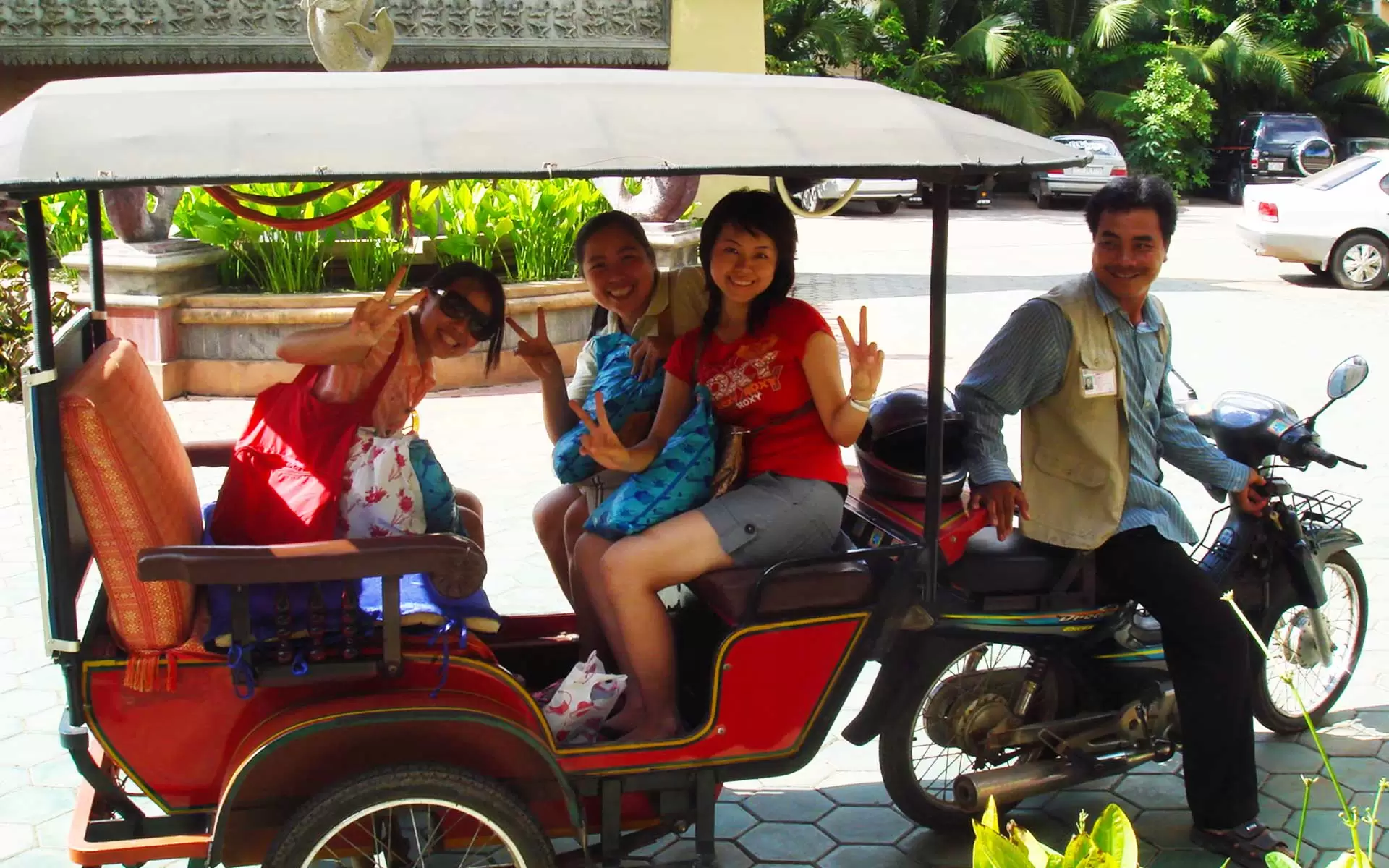 Tuk tuk is a ubiquitous sight throughout Phnom Penh, as well as Cambodia.
By Waterway
Besides travelling by air and by road transfer, more adventurous tourists can take the option of ferry boat between Phnom Penh and Siem Reap. Although it will be a memorable experience with stunning scenery along the way, the journey will be much longer than via road. Daily ferry departs at 7 AM from the Phnom Penh Port on Sisowath Quay and lasts 7 – 8 hours. Passengers should buy the ferry ticket one day in advance through guesthouses, hotels or travel agencies at the cost of around 18 – 25 USD.
Ferry journey is best operated during wet season (July to November). This service closes at the peak of dry season (April to June) when the water levels are too low to cross the river and may occur occasional grounding issues. For safety reasons, this mean of transportation is not recommended for foreigners because ferries Phnom Penh – Siem Reap are local transport and experienced breakdowns, and other grounding difficulties.
Speedboat between Chau Doc (Vietnam) and Phnom Penh is one of the most enjoyable ways to witness local daily life and culture along Mekong River's banks. This journey lasts around five hours, including the visa formalities at the Vinh Xuong/Kaam Samnor border crossing point. At this border, Vietnam Visa should be arranged in advance to avoid time consuming, unless you are exempt. Meanwhile, Cambodia Visa on arrival is available with minor overcharging so tourists should plan on paying 34 USD (cash only).
Hang Chau Speedboat is the most popular boat service running between Chau Doc and Phnom Penh. Its boat departs Chau Doc daily at 7:30 AM, arriving Phnom Penh at around 12:30 PM then immediately makes the return journey in the afternoon of the same day. Ticket should be purchased in advance, with rate of 27 USD per person, including guide on boat (to assist visa formalities at border checkpoint), insurance, water and snack.
By Railway
From Phnom Penh Train Station, tourists can take trains operated by Royal Railway to access to southern cities of Kampot, Takeo and Sihanouk Ville with fixed schedule and affordable ticket prices as shown in the following table.
| From | To | Departure Time | Departure Date | Rate |
| --- | --- | --- | --- | --- |
| Phnom Penh | Sihanouk Ville | 7 AM | Fri – Sat – Sun | 8 USD |
| Sihanouk Ville | Phnom Penh | 8:30 AM | Sat – Sun – Mon | 8 USD |
| Phnom Penh | Kampot | 7 AM | Sat – Sun – Mon | 7 USD |
| Kampot | Phnom Penh | 11 AM | Fri – Sat – Sun – Mon | 7 USD |
| Phnom Penh | Takeo | 7 AM | Fri – Sat – Sun | 5 USD |
| Takeo | Phnom Penh | 1 PM | Sat – Sun – Mon | 5 USD |
Things to do in Phnom Penh
Despite slowly gaining high rise buildings and Western style shopping malls, Phnom Penh overall retains its hidden beauty that made it as "Paris of the East" before 1970s.
The innermost part of the city is the magnificent Phnom Penh riverside promenade where locals and tourists visit for leisure strolls along sidewalks of parks and gardens. From this point, it's very convenient to access restaurants, food courts, bars and drinking parlors. Taking the scenic cruise along Phnom Penh's river to witness the golden colors of city's skyline at sunset is a memorable experience in your adventure here.
Phnom Penh has no shortage of Khmer temples and monuments which are the most stunning examples of Buddhist architecture and art. City tour in Phnom Penh can't be completed without the majestic grandeur of the Royal Palace and adjacent Silver Pagoda, as well as nearby National Museum. Almost tourists are impressed by beautiful displays of various art pieces and antique artifacts in all these three points.
Not far from waterfront area is Central Market at the heart of Phnom Penh. Shopaholics can't miss the visit to this site where they can buy jewelry, curios, clothes and other art and deco pieces to bring home. More shopping options can be found in Russian Market at the south of Phnom Penh, or fashion boutiques in the famous Street 240.
The buzzing French Quarter in the northern side of the city is home to gorgeous architectural designs of faded and moderately picturesque buildings, wide boulevards and promenades envisaged by the French.
There is no better place in Cambodia to grasp the harsh and bloody recent history of Khmer people than Phnom Penh because it was chosen as the epicenter during the Khmer Rouge regime.
The crude regime of the Khmer Empire is vividly remembered through the Tuol Sleng Genocide Museum, a former school that has since been changed into a prison, as well as the Killing Fields Memorial Center in the outside of the city.
Check out more details about top 9 things to do in Phnom Penh to make the most of your stay here.
What and where to eat in Phnom Penh
Despite being lesser known than world famous cuisines of neighboring countries like Vietnam and Thailand, Khmer food still offers a bit of every flavor and worth exploring while you are in Cambodia's capital. Phnom Penh is considered as the cosmopolitan culinary scene with plethora of street food stalls and high-end restaurants, from authentic Khmer flavors, neighboring Asian cuisine to Western delicacies.
As the street are full of food carts at mealtimes, it's not hard to find cheap eats in Phnom Penh. Russian Market, Central Market and Night Market at Phnom Penh riverside are the most popular places to enjoy authentic local cuisine with a fistful of riel. Between meals, especially at dusk, it's a common sight to see street vendors pushing mobile carts through the streets, selling everything from fresh fruit smoothies and Khmer coffee, through to noodles, rice dishes, soups and salads. Signature dishes should not be missed are fish amok, samlor korkor, nom banh chok, Khmer red curry, beef lok lak, lap Khmer, fried insects.
More detailed descriptions about Cambodian Food can be found here. In case food hygiene standards are your top concern, there are many good restaurants in Phnom Penh from mid-ranged to high end services to ensure your great fine dining experience.
Accommodation in Phnom Penh
In Phnom Penh, almost hotels are concentrated into two main areas: Daun Penh District and Boeung Keng Kang 1 (more commonly known as BKK1). These areas offer from hostels, guesthouses, boutique hotels to 5 star and luxury accommodation.
Accommodation in Daun Penh District
Daun Penh District consists of most outstanding colonial architectures, government buildings, Royal Palace and nearby historical sites. Bounded by Tonle Sap River, hotels near the river are highly recommended for a romantic stay with panorama looking to the river. Short stay vacationers can consider to stay between the river and Preah Monivong Blvd, where is easily walkable to all main sights. However, this also the best place for nightlife activities with many bars, cafeteria, restaurants and night market attached along the river front.
Therefore, search for your stay at the west of Preah Monivong Blvd if you don't want to be bothered by noisy crowds.
Here are some suggestions for your references if interested staying in this district:
3 star option: Queen Grand Boutique Hotel, King Grand Boutique Hotel, Crystal Blue Boutique Hotel.
4 star option: Aquarius Hotel & Urban Resort, SUN & MOON Urban Hotel, White Mansion Boutique Hotel, The Pavilion Hotel.
5 star option: Raffles Hotel Le Royal, Palace Gate Hotel & Resort, NagaWorld Hotel & Entertainment Complex.
Accommodation in Boeung Keng Kang 1 (BKK1)
Hotels located in BKK1 are also stated within Chamkor Morn District. This area is popular for expat/NGO residents or long term stay guests. This is not far from Daun Penh District but less touristy, more tranquil and more reasonable hotel rates. In BKK1, properties tend to be mid-range and upmarket boutique or apartment accommodation.
Boutique hotels: Villa Langka Hotel, Rambutan Resort Phnom Penh, iRoHa Garden Hotel & Resort.
Apartments: Mansion 51 Hotel & Apartment, Somerset Norodom Phnom Penh, One Residence Hotel & Apartment.   
Almost tourists coming from outside of Asia will begin and/or end their Cambodia trips in Phnom Penh. Based on our own experience, Cambodia Travel strongly recommend you to have main exploration of Phnom Penh at the beginning of your holiday, rather than doing it at the backend. By this way, you can get much more of the city without any stress. Otherwise, you will really feel stressful with doing much before your departure flight.
Whenever planning the trip to Phnom Penh and Cambodia, just contact us and we are sure that you will have a memorable experience in this country.