Best restaurants in Siem Reap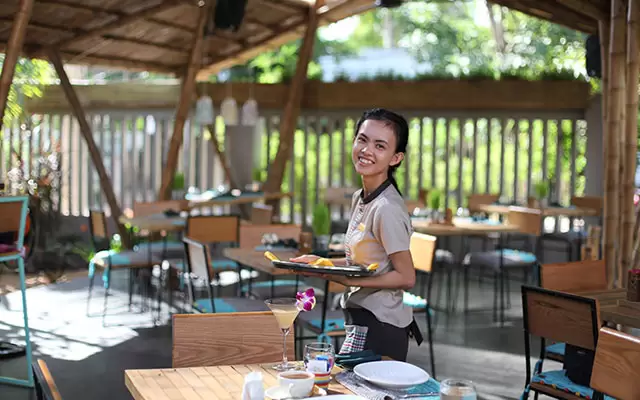 Siem Reap is home to many outstanding restaurants in Cambodia. Khmer eateries providing flavorsome introduction to this country's food includes small family-run kitchens, restaurants operated by social enterprises, and sophisticated fine dining options. In addition, foreigners have no difficulty in finding their home's favorites because there is an abundance of restaurants offering cuisines from all corners of the globe. With the list of the best restaurants in Siem Reap as following, Cambodia Travel hopes that tourists don't have to spend another minute thinking about where to go and what to eat. Don't leave Siem Reap without dining in at least one of these restaurants!
Cuisine Wat Damnak
Location: Street 7 Makara, Between Psa Dey Hoy market and Angkor High School, Wat Damnak village, Siem Reap.
Opening Hours: Friday-Saturday 06:30 PM – 09:00 PM (last order).
Cuisine Wat Damnak is the first Cambodian restaurant to be featured in the list of Asia's 50 Best Restaurants 2016. With the philosophy of combining authentic Cambodian flavors and French culinary technique, the head chef Joannès Rivière creates innovative menus by using only the freshest herbs and vegetables from family garden, nearby farms; fish and seafood from the Mekong and Tonle Sap. Even being a French chef, Rivière has been living and working in Cambodia for 17 years so he is fluent in Khmer and has deep knowledge of Khmer cuisine. The menu is changed weekly depending on the availability at the market, as well as reflecting the chef's skill and creativity and bringing a dining experience unlike any other.
There are options for vegetarians and vegans with advance notice. The drinks list includes international wines, cocktails made with local spices and smooth draft beers courtesy of Siem Reap Brewpub. Setting in a stunning traditional Khmer wooden house in Wat Damnak Village, the restaurant offers three dining areas to meet all tastes: air-conditioned dining space in downstairs with local artwork and handicrafts; the fan-cooled dining upstairs of the wooden house; and outside garden surrounded by lush tropical greenery and local herbs.
Malis Restaurant Siem Reap
Location: Pokambor Avenue, Siem Reap Riverside, Siem Reap.
Opening Hours: 06:30 AM – 11:00 PM daily.
Malis – the high-end restaurant brand name in Cambodia, was opened in Phnom Penh and Siem Reap. Both are run and operated by local celebrity chef Luu Meng with the same philosophy to bring Cambodian cuisine back to life. Malis Restaurant Siem Reap has sophisticated setting inspired by the temples of Angkor boasting high ceilings, grey stone and a sense of space. It boasts nice view over the Siem Reap River, a stunning garden, water pond and area reserved for Apsara traditional dance performances.
Master Chef Luu Meng and his team has made continuous efforts to revive old cooking recipes then recreate authentic Cambodian dishes with the amazing array of local fresh ingredients. Malis prides itself on using local organic produce as much as possible: fish and river lobster from the Mekong, carbs delivered daily from Kep and Kampot, pork farmed in Takeo, duck raised in Siem Reap, vegetables and herbs grown along Tonle Sap's banks.
In Malis, dinners will join in a culinary journey of Cambodia with signature dishes like fish amok, chicken curry in lotus leaf, Kep flower crab fried rice, Takeo sausages. The restaurant opens from breakfast time so that early birds can start the day in Cambodian way by sampling Kuy Teav Malis (signature pork & prawn noodle soup), Bor Bor Sach Trei (traditional Khmer fish congee), and many other types of Khmer rice noodle soup.
Malis restaurant Siem Reap constantly updates its extensive wine list with the very best vintages from around the world, that pair with tasty Khmer flavors.
Mahob Khmer Cuisine
Location: No. 137, Traing Village, Group 3, Siem Reap.
Opening Hours: 11:30 AM – 10:30 PM daily.
Mahob Khmer Cuisine is located only just a few minutes from town center, but this dining venue is still far enough to escape away from bustling Pub Street. MAHOB is the Khmer word which means "food". It presents the main mission of Mahob's owner – young and dynamic chef Sothea, to take original Khmer dishes to a new level, using only freshest ingredients from the best local suppliers to tantalize diners' taste-buds. Besides a weekly degustation set menu, Mahob is famous for its a la carte menu including barbecue dishes cooked on the 400-degree volcanic stone.
Mahob is set in an authentic Khmer wooden house, surrounded by trees, flowers and lotus pond.
Chef Sothea Seng carefully restored the old house in keeping its original features such as carved wooden roof detail. Coming to this stylish eatery, diners can choose to sit inside the air conditioned dining room in the ground floor, or upstairs in restored wooden lounge, or outside by the lotus pond amongst relaxed garden setting.
For those who are interested in learning more about Khmer cuisine and its history, Mahob offers daily cooking classes with a farm-to-table concept at its organic farm venue, which is located just 3km northeastern side of the restaurant.
Marum Restaurant
Location: Por Trach Village, Sangkat Slor Kram, Siem Reap
Marum Restaurant is operated by Tree Alliance – a global network of training restaurants that provides training programs for local youths to become skilled and productive staffs in the hospitality industry with a more secure future. Set in a beautiful two-story wooden house with a gorgeous courtyard garden, Marum boasts itself creative and contemporary tapas-style with vegetarian, seafood and meat-based dishes. Menu highlights include stir fried red ant served with prahok sauce, Siem Reap fish soup with tamarind, galangal and morning glory. The desserts are also delicious so just try red sticky rice and sweet mango with pandan sauce. All shakes, juices and cocktails are made with fresh fruit and contain no artificial flavors.
Don't hesitate to ask staffs for their recommendations because they are training students and more than eager to practice their English. However, you should be patient to communicate with staffs wearing T-shirts indicated "Student" who are learning to be professional or find "Instructor" T-shirt wearers for further help. Your dining patronage in Marum will help build futures for these students.
Embassy Khmer Gastronomy
Location: Street 27, King's Road Village, Siem Reap.
Opening Hours: 06:00 PM – 11:00 PM daily.
This dining venue offers high quality Khmer gastronomy in luxury surroundings. Located in a quiet and cozy corner of Kings Road and opposite Siem Reap River, Embassy Restaurant offers both indoor bright and plant-filled dining room and outdoor terrace seating with tasteful, modern décor. Hosted by two best Cambodian chefs – Kimsan Pol and Kimsan Sok (also known as "Kimsan Twins" but they are not blood-related), Embassy Restaurant pays homage to ancient Cambodian recipes and cooking methods, as well as creates a gastronomic twist for traditional dishes. The two talented female chefs graduated from the well-known Paul Dubrule and Salabai hospitality schools and got the guidance of Michelin starred French Chef Regis Marcon.
Coming to Embassy Restaurant, diners can savor the mouth-watering monthly menu with seven-course gastronomy inspired by local seasonal ingredients. The main courses in menu December 2020 include delicacies such as Grilled king prawn, on crispy vermicelli nest, pumpkin purée, garlic sauce / Smoky duck, aroma of embassy spices, crispy sweet potato, fresh pineapple salad Ratanakiri coffee cappuccino. Diners can tuck into the melt-in-the-mouth dessert of "Bay Traeb" black sticky rice cooked in fresh coconut milk, roasted peanut, sugar palm caramel ice-cream. Don't forget to pair your meal with a fine wine from Embassy's exclusive selection of wines from all over the world and you surely have a night to remember.
Spoons Café
Location: No. 0142, Pave Road, Wat Damnak Sangkat Salakamrouk, Siem Reap.
Opening Hours: 11:30 AM to 10:00 PM from Monday to Saturday, closed on Sunday.
Spoon Café is operated by EGBOK (Everything's Gonna Be OK) – a local community provides training and employment opportunities on hospitality industry for young Cambodians coming from disadvantaged communities. Spoon Café's staffs are trainees from EGBOK, who provide guests services with professional working attitudes and warm-hearted Khmer hospitality. Besides enjoying Khmer authentic cuisine, diners also contribute to the educational development of underserved Cambodian young adults when visiting Spoons. The restaurant itself is set in a custom-built bamboo structure to promote using bamboo instead of other types of wood in construction.
The menu is inspired by local street food favorites and classic home style flavors to bring lesser-known Cambodia dishes to international gourmets. Main dishes with original flavors are: Tuk Kroueng (traditional Khmer gravy with local river fish), Whole Mackerel (grilled and deboned whole mackerel, sautéed Chinese cabbage, coconut turmeric rice). The most special cocktail in Spoons Café is named EGBOK including Campari, basil, lime, palm sugar and sparkling water.
Pou Kitchen and Café
Location: 136 Steung Thmei, Krong Siem Reap.
Opening Hours: 07:00 AM – 11:00 PM daily.
Pou Kitchen and Café is set inside a beautifully restored traditional wooden Khmer house, which is within 5 minute walking distance to Siem Reap's Old Market and Night Market. Following the approach of Chef Mengly, Pou Kitchen's menu is simple but innovative featuring high quality produce, freshest herbs and vegetables. Diners can enjoy authentic Cambodia cuisine either in the modern air-conditioned dining room downstairs, or in the fan-cooled upstairs retaining the traditional charm of Cambodia. For more romantic evening, softly lit garden surrounded by lush tropical greenery and local herbs is the perfect place.
In each dish, Chef Mengly maintains the main flavors of unique Khmer cuisine with exquisite presentations. You can be impressed by entrée dishes like Grilled local beef with red tree ant or sausage with red tree ant. Main courses come on oversized plates decorated with colorful sauces, edible flowers, such as Grilled mackerel, Beef steak lok lak and kitchen pepper sauce. Restaurant's menu also includes small portion of vegetarian dishes.
There is a great dessert menu with amazing presentations which you should try all if you can: ginger and tapioca (Creamy ginger, tapioca, sugar palm and wafer roll from Chef's home town), Fermented sticky rice and coconut sorbet (Local fermented black sticky rice in coconut sorbet and rice wine yeast). In compared with the creativity and quality of the ingredients, prices at Pou Kitchen are very reasonable.
Chanrey Tree
Location: Mondul 1 Village, Svay Dangkum Commune, Pokambor Ave, Krong Siem Reap.
Opening Hours: 11:00 AM – 02:30 PM & 06:00 PM – 10:30 PM daily.
Chanrey Tree Restaurant, a lovely spot for both lunch and dinner, is located in the heart of Siem Reap's riverside district. The main mission of Chanrey Tree is to reunite diverse and rare Khmer recipes passed down through the generations, then take traditional culinary delights to the next level by using premium produce and ingredients and presenting them expressively. 
Gourmets can start the meal by Crispy sticky rice with Natang sauce (Shrimp, minced pork, coconut milk and peanuts served with crispy sticky rice, Frangipani flower and vegetable tempura). Then move to the main course of Char khroeung with flexible options of frog legs, river fish or beef, stir fried with a delicious mixed of Khmer spices, including lemongrass, turmeric, lime leaf, galangal, garlic, peanuts, Chinese celery and spring onions. Khmer Delicacy (Sticky rice, taro, young coconut slices, pineapple jam and cashew nuts served with coconut sorbets) is the perfect ending for your meal here.
Chanrey Tree itself is a traditional wooden Khmer house with a contemporary extension. Sitting in the front garden, you can enjoy your meals while overlooking the serene Siem Reap River. Or just book a table out the back if you are finding a modern and spacious al fresco area.
Le Malraux – French Restaurant
Location: Psah Chas Alley 1, Siem Reap.
Opening Hours: 11:00 AM – 10:00 PM.
Le Malraux is one of the best French restaurants in Siem Reap which is set in a stylishly renovated colonial art-deco building with a nice outside terrace. This restaurant has a stunning location in the small alley east of the Old Market and this quartier looks like a little corner of France in the night time. The menu includes French and Khmer specialties as well as some unique fusion dishes. A well stock bar with impressive displays is also available in Le Malraux.
Visitors can eat or drink inside on comfortable couches in 1930s "Art Nouveau" brasserie or al fresco at the terrace right in the street.
La Bruschetta – Italian Restaurant
Location: Street 7, No. 247, Svaydongkum, Siem Reap.
Opening Hours: 12:00 PM – 02:30 PM & 05:00 PM – 09:30 PM daily.
La Bruschetta, which is just off Pub Street, is indeed a tiny restaurant with only about 6 tables and a very small menu. The chef and owner Fabio is from Italy and all his cooks are from his grandmother's recipe book. Therefore, this restaurant's menu is far from mass produced and westernized Italian food in large restaurants. Just come here to try authentic homemade Italian cuisine when you want to find something different rather than having Asian food.
In addition to a la carte menu, La Bruschetta serves several specials every day. The menu is indicated in blackboards spread out above the kitchen and out on the patio. The meatballs, homemade tagliatelle with duck bolognese, and lasagne with béchamel are recommended to try by many eaters.