Top Attractions in Kratie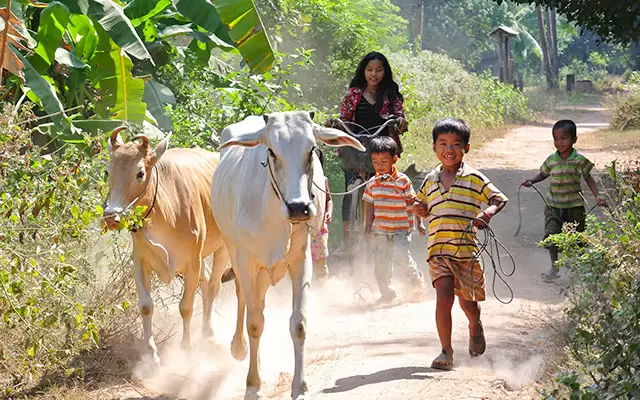 Kratie is relatively remote and not heavily touristic destination in northeastern Cambodia. Lying on the banks of the mighty Mekong River, tranquil Kratie is predominately known as the shelter of the rare Irrawaddy dolphins. And that's the main reason for tourists flock here with the hope of spotting these incredible freshwater creatures once in their lifetime. Kratie is a great to stop and unwind in the middle between bustling Phnom Penh Capital and the northwest jungles of Mondulkiri and Ratanakiri. If you want to wind deeper into the "real" Cambodia, it's quite sure that after reading our guide of the top attractions in Kratie, this lesser-known part of the country will win a place in your heart.
8 Must-Visit Attractions in Kratie, Cambodia

Dolphin Habitat Site
The Dolphin Habitat Site is situated at Kampi Village, only 15 km away from Kratie Town. Nature lovers and wildlife conservationists consider it as the best spot to watch the Irrawaddy dolphins. These Mekong dolphins are put on the critically endangered list of marine species that lives in the freshwater. It is estimated that there are between 66 and 86 dolphins left in the upper Cambodian Mekong area. Therefore, the Dolphin Habitat Site plays a significant role in the conservation of these dolphins, rather than a tourist attraction.
Tourists need to be very patient because the chance of seeing dolphins isn't guaranteed
. The sightseeing trip can be done by boat trip or kayaking activity but should follow the dolphin watching guidelines to protect and avoid disturbing dolphins in their natural habitat.
Koh Trong Island – Most Famous Places to Visit in Kratie
Koh Trong is a bucolic island opposite the riverfront of Kratie Town. It actually looks like an almighty 6km-long sandbar in the middle of the river. The only way to access Koh Trong is taking 5-minute wooden public ferry from the pier in front of Jasmine Boat Restaurant in downtown Kratie. On arrival, you can go directly to the Community Based Tourism Center where you can hire bicycles or ox-carts, book homestay if you wish to spend an overnight stay here.
The nine-kilometer trail in a narrow concrete path around the island will bring tourists through the lush and unspoilt rural Cambodian scenery filled with palm trees, paddy fields, market gardens and pretty Khmer-style wooden houses. At the southern tip of the island located a small Vietnamese pagoda and floating Vietnamese village.
Beside two homestays with basic sleeping arrangements on the floor of the stilted wooden houses, boutique lodge Rajabori Villas with 13 traditional Khmer wooden houses and a swimming pool is the best accommodation in the island.
Phnom Sombok – Must-see Attraction in Kratie
Phnom Sombok is a small Buddhist temple perched high on a hillock, which is located 10 km north of Kratie Town. Being built in the 15th century, the temple is dedicated to a Buddhist monk named Neak Voan, who resided, meditated and taught his disciples here. Situated in between two mountain peaks, Phnom Sombok boasts scenic panorama views of Mekong River. To reach the main temple on top, visitors need to climb about 300 stairs and are impressed by the long line of life-sized monk statues forming a guard of honor.
Hilltop consists of the sanatorium housing a reclining Buddha, a medication center and monastery of young monks, and a pavilion depicting torture scenes of those who are not virtuous enough to lead a holy and clean afterlife. Sunrise and sunset are two best moments to visit Phnom Sombok, admire the stunning view overlooking Mekong River or immerse yourself in nature. This is a good place to visit on the way back into town after dolphin watching tour in Kampi Village.
The 100-Pillar Pagoda
The 100-Pillar Pagoda (or locally known as Wat Sorsor Muoy Roi) is located at Sam Bor District in 38 km distance to the north of Kratie Town. In the 8th century, this site used to be the Royal Palace temple of Sam Phu Borak Capital of the Chen La time located. In 1806, the initial pagoda and its 100 columns was constructed on this base in memory of Preah Ang Chan Reachea II's daughter who was the victim of a crocodile in the nearby river. After being damaged by strong lightening, the pagoda was pulled down and rebuilt with only 78 columns. The pagoda visitors can see today was renovated two more times (in 1987 and 1998) with 116 columns.
From the outside, the 100-Pillar Pagoda is quite impressive with pristine white color and Buddhist flags. However, the special features only can be seen when entering inside: colorful murals from floor to ceiling to depict different Buddhist mythologies and explain legends of nature. This is one of the largest and most beautiful pagodas in Cambodia, and frequently visited by local people who live nearby, especially in special occasions like Khmer New Year. Therefore, tourists should show their respects and dress up properly during the visit.
Wat Rokar Kandal
Just only 2-3 km south of Kratie on the road to Chhlong is Wat Rokar Kandal. Dating from the 19th century, this is one of the oldest temple in the region. This rare traditional wooden pagoda was restored and converted into a small local handicraft center, where visitors can find a lovely souvenir to bring home. Even being simple in design, it's still worth paying a visit there to admire the beautiful stenciled interior pillars and an ornate timber roof, together with adjacent traditional wooden houses.
Mekong Turtle Conservation Center (MTCC)
This conservation center is situated right on the grounds of 100-Pillar Pagoda and established by a NGO named Conservation International. The rare Cantor's giant softshell turtle – one of the largest freshwater turtles, was rediscovered along this northern stretch of Mekong in 2007. This center does important tasks in taking care of large turtle rescued from trafficking as well as raising hatchlings for around 10 months before releasing them in the wild. These turtles burry themselves into the mud and sand as a protection mechanism.
MTCC also offers tour package with overnight homestay in Koh Trong Island and early morning visit to turtle nests there.
Kampi River Rapids
Kampi River Rapids is a seasonal tourist attraction in Kratie and located just a few kilometers to the north of the dolphin watching spot of Kampi Village. In dry season from January to May, locals go picnic here on weekends or public holidays. When water level in this part of Mekong drops sufficiently in dry season, many sandbars appear then wooden platforms are quickly established over these grounds with cool shady roofs. Hammocks and mats are available for rent by the hour. Wooden bridges are also set up to allow easy access to floating cottages.
It's so perfect to spend a lazy and slow day in this scenic spot, swim in the refreshing waters, chill out with local snacks and cold drink. You can bring your own stuffs, otherwise there is a bunch of knick-knack shops and stalls selling local food and drinks on site.
Cham Pey Waterfall
Cham Pey Waterfall is located along the road No. 68, about 35 km from Kratie Town. Besides the waterfall at the mountain valley, the natural complex is covered with many trees and lots of orchids and other colorful flowers. Not quite far from the waterfall is another natural and cultural site named Rut Cham Pey and organized by monks who are meditating there. In Rut Cham Pey, tourists can see many statues depicting the process of human life, religious and animal figures.