Cambodia Weather in September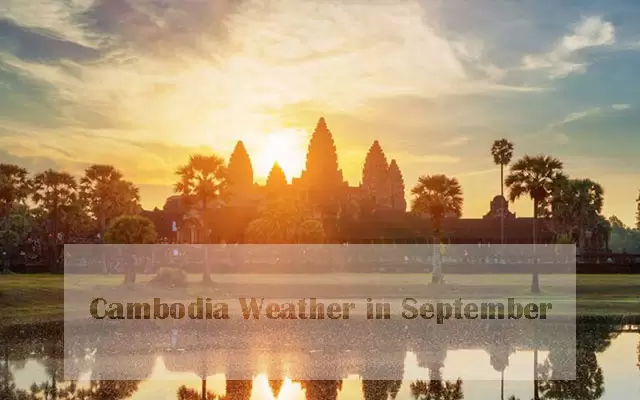 Cambodia in September is best known for short and intense rainfalls, which bring cooler air than previous months. If you are keen on avoiding the crowds and willing to take your chance of getting wet, September is a great month to travel to Cambodia. Keep reading this post for more information to prepare your vacation to this tropical country in this month!
1. Cambodia Climate in September.
Coming to September, the monsoon continues to dominate throughout Cambodia with the clear evidences of precipitation from previous months: flooded paddy fields, overflowing rivers and lakes, lush and green countryside. It seems that the country is in the middle of its bathing session, with high level of humidity and heavy downpours during this month. Although all-day downpours can happen sometimes, the more common form of rainfall is short and intense for a few hours. On average, it's predicted that the precipitation in Cambodia reaches the level of 280mm over September. Therefore, make sure you bring at least one light waterproof jacket while you are there.
In southern coastal regions like Sihanoukville and in more rural regions such as Ratanakiri, the rain showers tend to be heavier and more prolonged so the beaches and islands are very quiet at this time of the year.
Temperature in Sihanoukville hovers around 25°C and 29°C in this area. In Siem Reap, temperature is at its low of 24°C after dark, then climbs as high as 31°C at day time. Night time in Phnom Penh has the same temperature to Siem Reap but the daytime temperature reaches its highest values at 34°C.
2. Important notes when visiting Cambodia in September.
If you don't mind getting wet while travelling, September is a good time to visit Cambodia when the natural scenery comes to life after being blessed with life giving rain. Across the country, the rice paddies are brimming with water, flora and fauna are green, lush and in full bloom. There is not better season than this month to capture unspoiled views of the country. Exploring Angkor Wat can be a treat as you are offered numerous photo opportunities of temple reflections in the water from surrounding moats and pools. If you are lucky enough, you even can experience the iconic Angkor in the midst of a lightning storm.
After several months of raining, water levels on the Tonle Sap Lake drastically increase, making the lake swollen to more than 5 times its normal size at this time of year. This is not a bad choice to take boat trip along Tonle Sap and visit its unique landscapes of the flooded forests and floating villages.
Another positive perspective of spending holiday in Cambodia at this time is that the numbers of tourists decrease drastically, making most popular sites like Angkor Complex in Siem Reap, cultural and historical sites in Phnom Penh are much quieter. You can easily find the place to yourself and take great photo shoots without being disturbed by any nuisances.
On the contrary, heavy downpours make travelling to remote destinations in north east regions (Kratie, Mondulkiri, Ratanakiri) and southern coastal destinations (Sihanouk Ville, Kampot, Kep) fairly difficult or even impossible. Remote tracks can become tricky to navigate through due to flooding of road system there. For those who are planning some relaxing days on the beach should forget Cambodia's south coast during these months.
3. What to pack?
– Clothing: although your visit falls in the wet season, please keep in mind that Cambodia is still a tropical country with hot climate. So you should pack clothing including cotton t-shirt, linen pants or dry-fit. Light raincoat or waterproof jacket is a must in your suitcase.
– Footwear: bring appropriate footwear for the wet season like weather-resistant walking shoes and/or waterproof sandals.
– Waterproof backpacks or bags: these items are necessary to keep your important belongings safe and dry while travelling in rainy season.
– Hairdryer: it's a good idea to bring a small hairdryer along with you. It's not just for drying your hair, but very useful for quick drying a wet piece of clothing in urgent cases.
– Insect repellent spray: tropical Cambodia in wet season has good conditions for mosquitoes and other insects. So protect yourself against these pesky bites by packing a good insect repellent spray and protective clothing.