Vietnam And Cambodia Tours From Australia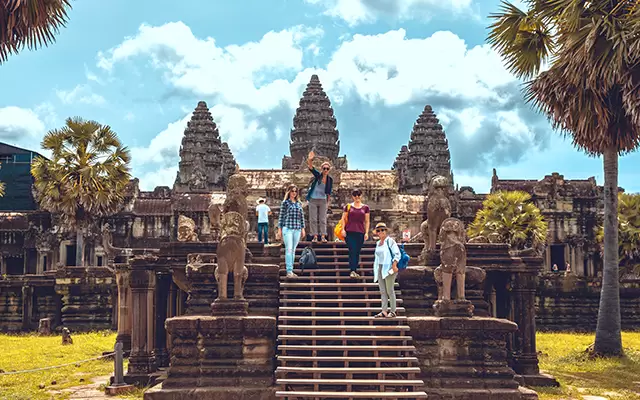 Vietnam and Cambodia tours from Australia – A journey through Vietnam and Cambodia will uncover magical moments in places you have only dreamed of, offering you unique opportunities to explore the hidden charm of Vietnam and the mystical treasures of the Angkor Temples in Cambodia as well as immerse in the natural beauty and traditional lifestyle of the Vietnamese and Khmer people.
Visa for Australian travelers
Visa is one of necessary documents you need to go abroad. Of course, any Australia citizens entering Vietnam and Cambodia are required to obtain a legal visa. It is quite easy and possible to apply for Vietnam visa and Cambodia visa with some ways.
You can go into this link for more information including Vietnam visa and Cambodia visa.
You may also like:

10 Best Things to Do in Cambodia

10 Interesting Attractions in Cambodia Beside Angkor Wat
How to get to Vietnam and Cambodia from Australia.
The fastest and most convenient way to travel to Vietnam and Cambodia is by airplane. However, there is no direct flight from Australia to Cambodia, you should fly into Vietnam first and then travel to Cambodia. Tourists can take a flight from big cities such as Melbourne and Sydney to Hanoi or Saigon. The shortest flight is from Melbourne, Australia to Saigon, Vietnam taking about 8h35m.
Vietnam and Cambodia Tours from Australia.

With Vietnam's soaring northern mountains, sunny southern regions and gorgeous coastline, the S-shaped country is filled with natural beauty. Start your tour with visiting all the main highlights from the historic capital – Ha Noi, Halong Bay, unparalleled leisure in Hoi An, Imperial Hue to the colonial Ho Chi Minh City and vivid Mekong Delta, and explore tradition and history in charming rural villages.
Meanwhile, known as the temple hub of the world with a lot of beautiful sceneries, Cambodia is a worthy destination to discover many highlights such as the sights of the buzzing capital city of Phnom Penh, Siem Reap – gateway to the iconic and awe-inspiring Khmer temple complex of Angkor Wat, Tonle Sap Lake – South East Asia's largest freshwater lake, and see floating villages.
Tourists can flexibly start the tours in Vietnam and end in Cambodia or vice versa. If you have a great sense of adventure and diversity of local cultures, get off the beaten track on one of our adventure Vietnam and Cambodia tours: Authentic Vietnam & Cambodia, Angkor Temples & Amazing Vietnam or Biking Vietnam & Cambodia.
For high-end travelers, a romantic and luxurious holiday offers you pristine landscapes, unrivaled hospitality, alluring cultures and the comfort and luxury of the region's finest hotels in the package of Luxury Vietnam & Cambodia.
If you are keen on exploring the mystical treasures of the Angkor Temples and experiencing the natural beauty and traditional lifestyle found throughout the Mekong Delta of Vietnam, join our sample tours, namely, Cambodia Unveiled & South Vietnam and Cambodia & Vietnam Discovery.
These Vietnam and Cambodia tours are flexible and could be customized to meet your needs and interests and daily departure. If you need further information, please contact us via email: sales@cambodiatravel.com or leave a message on our Live Chat System.