Arrival & Entry Requirements for All Travelers to Cambodia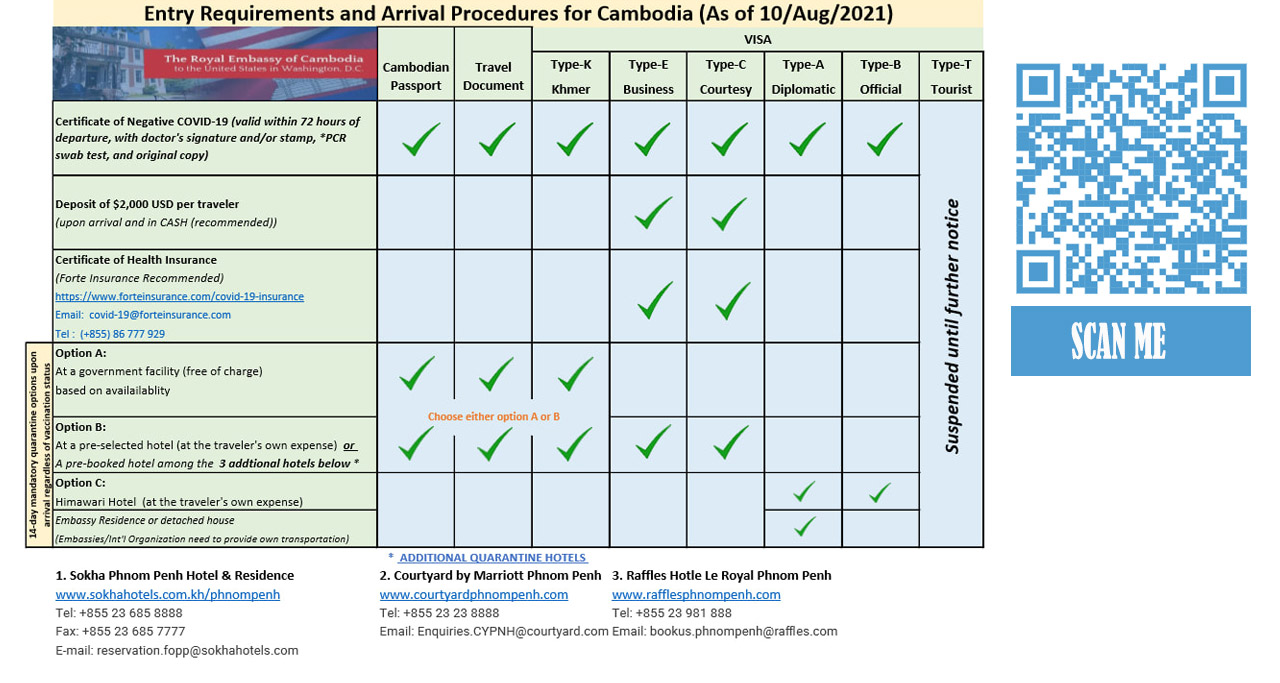 On 10 August 2021, the Royal Embassy of Cambodia to the United States released a useful info-graphic showing the different entry requirements for holders of the different classes of visas, who wish to enter Cambodia.
Here you will find the current entry requirements and arrival procedures in Cambodia (as of 10 August 2021) as follows:
A. Requirements for entering Cambodia
1. Passengers holding a Cambodia passport must have:
– Certificate of negative Covid-19(*).
– Cambodia passport.
2. Passengers holding a Temporary Travel Document:
– Certificate of negative Covid-19.
– Temporary Travel Document issued by the Embassy.
3. Passengers holding K (Khmer) visa:
– Certificate of negative Covid-19.
– K (Khmer) Visa.
4. Passengers holding a Business (E) or Courtesy (C) visa:
– Certificate of negative Covid-19.
– E (Business) or C (Courtesy) visa.
– Proof of heath insurance purchase(**).
– USD 2,000 Deposit upon arrival (Cash recommended).
5. Passengers holding a Diplomatic (A) or Official (B) visa:
– Certificate of negative Covid-19.
– A (Diplomatic) or B (Official) visa.
B. Arrival Procedures in Cambodia
– Upon arrival in Cambodia, all passengers must present the above-mentioned documents to the relevant authorities and will be tested again for Covid-19 at the airport and on the 13th day of quarantine.
• Quarantine Facilities:
+ Passengers (1), (2) and (3) can stay at a government facility (free of charge) or hotel designated by the competent authority (at their own expense).
+ Passengers (4) must quarantine at a hotel and cover all the expenses themselves.
+ Passengers with diplomatic (A) visas can stay at the residence of their embassy or International Organization or a hotel at their own expense.
+ Passengers with official (B) visas must quarantine at Himawari Hotel at their own expense.
• Hotels for Quarantine:
+ In case of passengers (1) to (4) have not booked a hotel prior to arrival, they will be transferred to a hotel that complies with the Standard Operating Procedures (SOP) based on its availability.
+ In case of passengers (1) to (4) wish to book a hotel before arriving in Cambodia, they can book one of the three hotels:
(1) Sokha Phnom Penh Hotel & Residence
Tel: +855 23 685 8888
Fax: +855 23 685 7777
Email: reservation.fopp@sokhahotels.com
Website: www.sokhahotels.com.kh/phnompenh
(2) Courtyard by Marriott Phnom Penh
Tel: +855 23 23 8888
Email: Enquiries.CYPNH@courtyard.com
Website: www.courtyardphnompenh.com
(3) Raffles Hotle Le Royal Phnom Penh
Tel: +855 23 981 888
Email: bookus.phnompenh@raffles.com
Website: www.rafflesphnompenh.com/offer/alternative-state-quarantine-package/
Notice:
(*) Certificate of negative Covid-19: The certificate must be a PCR swab test issued no more than 72 hours prior to the departure (should have a seal of the institution and/ or the signature of the doctor or the person who issues the certificate or test result).
(**) Heath insurance: The insurance package must be at least 50,000 (fifty thousand) USD dollars.
Forte Insurance (Cambodia):
Website: www.forteinsurance.com/covid-19-insurance
Email: covid-19@forteinsurance.com
Tel: +855 86 777 929
(***) Tourist (T) visas are being suspended, including e-visas and visas on arrival, until further notice.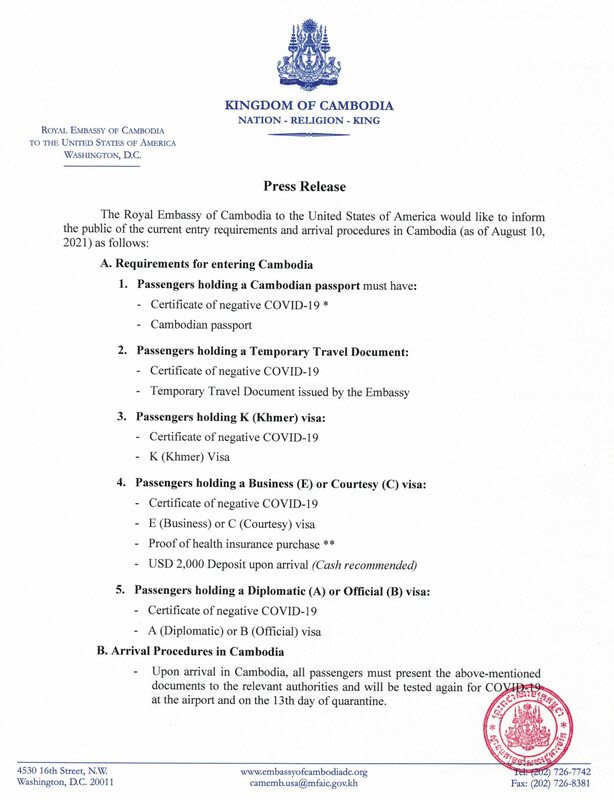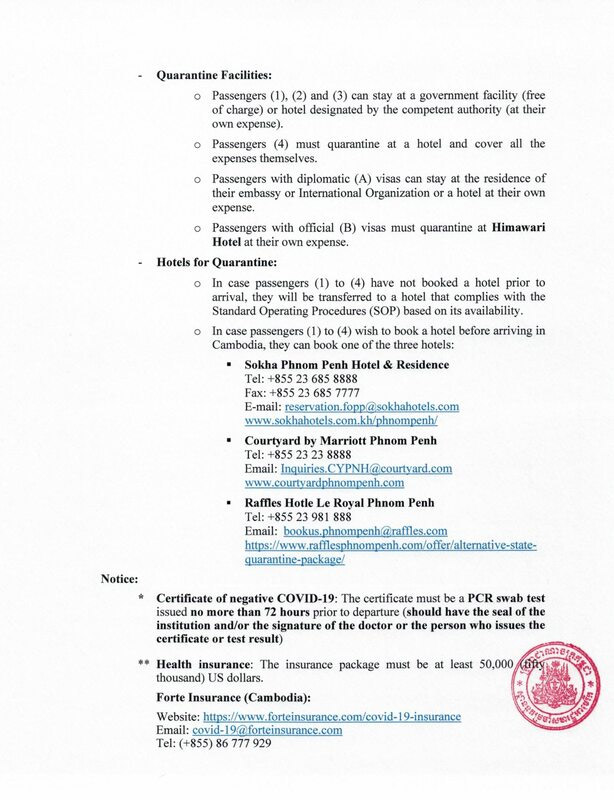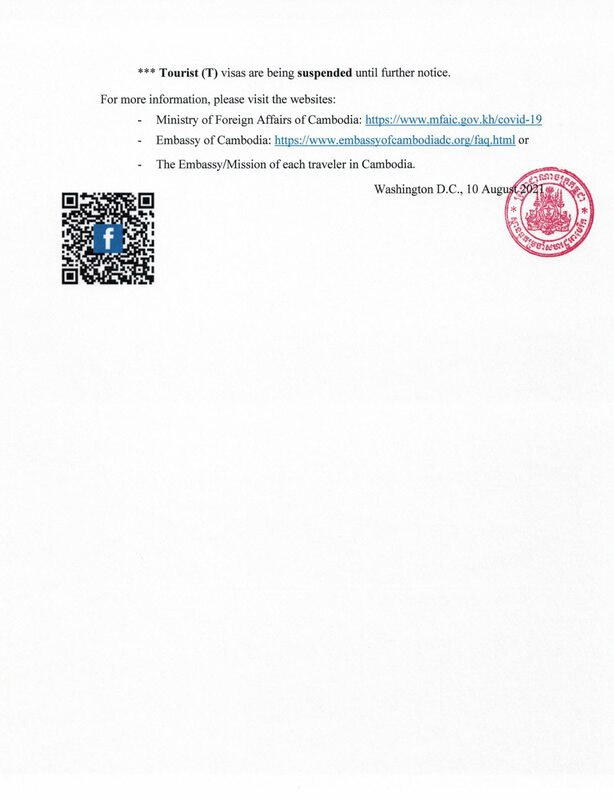 For more information, please visit the websites:
– Ministry of Foreign Affairs of Cambodia: www.mfaic.gov.kh/covid-19
– Embassy of Cambodia: www.embassyofcambodiadc.org/faq.html or
– The Embassy/ Mission of each traveler in Cambodia.